Sourdough Ensaimadas without Commercial Yeast
I'm still a sourdough novice but a restrict sourdough purist. :-) Of course, I usually add baking soda and powder to sourdough cookie batter or cake batter that can save old sourdough starter. However, I try not to add yeast when I bake 'bread' using sourdough.
It was a great experience for me to get to know this web community and see marvelous sourdough bread that home bakers worked so hard. Most bread did not look like a standard of that amateurs could bake: they've really set a high standard for a newcomer like me. Their bread has been a great inspiration to me for last 8 months and I learned a lot from this community. But one thing that I've eagerly wanted to know was whether sourdough was good source enough to make enriched bread. I could find some enriched bread made out of sourdough but adding yeast to it, not the amount of a pinch but as the same as to usual yeast bread. I thought it did not give me an edge in culturing my starter if wild yeasts were useless to expand enriched dough. That is why zolablue's posting about sourdough challah was so meaningful for me. It was hillarious to see her beautiful bread based on the recipe by Maggie Glezer.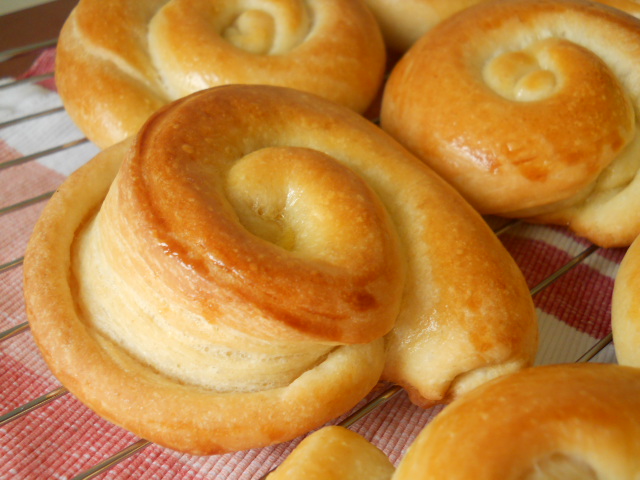 As a beginner, I tried to bake many bread that had different ratio of sourdough starter, butter, or eggs to flour. Finally, tada~~~~~ I'm so much proud of myself though you may not agree with me. My recipe is sourdough ensaimadas without sour taste at all. Just like yeast-added enriched bread, they are tender and buttery. I truely love the sour taste of sourdough bread but I need to satisfy my people who are not familiar with it(you can figure out that my English is not that of natives!). So I have had to be obssessed with the taste as well as the crumb. To be honest, I prefer healthy sourdough bread, love its sourness and rarely bake enriched bread. Sometimes, it is worth enjoying sweet and rich bread for breakfast when it gets cold outside...
If you want to look a glance at my recipe ...
<Preferment : overnight>
60% sourdough starter 18g (vigorous and fed)
Water 40g
Bread flour 68g
<Final dough>
All of preferment
Bread flour 250g
Sugar 38g
Salt 1/2ts (You can add more if you want)
Milk 80g
1 Egg (medium size)
Oil 1TS
Butter 50g
Melted butter for brushing
Egg wash
1. Mix preferment and all ingredients for final dough and knead till it is smooth.
2. Bulk fermentation for 2 hours. It may not expand double but that's fine.
3. Divide into 10 pieces of dough and roll out like a rectangle. Brush the melted butter on the surface, roll up and coil the dough like snails. 
4. Proof them on the baking sheet for 3-4 hours untill it is doubled.
5. Preheat the oven to 350 degree and brush the egg wash to each piece of snail-shaped dough when it's ready.
6. Bake them for 20 minutes.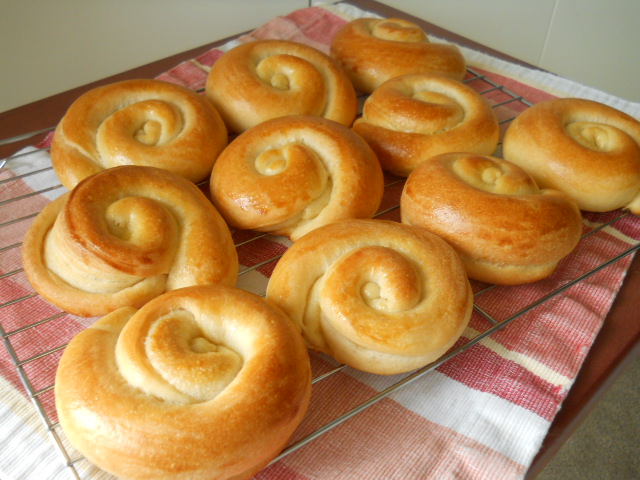 I hope you enjoy my sourdough ensaimadas~