Basic Wheat Bread from (Laurel's Kitchen Bread Book)
This is a my first take on a recipe from Laurel's Kitchen bread book. It is (Basic Whole Wheat bread). The recipe is basically an enriched (Butter/oil , and Honey) 100% whole wheat bread.
The whole procedure from mixing to baking takes roughly 5-6 hours, quite fast! Recipe calls for 1.6 tsp for a 900 grams of whole wheat flour. The hydration is about 70%, but I increased it to 75%.
I used the slap and fold kneading method to arrive at the gluten development strongly advocated for in the recipe. I added the butter later half way through the mixing. I made sure that a window pane was formed.
The interesting thing about the recipe is that it includes deflating the dough twice, there is a first rising, "gently deflating, not punching down!!" and then 2nd rise, deflating again, then rounding/resting  for 10 minutes, and finally shaping. Even the shaping technique for a sandwich loaf is unique in this book (I may illustrate the shaping technique one day).
I used freshly milled white Australian whole wheat.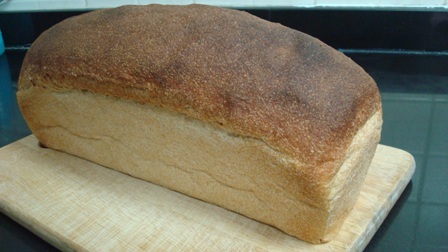 Tall domed loaf using a Pullman look alike french deep pan
   Very soft, tender and light bread.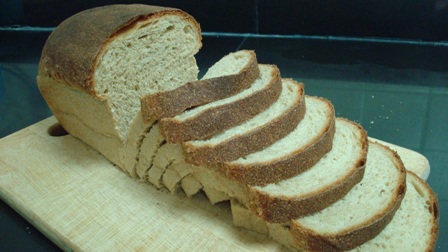 Slices toast very quickly, as would white sandwich loaves.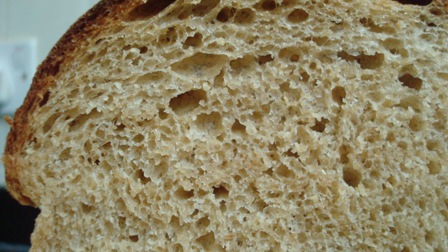 The crumb was cotton soft. 2Tb of butter did the trick!
I loved this bread, Period. The book has also some wealth of information about wholegrains and baking in general. I really recommend this book to any Home baker who wishes to bake healthy, yet light and flavorful wholegrain bread at home.
Khalid