Mello Judith Flour vs Caputo Tipo OO differences for pizza
I wanted to test the differences between Mello Judith flour and Antico Molino
Caputo Tipo 00 flour  for use in my modded ciabatta pizza recipe here:
http://www.fornobravo.com/forum/f10/gt40s-slow-rise-pizza-dough-16669.html#post120258
Both seem to be close on the protein levels:
Protein level listed for Mello Judith: Protein 11.8 +/- 0.3%

Protein level on Forno Bravo: 11-12% and on Amazon: Protein content 11.5%
I started a side by side comparison test to try and quantify the differences.  
Yesterday I made 2 batches of pre-dough sponge- one with Antico Tipo OO Chef's flour and the other with Mello Judith.  First I weighed out the water- 500g x2= 1000g total. I put it in one container and dissolved a total of4g of yeast into the water.  Added a teaspoon of malted barley syrup and stirred till the yeast and syrup were dissolved. I figured by making one batch and splitting it in half, both batches would get the same barley syrup and yeast in the water. Next I weighed 500g of each type of flour and mixed it one at the time with equal amounts of the water yeast syrup mixture so that I had two batches and put them in their own container. I measured everything out with a scale accurate to 10th of a gram and each container contains 500g flour, 500g water + the yeast and syrup that was dissolved in the water. I let them sit at room temp around 75 degrees for an hour and then let them slow ferment in the refrigerator for 24 hours and here is the result: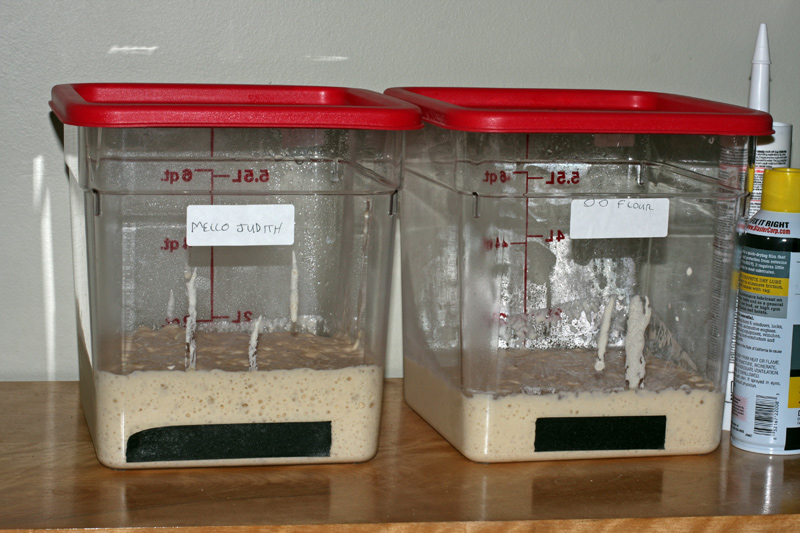 As you can see, the Mello Judith rose a lot more even though it had exactly the same amount of yeast, water, barley syrup for the same amount of time and temp.  I was surprised to see such a big difference under exactly the same conditions.  Any thoughts or suggestions on why there is so much difference  would be appreciated.
gt40