Andy's Gilchester Miche with Atta Flour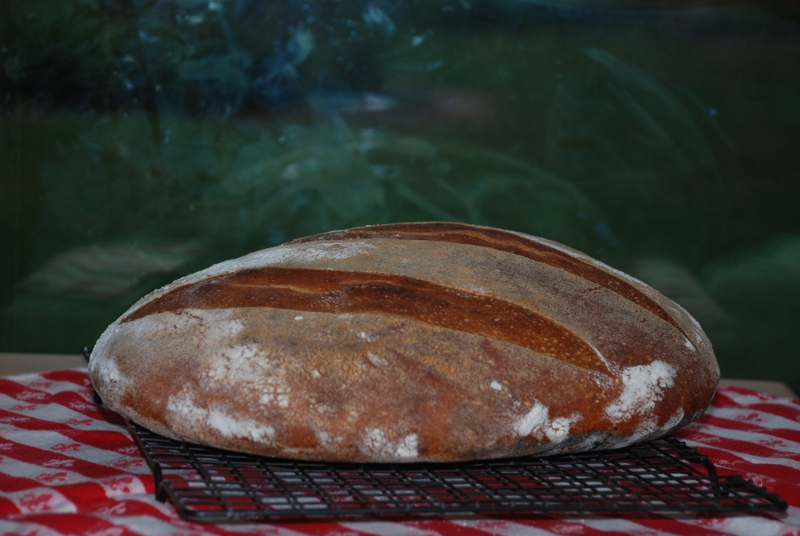 I have been admiring Andy's breads made with Gilchester flour for some time now - in fact since he posted this, and later this, and most recently this.   But I felt inhibited from trying it, since I didn't see any reasonable way to obtain the flour.   Recently Andy suggested that I might try using Atta flour, perhaps sifted to remove some of the bran.   The idea was to simulate the high extraction, low quality gluten properties of the Gilchester flour.   In fact I now have two different types of Atta in my closet - a 100% whole durum that I have posted on several times, and a more refined durum with some wheat bran added in, that I recently found at a local Indian grocery store (thanks Lynnebiz) both under the Golden Temple label.   I decided that rather than sift, I would just try the refined durum with added bran.    I proceeded exactly according to the instructions here with a couple intentional changes.   First the Atta flour rather than the Gilchester flour.   Second King Arthur AP rather than Carr's Special CC flour.   And one unintentional.   I autolyzed with starter rather than without.   I am so used to doing that that I didn't even check the instructions until it was too late.   Other than that I did the three starter feedings the day before, and left on counter overnight.   I did the first mix (before adding salt) in my Kitchen Aid, but did the rest of the mixing by hand very gently.    I also felt that more stretch and folding was necessary, so I did one more than the one that Andy directed.   And I baked in my WFO for around an hour.   I had a very hard time getting the oven up to temperature today since it has been extremely wet out, and no sooner was it up to temp when it started dropping off.   So while initial temperature was around right (600degF) by thirty minutes in it had dropped to around 380.  But fortunately crust had browned already and loaf had expanded.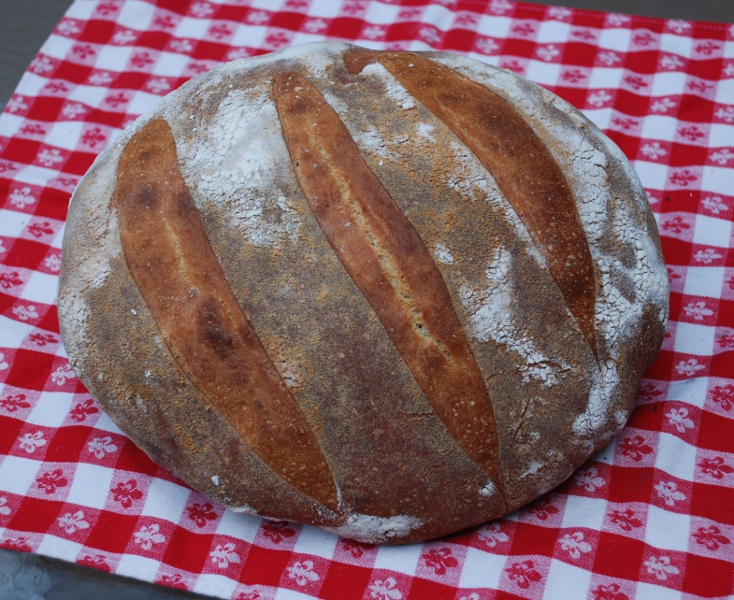 This is quite a large loaf - over a foot in diameter.   I had to score with my long bread knife - this dough is pretty wet, and a short blade would have caught in the dough.   We had this for dinner tonight - one slice was enough to cut in half for a chicken salad sandwich.   The taste is very mild given the high percentage of durum - that wouldn't have been the case if I had used the whole durum - but with very pleasant flavor.    Here is the crumb: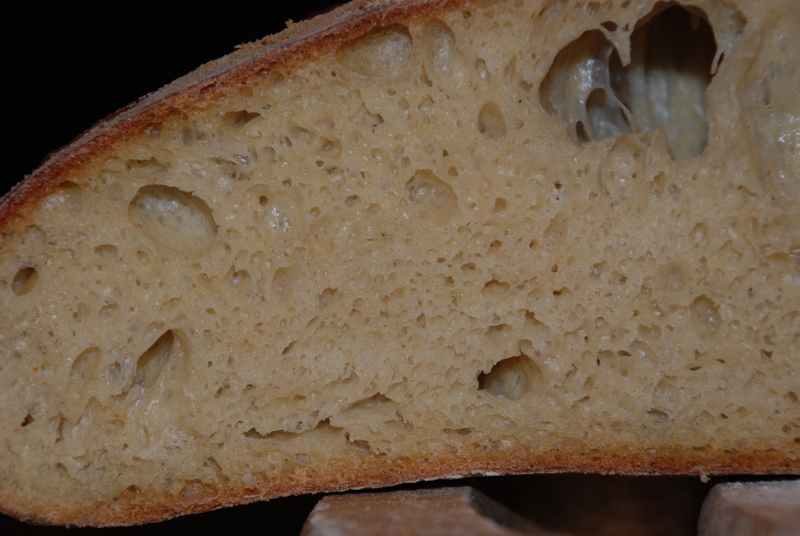 Reasonably even, but with mouse holes, which I've gotten every time I've used this flour.  
So in sum, I wish I had some Gilchester flour for this, but I think Andy's formula adapts well to this version of Atta and I'm glad I tried it.