September 21, 2011 - 2:33pm
Le pavé d'autrefois and a Multigrain Pain au Levain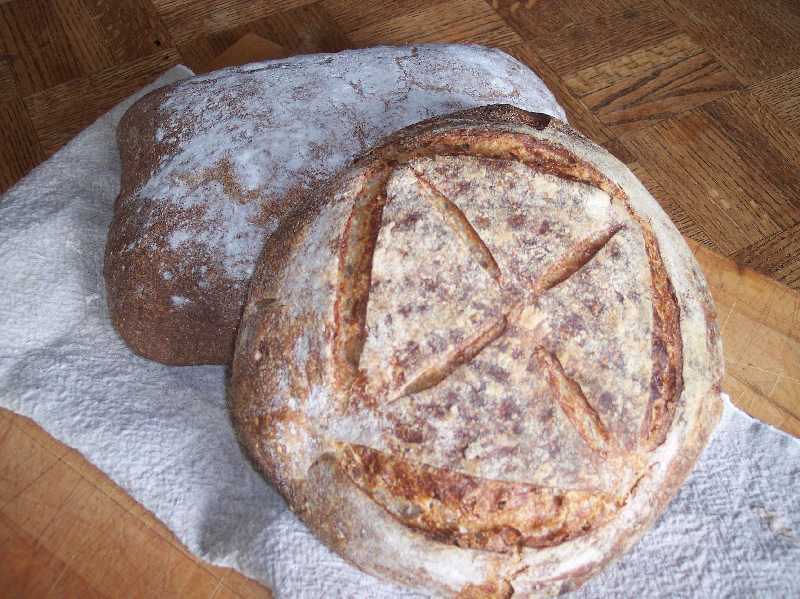 Back in early August asfolks/Alan posted on a bread called Le pavé d'artefois http://www.thefreshloaf.com/node/24581/le-pavé-d'autrefois that I've been wanting to try since first seeing it. Alan's bread caught my eye not only for it's rustic appearance and lovely open crumb, but as well for the fact it uses the majority of the total flour as a soaker. That it incorporates rye and buckwheat along with wheat flour, I thought would make it a bread with some interesting and complex flavours, particularly if it was made using a rye sour leaven. Alan's version had such a gorgeous crumb to it, I hoped my own would be somewhere in the same ballpark. Alas, it was not to be with this attempt at it, not even close, but I was right about the taste being complex. Even the small percentage of rye and buckwheat in the formula contribute a great deal of flavour to the loaf. The problem I ran into was the soaker itself, since all the water for the final mix is provided by the soaker. The soaker used had been left overnight and part of the next day out of trying to manage it into my workday schedule. Local temperatures overnight and the next morning were down around 10C/50F and we keep our house cool at night and while at work. Trying to reach a warm enough temp for proper fermentation was problematic to say the least, despite my best efforts and the time I had available, it remained in the low 70F range. From outward appearances the dough seemed like it was doing OK and had a good jump in the oven, so I was somewhat surprised when I cut it the next day to find the result that I did. In hindsight I should probably have put it in the fridge overnight and let it ferment slowly rather than try to push it towards something it wasn't ready for, and as you can see from the photo below the fermentation was incomplete. The large holes being 'big enough for a mouse" to quote Hamelman. Even with this under-fermented loaf, the flavour is very good and certainly worth doing another mix of it in the very near future, but with a few procedural adjustments.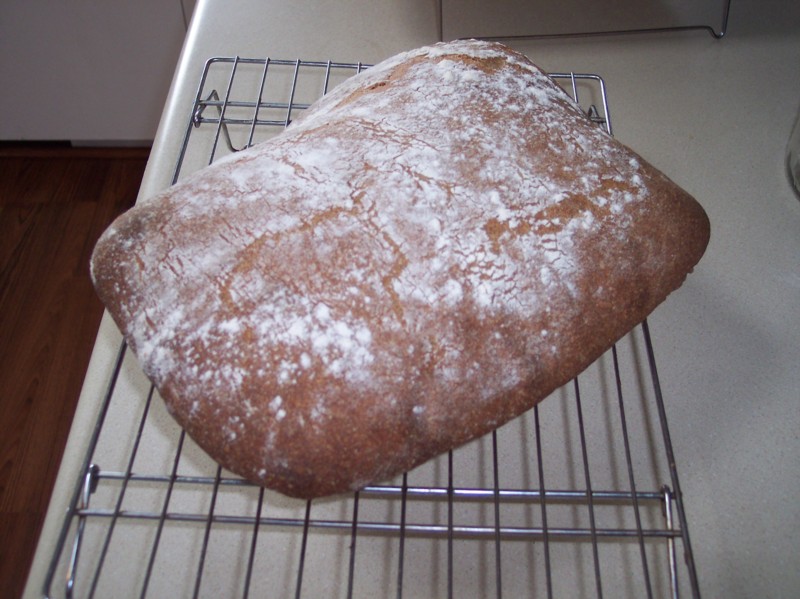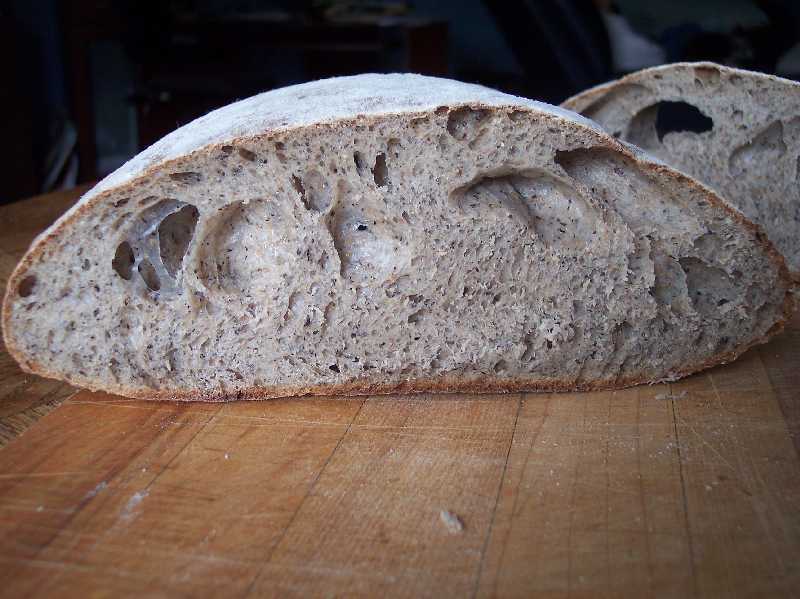 Well because my success rate on making a new bread for the 1st time is about 50/50 I thought it might be a good idea to mix another dough following the Pave... just in case.
My insurance bread was a Multigrain Pain au Levain that I've baked several times over the last month and have had consistently good results with it. It's sour, chewy, has a nice moist crumb to it, and a crunchy crust. If I only had one choice of a bread to eat from here on, this would likely be it. The formula and procedure I put together is influenced by both Jeffrey Hamelman and Chad Robertson. Primarily Hamelman's Five Grain Levain, which I've made and enjoyed tremendously, and Robertson's method of overnight retardation and baking in a Dutch oven for greater crust caramelization. This bread had roughly a 24 hour retarded fermentation, slightly longer than I would have preferred, again because of work schedules, but it didn't seem to suffer too much because of that.  I wound up with a sort of Maltese Cross scoring effect that I wasn't expecting, but rather like the look of.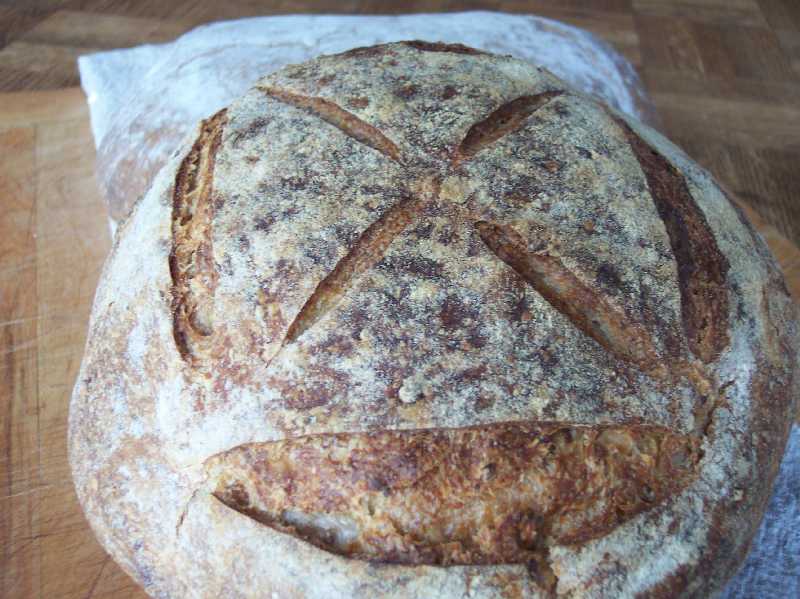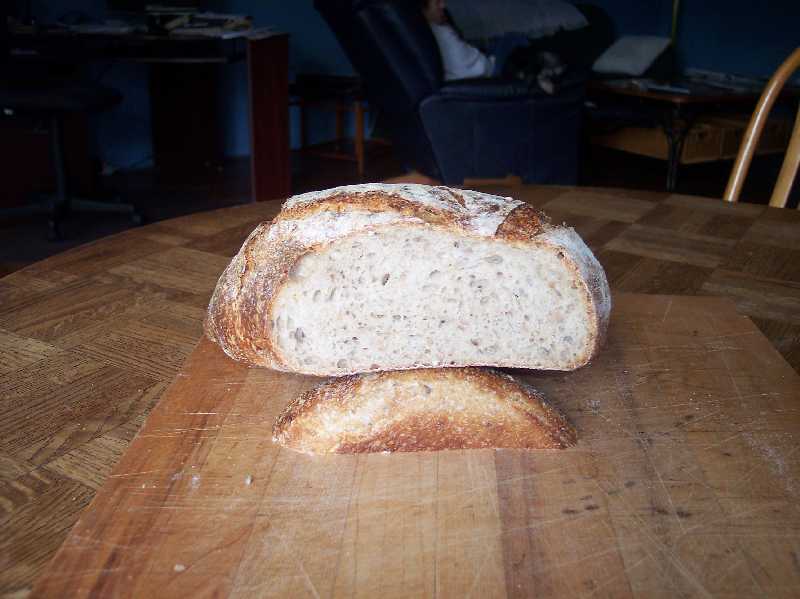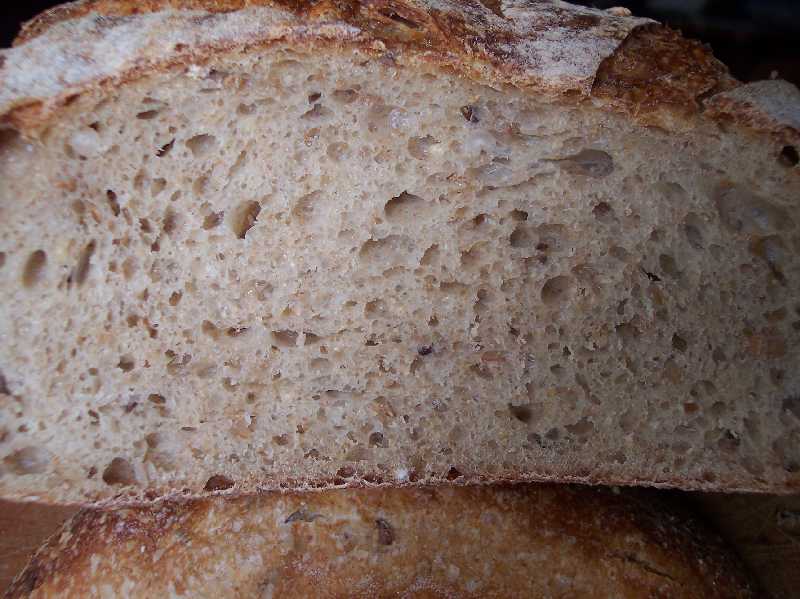 Procedure:
DDT-76F
Mix the levain 16-18 hours previous to the final mix. Note: I fed the levain twice over this time using 50% increments of the white flour.

Mix the grain soaker at the same time as levain.

Combine the flours, leaven and water for a 1 hr autolyse.

Mix on 1st speed for 4 minutes, add salt and continue mixing for 2-3 minutes longer or until there is slight dough development.

Mix on 2nd speed until the dough is near medium development and add the grain soaker.

Continue on 2nd speed (or by hand) until the dough is cohesive and the grains are thoroughly distributed in the dough.

Bulk ferment for 2-2 1/2 hours with a full stretch and fold after 60 minutes and 120 minutes.

Round the dough lightly and allow to relax for 15-20 minutes.

Shape as desired, place in a floured banneton or brotform, cover and leave overnight in refrigerator.

After the dough has come to room temp or close, place in preheated 500F Dutch Oven, turn the heat to 460 and bake for 20 minutes. Remove the DO lid and continue baking for 10-15 minutes depending on dough size. Check for an internal temperature of 210F before removing from oven. Note: Once I'd removed the loaf from the DO it was placed on a baking stone for the last 5-10 minutes of baking.

Cool on a rack, covered with linen, for 8 hours or longer before slicing.
Link to spreadsheet formula:
https://docs.google.com/spreadsheet/ccc?key=0AjicIp92YPCTdDFSZFhNSHJuaXNrcGlsOTJfaV9JZ1E&hl=en_US
Best Wishes,
Franko