September 10, 2011 - 7:26pm
I need to make some bread for a silent auction among some disabled veterans that are raising money to support a nearby hard-up kindergarten class.  Piggy me wants to save her mail ordered flours for home so I figured an experiment with vital wheat gluten was in order. 
If Bob's Red Mill Vital Wheat Gluten Flour is 75-80% protein, KA bread flour is 12.7% protein, and KA Sir Lancelot is 14.2% I posited that with a little basic algebra I could figure out how much vital wheat gluten might make a loaf of KA bread flour bread as light but chewy as I like it.  I got a bread that worked out pretty well.   Light, chewy, with just the right number of holes for my money.    The flavor is definitely a "white bread" flavor not the same as bread made with imported flours but I am coming to understand what a difference species of wheat makes. (Formula is under the pics.)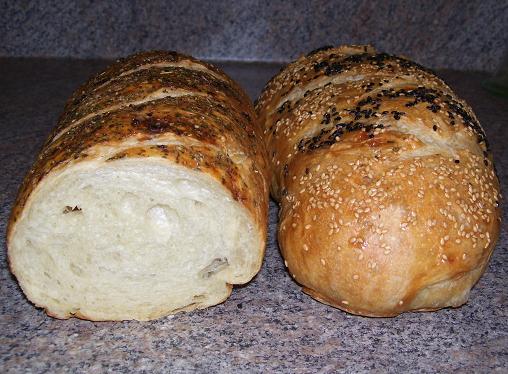 600g KA bread flour x .127 = 76.2g protein
600g KA Sir Lancelot x .142 = 85.2g protein
So, I needed to find 9g of protein via the vital wheat gluten.  So, dividing 9g by .80, I got 11.25 grams of vital wheat gluten.
Doing a little rounding and coping with all this being approximate, I decided to replace 10g of a 600g recipe with the vital wheat gluten flour.
So, the final formula was
590 g KA bread flour (98.3%)
10 g vital wheat gluten (1.7%)
12 g salt
9 g instant yeast
420 g water
I used the stretch and fold method and divided into two rolls, painting both with egg wash and dusting one with a Tuscan herb mix and sea salt and the other with black and toasted sesame.  They were baked at 375 F for 40 minutes.