September 8, 2011 - 1:35pm
Currently, I'm only baking three bread formulae (our daily breads), baguettes, and two sourdoughs: 50% each WW and Bread flours , and a mostly-white flour (equal amounts AP and Bread flours and 10% Whole Rye). I alternate the sourdough bakes week-to-week; and, for the two most recent bakes, I've retarded the fermenting dough for 17 hours @ 54°F. I'm doing this to extract maximum flavors.
This is the first mostly-white version with my new starter.(67% Hydration)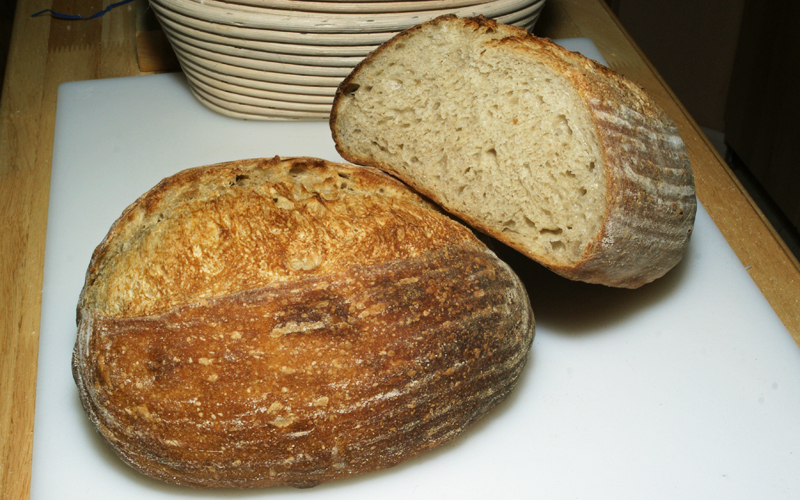 The flavor is all I could hope for--in both the crust and crumb. The Rye is indistinguishable by itself, yet without it the taste would be less. I've been baking this formula for at least a year; its predecessors were a less than inspiring all-white version, and a only slightly better flavored 10% Whole Wheat version. The retardation hasn't changed the formula's flavor, but deepened its intensity.
Volume increase from dough to finished bread isn't talked about much on TFL, rather oven-spring is the more common measure. These loaves, exhibited the greatest volume change I've experienced to date. To give some sense of it here is a photograph--minus the "taster slices". The container holding the loaves is that used to ferment the dough. The mixed dough occupied slightly more than 1 liter, approximately 1100 ml (the bottom of the photograph).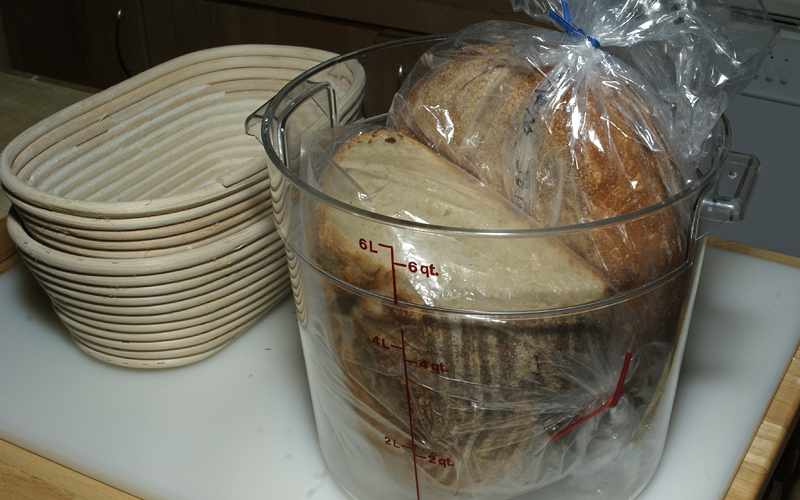 David G