September 6, 2011 - 4:57pm
Cold Dutch Oven comparison: Photos of Results: Cast Iron vs Pyrex vs Glazed Clay
Hi Guys,
Here are some photos of a recent experiment.  I thought I'd try the shortcut, as described at KAF, of letting my no-knead sourdough bread make its final rise directly in the cold cooking vessel.  Normally I preheat the dutch oven to 500F inside my oven.  This time, I preheated the oven to 500F, used the cooking vessels as my proofing vessels, and put the cold vessels directly into the hot oven.  Here are the results: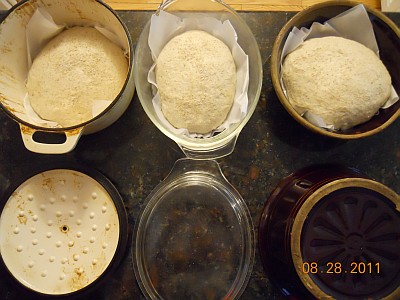 (above): Final rise in cold vessel (impatient; I should have waited longer).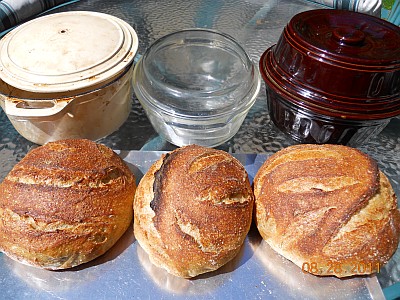 (above) After baking: reasonable oven spring.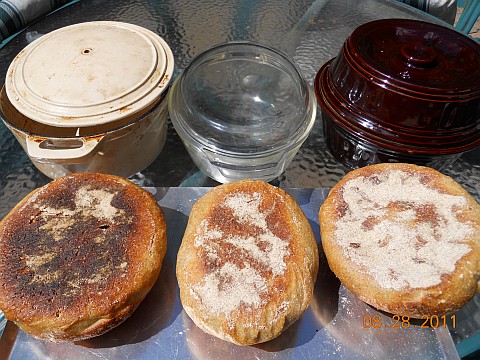 (above)  Cast Iron bread bottom noticably darker than the others.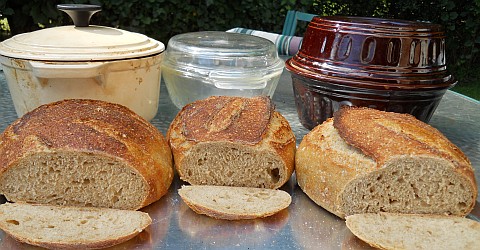 (above)  Crusts are not much different.  Definitely not as thick as when I start baking in a hot vessel.
Crumb is OK.
Test Conditions:  Sourdough starter.  75% hydration.  5%Whole Rye; 10%Whole Wheat; 85% Bread Flour.  12hr first rise.  About 1.5 hour second (final) rise.  I probably should have waited longer.  500F oven.  Shiney aluminum disc was placed under the Pyrex in the oven to shield it from IR heat below.  About 25 min covered, then 10 min uncovered at 450F.
Comments: Crust is not as thick as when I use pre-heated oven.  Maybe next time, I'll use reflective aluminum under the cast iron as well.  Generally, I'm going to back to using pre-heated vessels.
JonnyP