Pain Au Levain W/ Wholewheat
This is another one of Hamelman's Pain Au Levain With whole wheat from His book "BREAD".
I'am testing out my new flour's performance with naturally leavened breads.
I mixed my dough ever so lightly, and did two stretched and folds (letter fold on the bench) @ 60 minutes intead of one at 50min. So, the fermentation time was 3 hours intead of 2.5.
I retarded the shaped loaves right after shaping for 8 hours, and left them to proof at room temp. for 1 hour while the oven was preheating to 510F.
I Also increased the prefermented flour by 7%.(as recommended by Andy - ananda) I found that this particular recipe works more predictably if i increased the amount of stiff levain. and it did!
Crackly Crust!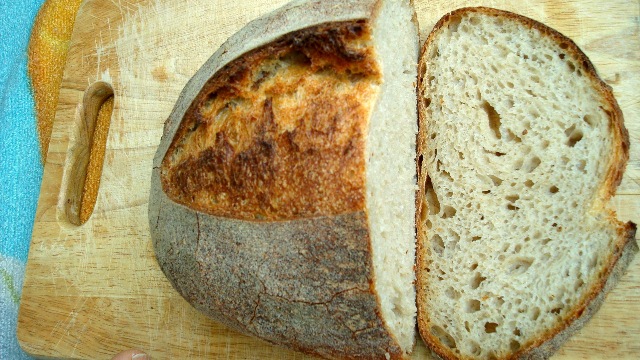 Cool, soft, and translucent crumb, with a faint sour flavor.