Yeast water bread - Wood Fired Oven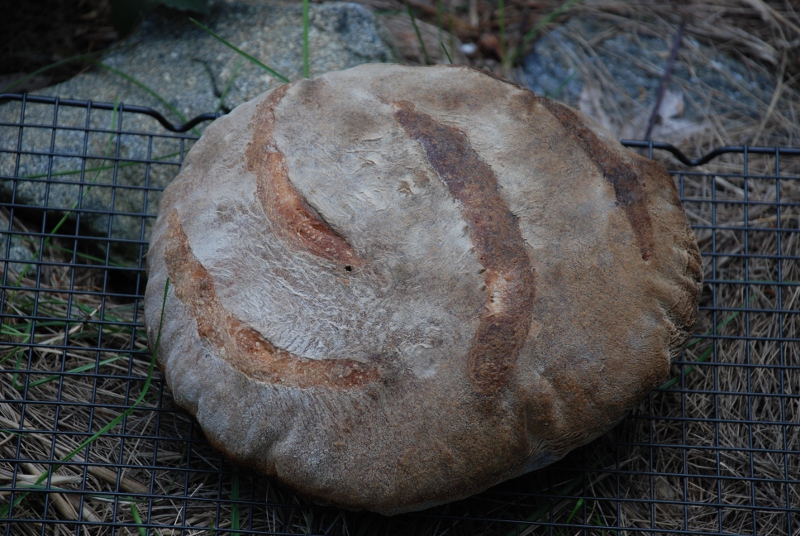 Over the last few months I've been trying to bake bread with yeast water and found it challenging to say the least.   However the taste of these breads is so wonderful and the prospect of lovely open crumb so enticing that I keep coming back to it.   I have made a number of adaptations to keep the yeast water from consuming the dough before baking (from aggressive enzyme activity) that seem to be working.   At the same time, I've been trying to learn how to use my WFO.    For the first many bakes, I was plagued by pale doughy crust.   At first I attributed it to the tight seal on the oven door which wasn't allowing the crust to develop.    But tipping open the door for the last half of the bake didn't help.   Then I got an infrared thermometer, and finally realized that I wasn't getting high enough temperature in the oven to start with.    So the bread was baking at a low temp that wasn't high enough to finish the crust.   I insulated the top of the dome which had the highest heat loss, sharpened my fire building skills and went back to work.   Yesterday I was  successful beyond my wildest dreams.  Ok.   Not really.   I incinerated two loaves of whole wheat Pain au Levain that never did me any harm.   Too hot.   Way too hot.   It's one thing to have a good thermometer.   It's another thing to know how to use it.   Today, I made a number of adjustments and got only a too hot oven - rather than a way too hot oven.   And baked a yeast water loaf.   Since the oven was too hot (floor at around 650F) it expanded too fast for its own good and baked too rapidly.   But I did start to see a hint of the crumb I've been looking for.    Onward and upward.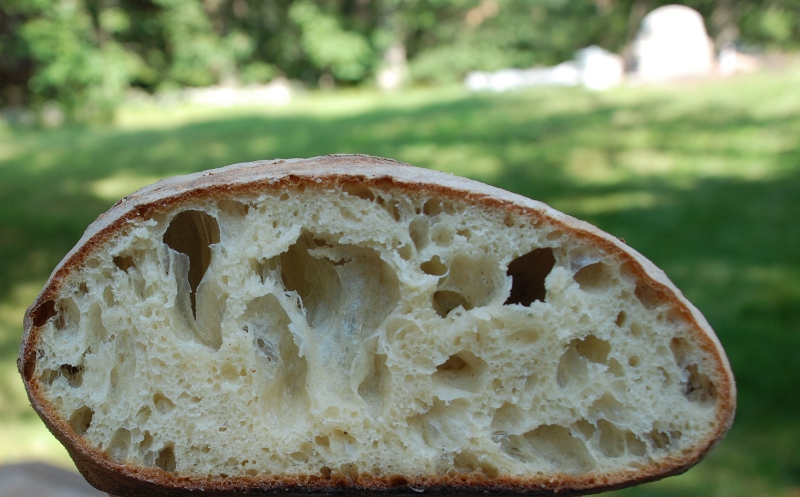 Yeast water loaf with oven in the background.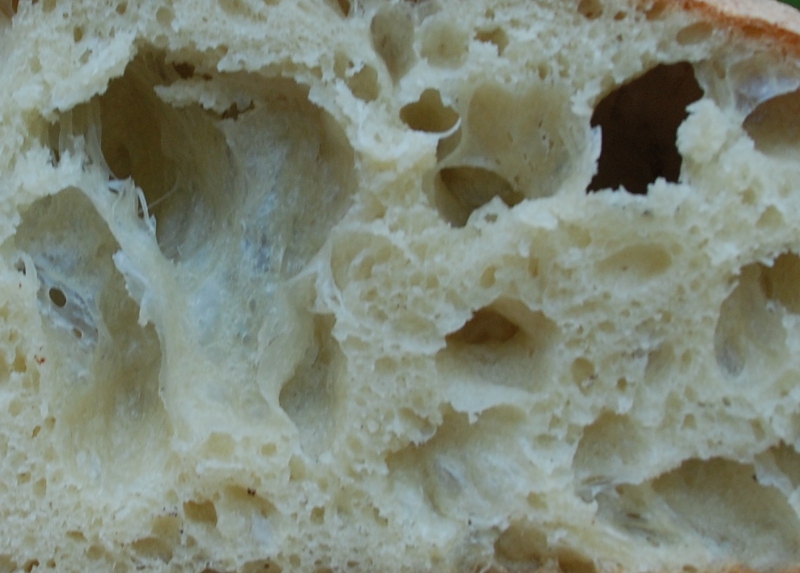 Not like Akiko's yet, but I'm getting there (I hope.)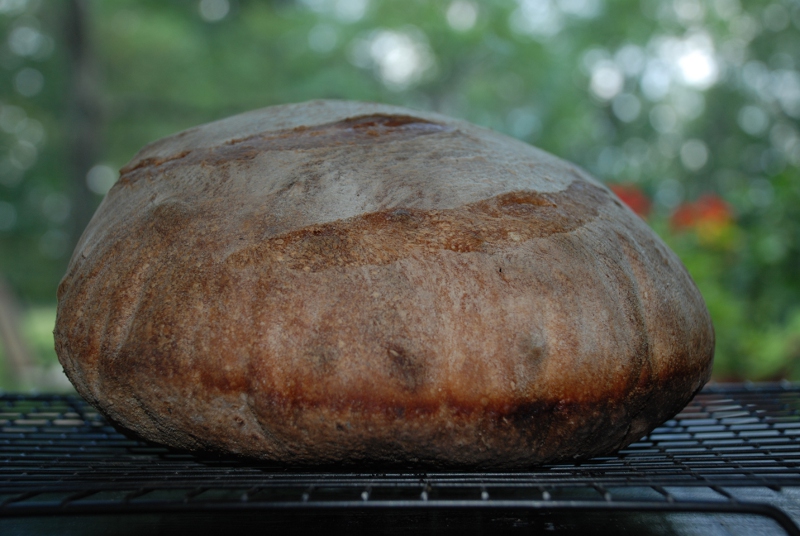 I prefer charred crust to the pale doughy stuff I've been getting but I'm still not the master of oven temp.
Updated with formula and method:
| | | | | |
| --- | --- | --- | --- | --- |
| 8/19/2011 |   |   |   |   |
|   |   |   |   |   |
| Yeast water | 93 | 62% |   |   |
| KABF | 150 |   |   |   |
|   |   |   |   |   |
| 8/20/2011 |   |   |   |   |
|   | Final | Starter | Total | Percents |
| KAAP | 500 |   | 500 |   |
| KABF |   | 150 | 150 |   |
| Yeast water |   | 93 | 93 |   |
| Water | 362 |   | 362 | 70% |
| Salt | 12 |   | 12 | 1.8% |
| Starter | 243 |   |   | 23% |
| percent yeast water |   |   |   | 20% |
|   |   |   | 1117 |   |
Night before mix yeast water and flour and leave on counter overnight (around 10 hours).   Next day mix all ingredients but salt and autolyze for 1 hour.   Add salt and mix for 4 minutes in stand mixer at medium speed.  Bulk fement for 2.5 hours with first stretch and fold in the bowl and second on the counter.   Shape into boule and place upside down in lined basket.   Proof around two hours until soft.   Slash and bake in WFO for 20 minutes at high heat (over 650F)  - crack door open after first 10 minutes.  Leave another 5 minutes in oven with door open to bring internal temperature up to 210F. 
A few points:  I used King Arthur Bread Flour in the starter to have enough gluten strength to counteract the high enzyme activity of the yeast water.  I also used a fairly low hydration starter (62%) for the same reason.   The dough was quite wet after the mix and required an aggressive in the bowl stretch and fold to develop.   That worked.   For the second stretch and fold I was able to stretch it out on the counter.   When I removed it from the basket it sort of flopped out in all directions.   However when it went into the oven it sprang up immediately - probably due to the high heat.  I did not use steam in the oven and perhaps if I had the cuts would have opened up better.