Today was the final day of Artisan I. We made four baguette doughs: a hand mix, and three doughs with preferments - poolish, sponge, and prefermented dough. The week of dough handling clearly showed. Our shaping and scoring were much improved as the photos will illustrate. The hand mix was very similar to the short mix done in the spiral mixer on day 2. Our prefermented doughs were a little less acid than usual and this was attributed to the fact that the temperature overnight was 5 to 6 degrees cooler than normal. 
The liquid nature of poolish is favorable to protease activity and doughs based on poolish tend to be more extensible due to the degratation of protein. The sponge tends to promote acidity which tends to strengthen the dough. We were able to feel that in the doughs. The dough based on prefermented dough was the most elastic and the least interesting in flavor. Then the short. Today we preferred the sponge but Mac said that was varible from day to day. Both were superior I think to the autlyse...but when in a hurry the autolyse is a good idea. Ignoring the prep for the preferment and the overnight fermentation, the time from mixing final dough to baking was significantly shorter with the preferments.
We mainly made baguettes. With the hand mix we made epis and played. I included those photos. I was particularly pleased with my split epi. Photos  are followed by some overall comments about the experience.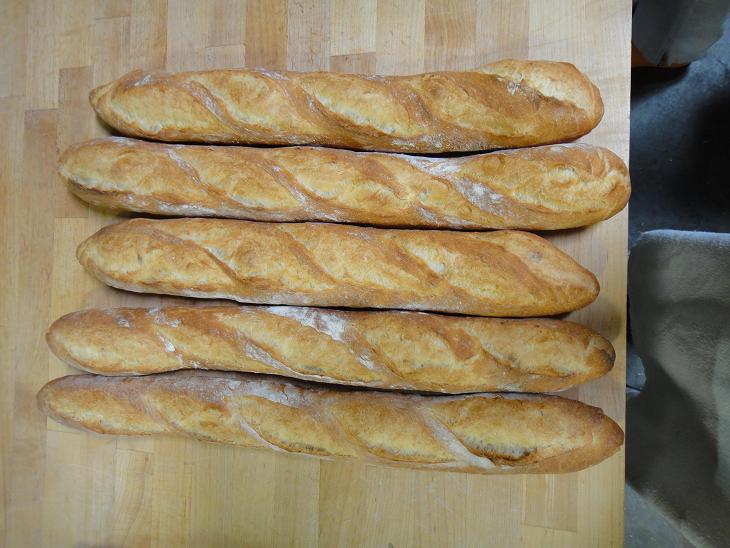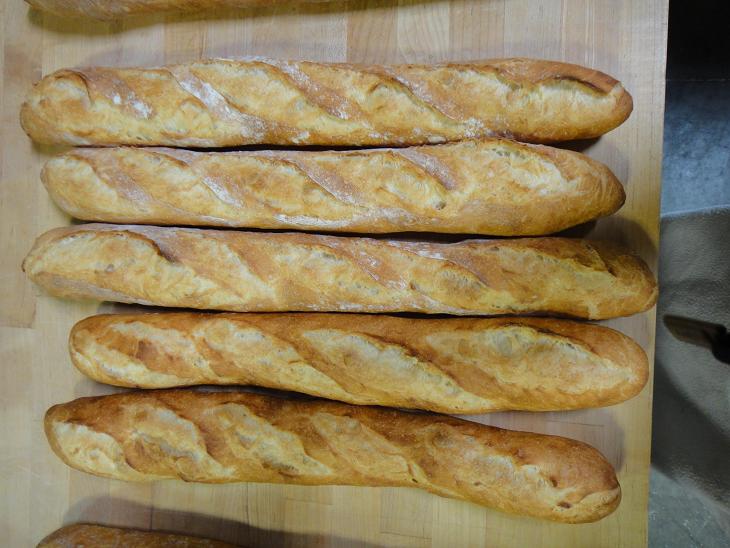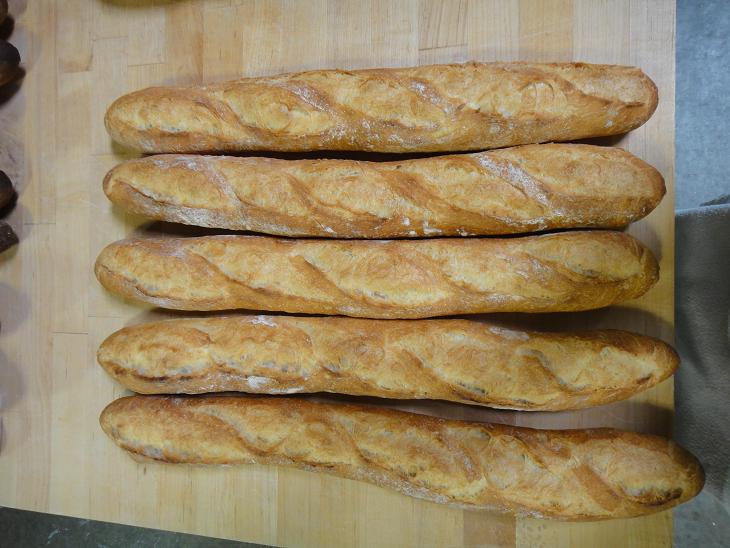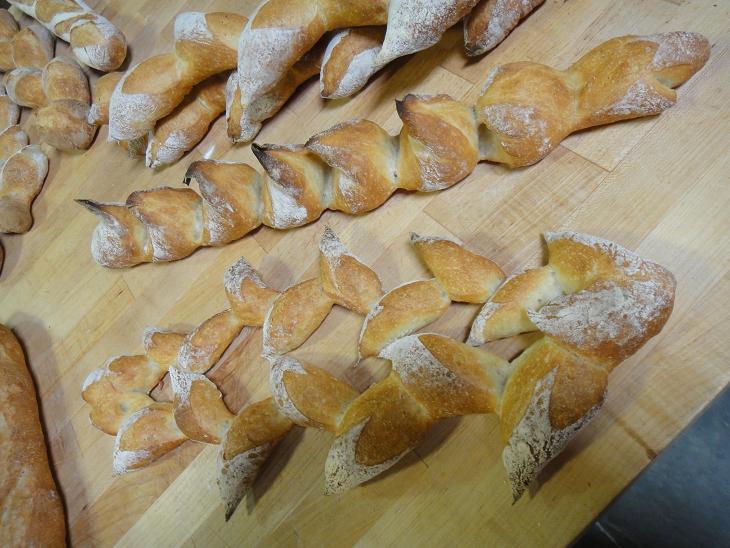 The dual epi!
This is a typical crumb shot. All the doughs were quite similar in crumb.
This was a great week. Lots of good hands on experience with a very knowledgeable instructor. And a chance to get first hand experience with serious baking equipment like spiral mixers and deck ovens. The whole experience was very educational and rewarding and I am confident that the skills I honed will translate well to my normal world of sourdough.
One of my big surprises was how uneven the heating of deck ovens is. The back of the oven was definitely hot and the front was definitely cold and aobut five feet in the middle was pretty wonderful. So where you baked made a quite a bit of difference. The loaders were fun and the spiral mixers were addictive. They make such lovely dough! So superior to conventional home mixers.
Thanks for reading. I hope you found nuggets of information you can use.
Bake on!
Jay