August 16, 2011 - 11:21am
Tartine Country Rye with Bulk Retard - any suggestions?
I've only been baking bread for 2 months so still not sure of my bench techniques.  I also have this quirk of always wondering "what if...". (Might come from being a software beta tester in the past).  I have had some successes and some not so great outcomes, but am enjoying this process.  Having tried a number of different breads - ones with yeast, some with biga and yeast and some with natural starter- I find that I prefer the natural starter technique and like the crumb of the high hydration of the Tartine method. 
So - this is a picture of my very first bread.  This was the Tartine whole wheat bread.   On my very first bread I made a mistake:  I used KA white whole wheat instead of regular white flour with whole wheat.  And it came out great,though a little dense: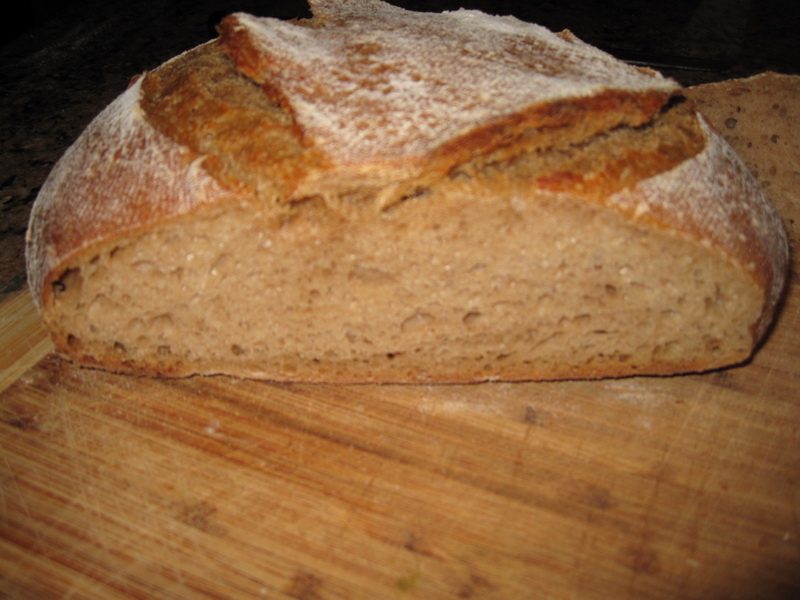 So my dilemma:  I work irregular hours and can't be around to do the Tartine bulk ferment with regular stretch and fold.  So I decided to try a retarded bulk ferment.  Here's my schedule:
Sunday am:  mixed levain
Sunday pm: mixed dough, did 1 hour bulk ferment with 3 stretch and folds.  Put in fridge at 9:30pm
Monday:  got home from work late.  Pulled from fridge at 6:30pm (21 hours!) let sit 1/2 hour, then completed the Tartine method of cutting and bench rest, stretch and fold on bench, then proof in bannetons.  This dough was very airy so proofed 2 hours then into the oven on a stone. 
Results:  Great flavor, not sourdoughy at all.  Chewy crust just the way I like it and lovely texture.  The downside:  ugly bread!  When I removed them from the bannetons they spread way out.  In the oven they had wonderful oven-spring, but the loaves did not hold their shape and became a bit morphed: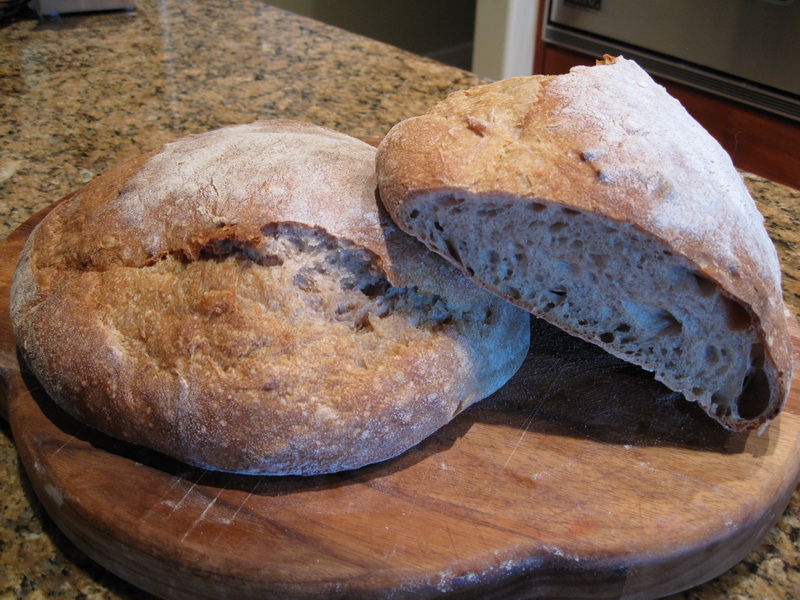 See the funny shape? They spread way out and didn't keep that nice rounded shape I had in my first loaves.  
I think I'm on to something.  I really like the flexibility of the retarded bulk fermentation, but how do I get the structure to hold the shape?  Any suggestions for my next experiment?
Thanks, Linda