August 11, 2011 - 10:34am
Anadama Lemon Rye -- memory of an old hippy
Back in the early 70s, when I was still recovering from working night shift in a hamburger roll factory and WOULD NOT make bread at home in protest, I lived with a friend who made what she called "Anadama Lemon Rye."  This is a reasonable approximation.  Anadama bread is a New England tradition and has cornmeal in it.  This version adds rye, whole wheat, and lemon zest.
It makes the house smell wonderful when it's baking -- an added bonus.  It's a nice, moist, slightly sweet, and aromatic bread, great for ham sandwiches, PB&J or just plain.  This is a little heavy on the cornmeal for a traditional anadama because I like the slightly grainy texture that gives.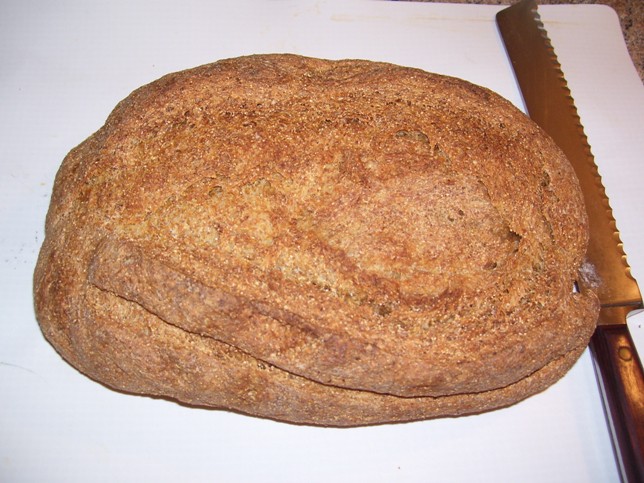 Sliced while still a little warm: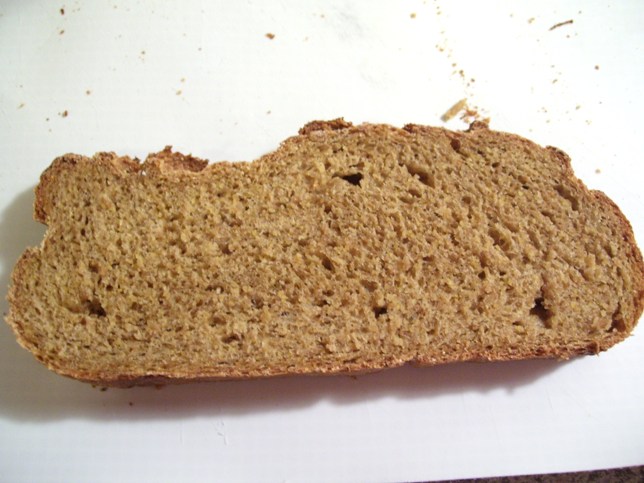 The basic formula is
300g bread flour, 100g whole wheat flour, 100g rye flour, 100g cornmeal (total 600g)
12g salt, 8g yeast, finely grated zest of 1 lemon
40g molasses stirred into 380g water (total 420g or 70% hydration)
Stretch-and-fold is my new best friend so I mixed the dry ingredients, stirred in the molasses water, and let it sit for 50 minutes.  At that point I did one stretch-and-fold and let it sit another 50 minutes.  I did a second stretch-and-fold/50 minute wait.  Then I shaped and scored it and let it sit 30 minutes while I preheated the oven.  It was cooked on parchment paper on hot tiles at 400F for 35 minutes to an internal temperature of 210F. 
Next time, I'll not score it until a little later in the process so it doesn't spread so much.  Maybe it's time to break down and start using a couche for proofing saggy dough.  ;-)