Slcilian Loaves, Breakfast Tart, Faster Pizza's Wood Fired Baked
I baked Sicilian Semolina Bread from D T. DiMuzio's book 'breadbaking' tweaking the formula and fermentation of the biga to adjust to my time schdule for wfo baking.  I also made a fresh peach and blueberry Breakfast Tart with a Pate A Foncer crust and Almond Cream from M. Suas AB&P book with some tweaks again with ingredients and for wfo baking.  The pizza's where Margherita pizza and a fresh homemade pesto sauce and shrimp pizza.  I baked the pizza's in a very hot oven.  When baking pizza fast apx. 2min. pizza you need to have the fire just right along with right floor temperature of the oven.  If the pizza is charing to much on the bottom before the top is done.  You need to make the fire larger and hotter, you would think the opposite.  The pizza needs a larger flame and more heat coming from the top of the oven so the bottom and the top will bake evenly.  Building a larger fire speeds the top baking up to create an evenly baked top and bottom of a pizza pie.  This fire is rolling over creating a convection flow of heat.  That is why the fire is placed to the side of the oven dome.  You don't want the heat to come out your door or up your chimney flue.
I started with a very hot oven and still had plenty of hot coals to shovel out and set the oven for stabilizing the heat for baking.  I started later in the day.  So I would be making my pizza's when it was a cooler outside.  Building the fire goes quick for me now and I only have to add a log about every 15 to 25 minutes until I'm ready to bake.
                              Shrimp Pizza with homemade pesto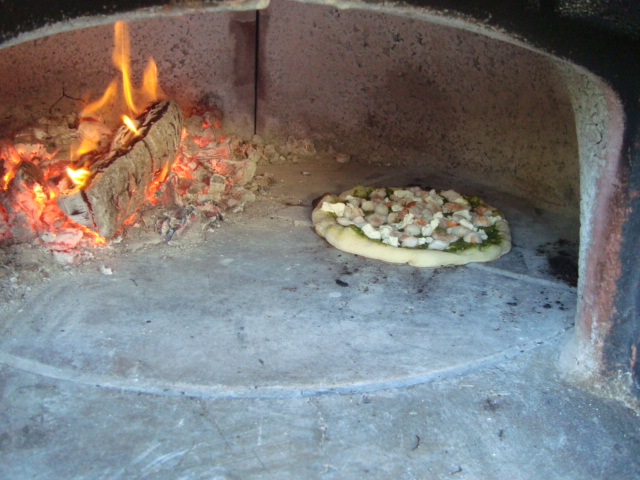 Pizza Margherita for neighbors favorite and mine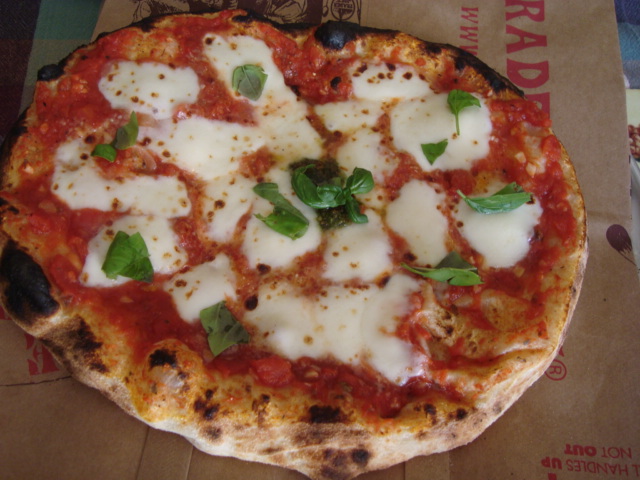 Prebaked tart shell... a little to browned..I was busy shaping bread 'lol'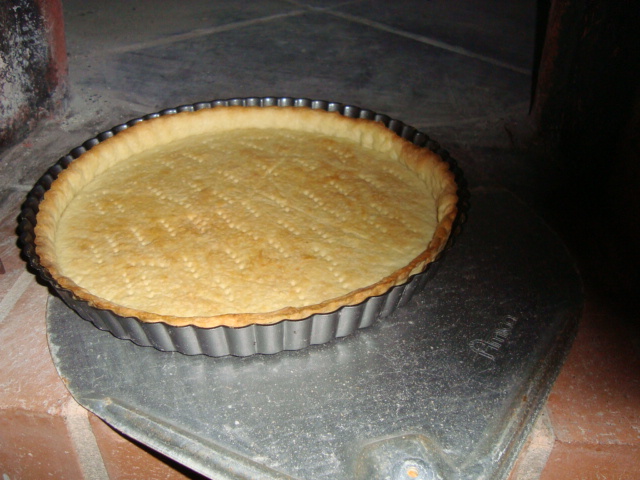 Next bread went in while I prepared the tart with fillings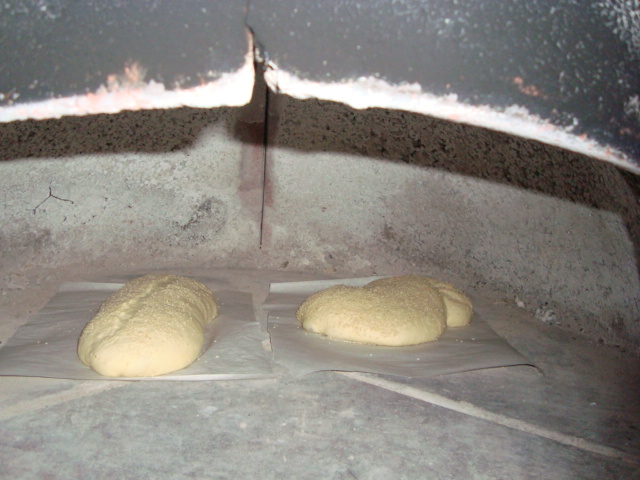 Great oven spring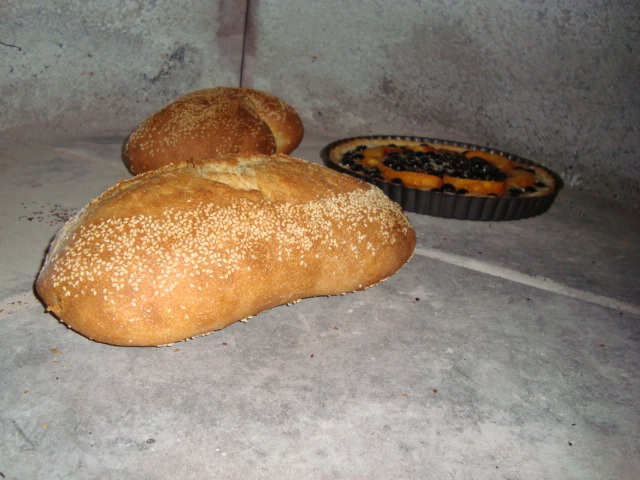 I had my nightly friend visit while I was baking!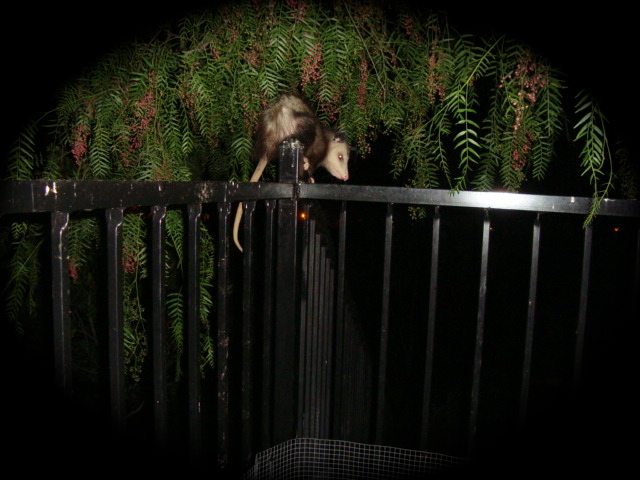 More to come... my husband is rushing me out the door for an appt. we have.  Sylvia
   ADDED:                                               Oven floor temperature at the red lazer dot, between pizza and fire.
                            Never add logs while food is in the oven, unless you want a little ash on top of your food.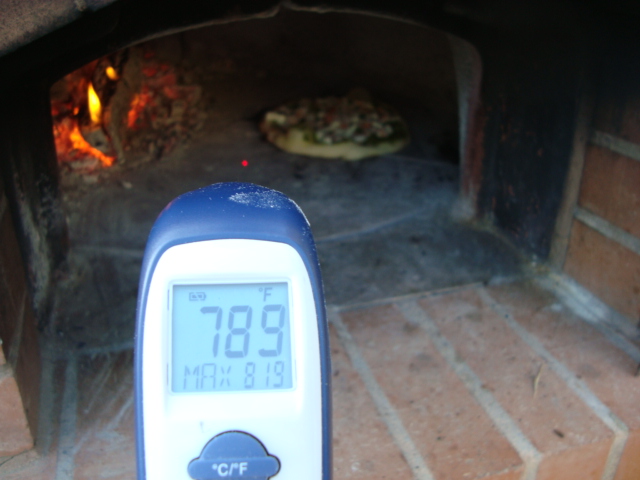 I didn't expect the oven spring I got and it blew out my scroll shape.  Photos were taken in todays morning light.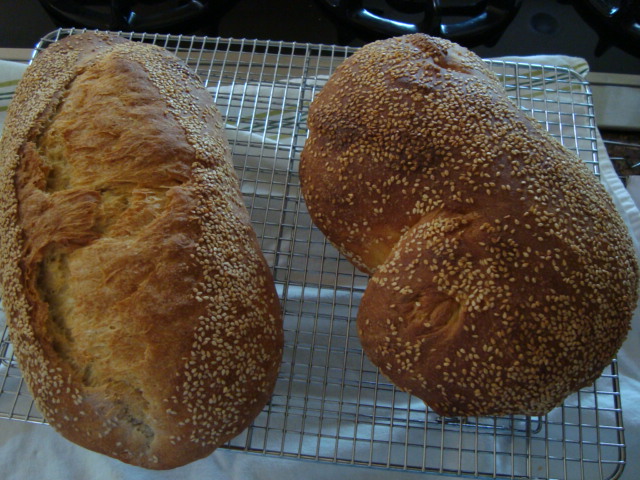 I was happy with the bottom crust color.  Photo taken under night kitchen lights so things look a little yellow.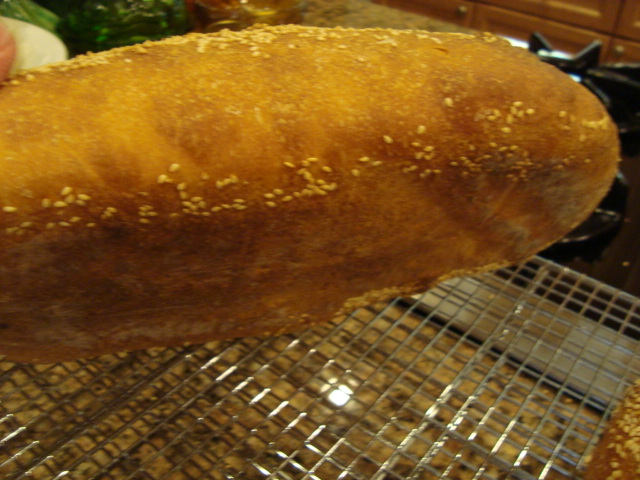 The Crumb Shot            -  I hope for a more open crumb my next go at this wfo baking!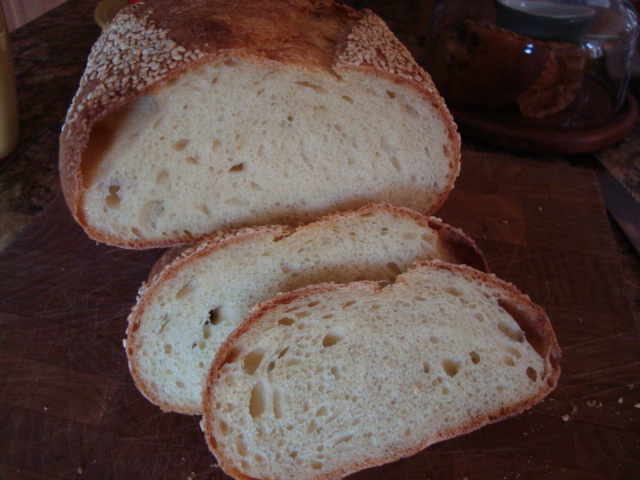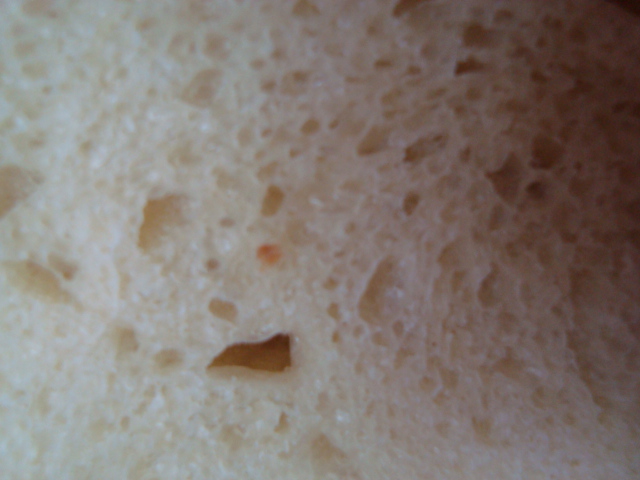 I was very pleased with the way tart baked up in the oven as it cooled down somewhat from the bread baking.  The floor of the oven should be somewhere about 500F for the breads.  All coals removed and oven heat stablized..takes about a hour maybe a little longer, depending on how hot and long the oven is fired.  I had plenty of good hot coals spread all over the floor and then removed for stablizing time.
                                   Now the Tart is baking.. forgot about using a flash...but the lazer lit up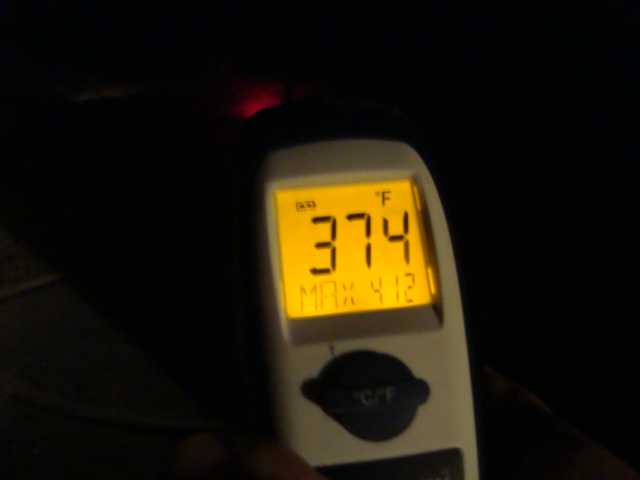 I was very pleased with the Tart and it was absolutely delicious for a morning Breakfast Tart!  I added a little sprinkled on turbinado sugar and it was just right for this 'not to sweet' tart with it's fresh sweet fruit.  It can be garnished many ways.  Tonight it will be served with homemade ice cream!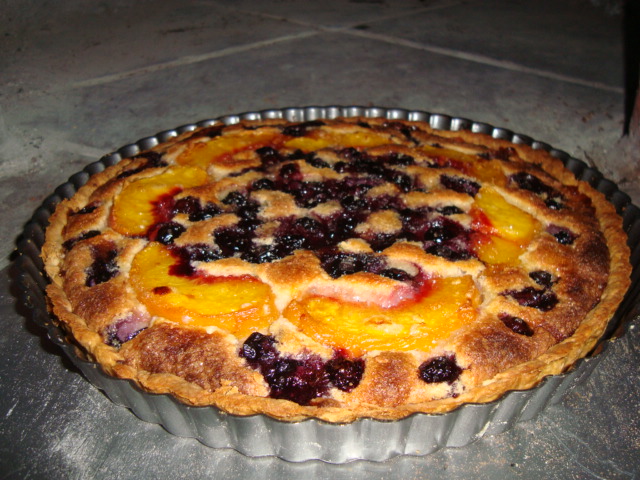 Out of the tart pan.  I was happy the crust wasn't to overly prebaked.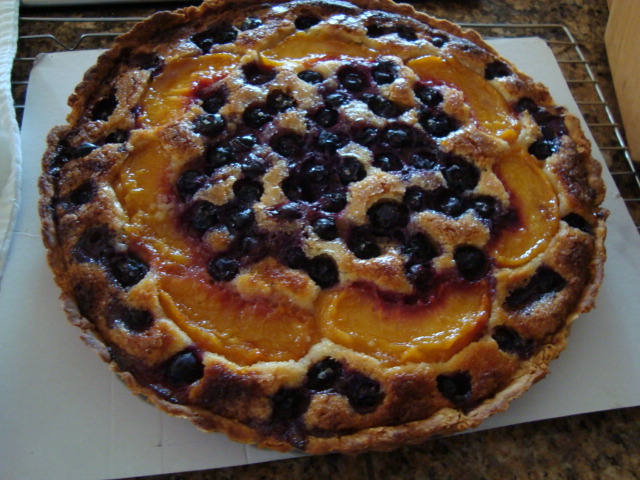 This mornings breakfast, sorry about the big bite out, couldn't help myself.  It really was a delicious tart.  I prepared all the  ingredients the evening before to make things a lot easier bake day.  I think making a natural sourdough bread that is shaped and has a final proof in the my frig overnight is a lot easier than making a bread with a commerical yeast the day of firing up the oven and baking...at least there is a lot less work and timing involved for me IMHO.