Another High extraction sandwich loaf
I have not made any bread blogs for a while now, as i was moving to a another apartment.
Yesterday, i saw a bag of sifted wholewheat flour (truns out to be a high extraction, as i was unable to get rid of tiny bran and germ particles through my sifter), and decided to bake PR's wholewheat sandwich loaf from it (Found in Whole grain breads book).
I prepared a BIGA, and a SOAKERin the morning 8:30 am, and headed for work. I used tiny amounts of yeast in the BIGA inorder for it to ferment slowly until i return home 8 hours later. The BIGA was fermenting faster than i had anticipated, and asked my wife to put it in the fridge, and take it out 2 hours before i return (Wives do come in Handy afterall! :P)
I have yet to try SF (subfuscpersona)'s suggestion on freezing the BIGA and then slowly defrosting it in the fridge 24 hours prior to the baking day. I'll try this method soon.
When i returned, i waited for the BIGA to Ripen, and Mixed all ingredients. I intensively mixed the dough by hand (ala bertinet) until i had a smooth silky elastic dough. moderate Window pane was possible with this dough. I devided the dough into 1.5Kg (for the Pullman look alike pan), and 1.3 Kg for the other pan (IKEA's) red pan.
I baked on a 40 minute 500F preaheated stone. For steaming, i used the wet towel method of Sylvia's. (My now reliable steaming method, thanks sylvia!).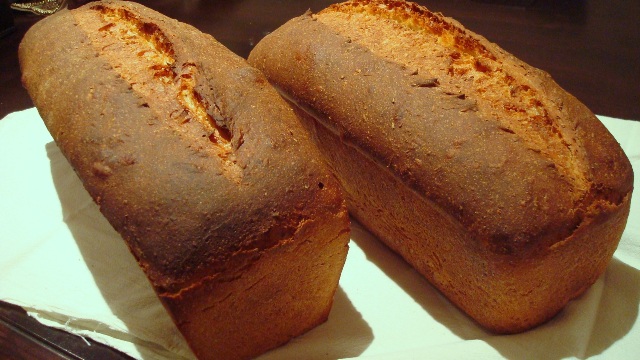 The Pullman Loaf Crumb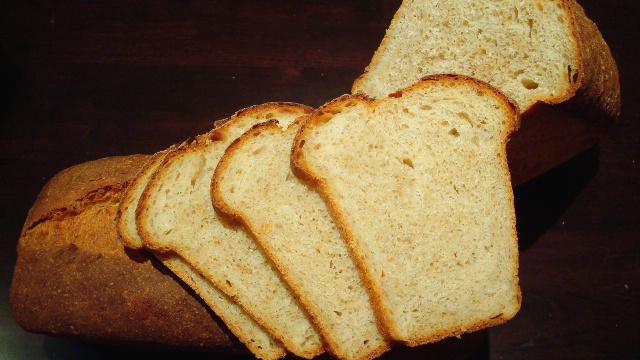 The Regular Pan (IKEA's) loaf crumb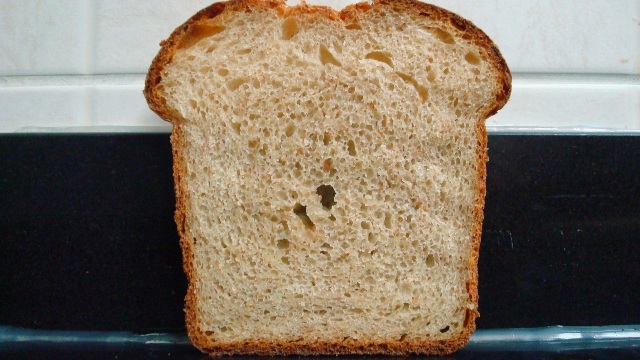 After having baked thrice with my two pans, I have come to a conclusion that The material used in my IKEA pan conducts and retains heat more than the silver deep pan (pullman lookalike).
The flavor is outstanding, thanks to the formulation of peter reinhart, and the freshly milled wheat flour. I also mixed in some extra bran wholewheat flour. The crumb is soft and rich, yet light. It toasts beautifully too. The aroma of the finished loaves is heavenly.
khalid