My first (kinda sorry attempt) of Swiss "St. Gallerbuerli"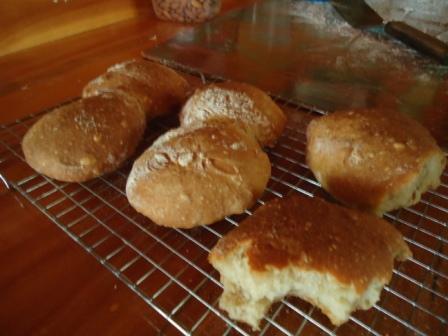 Got this recipe a couple of days ago direct from Switzerland: St. Gallen is a town in the east of Switzerland and one of their specialities besides St. Galler Bratwurst is the St. Galler Buerli. There are only a few bakeries which makes them " right"! In an article I read it says it actually an art. I was borne and raised in the area of St. Gallen (Appenzellerland) so I am familiar with this Buerli, know what it should look, feel and taste.
Tthe recipe calls for "halfwhite flour" which I did not have. It is also a  wet dough (84.5% hydration). In oder not to get tangled up in this really sticky mess, I learned to work with the bench knife. At first I did not pay attention that the recipe is talking about fresh yeast, so I put 7gr of instant yeast in the preferment. When I made the final dough I realized the recipe calls for 17 gr. of fresh yeast all together so I put in another 3 gr. of instant yeast .
In my exitment I forgott to preheat my oven, so the little dough slaks had to stay another 20 min on my counter. Also my oven goes only to 470F, the buerli should be baked at 482F................
After all those downfalls the little sorry Buerli taste pretty good, they don't look like they should and don't taste exactly like  they should (I think, may be close). Will do another try and mix some WW in my AP. Will let you know. Feedback is appreciated.