7/2/11 - Pizza au Levain for Breakfast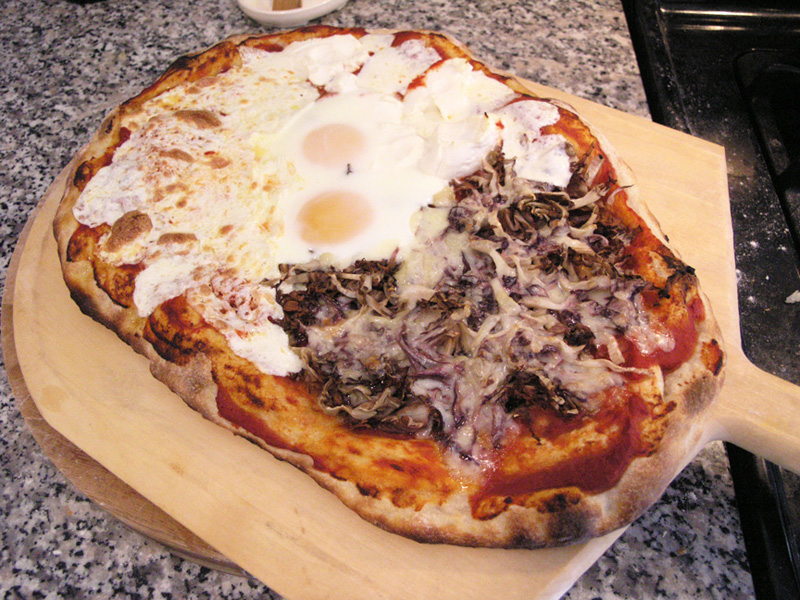 I had some extra sourdough starter that I needed to use, and have been craving pizza for breakfast.  This recipe is extremely easy and the dough is very flavorful and has a light sour tang.  Enjoy!

Tim
Recipe
266g AP (+ 1 tbsp of whole wheat flour)
176g water
54g stiff SD starter at 50% hydration straight from fridge
6g Kosher salt
502g approx dough yield

Canned crushed tomatoes
Fresh mozzarella (sliced and or diced)
Whole milk ricotta cheese (strained)
Fontina (sliced)
Radicchio - washed and shredded
2 eggs

Method:
12:15am - Mix all ingredients by hand in a mixing bowl until you get a shaggy dough.  Cover and let rest.
12:35am - Knead dough for a few seconds until it is smooth.  cover and let rest.
1:05am - Turn dough (stretch and fold) in bowl, lightly coat dough with olive oil, cover and let rise on counter overnight.
8:30am - Place baking stone with longest side parallel to the oven in the center of the bottom rack, preheat oven to 650F (turn oven on convection to 550F and preheat for one hour).  Place oven thermometer on stone to you can see the actual temp of the stone.
9:30am - Take thermometer out of oven.  Turn oven off convection.  On a floured work surface, stretch dough out to the size of the pizza peel, lightly flour peel.  Place pizza dough directly on baking stone and bake for 2 minutes.  Then, take pizza  crust out of oven, spread crushed tomatoes to the farthest edges.  Then on 1/3rd of the pizza, arrange the radicchio and fontina, on another 3rd, place the mozzarella, the final 1/3rd, place the ricotta.  In the center break 2 eggs.  Place pizza back into oven close to the left side of the stone for 3 1/2 minutes.  Scoot pizza over to right side of stone, bake for another 3 to 3 1/2 minutes or until the egg is cooked to your liking (slightly runny yolks).  Take pizza out, let cool for a minute or so, cut and eat.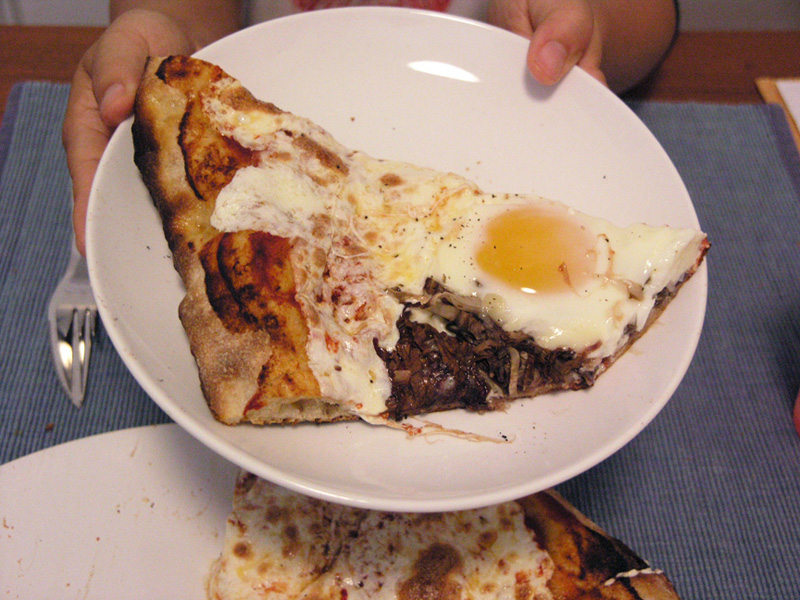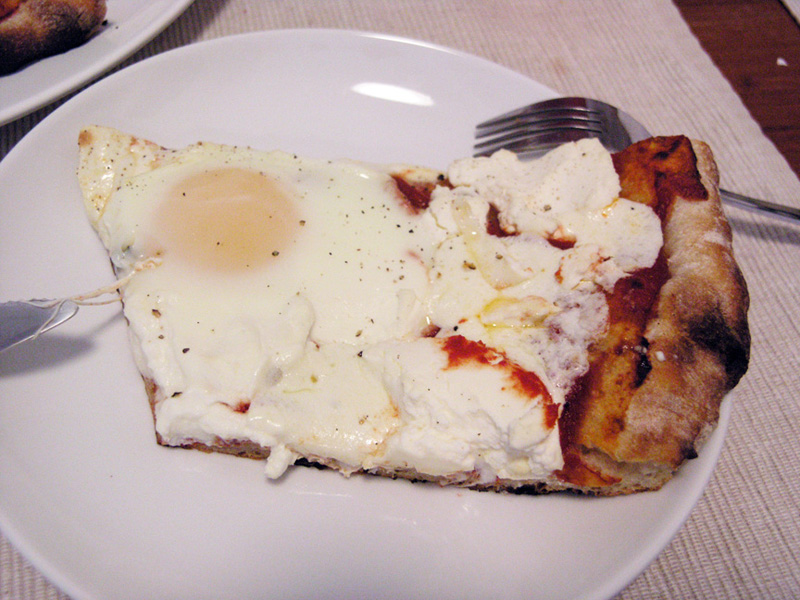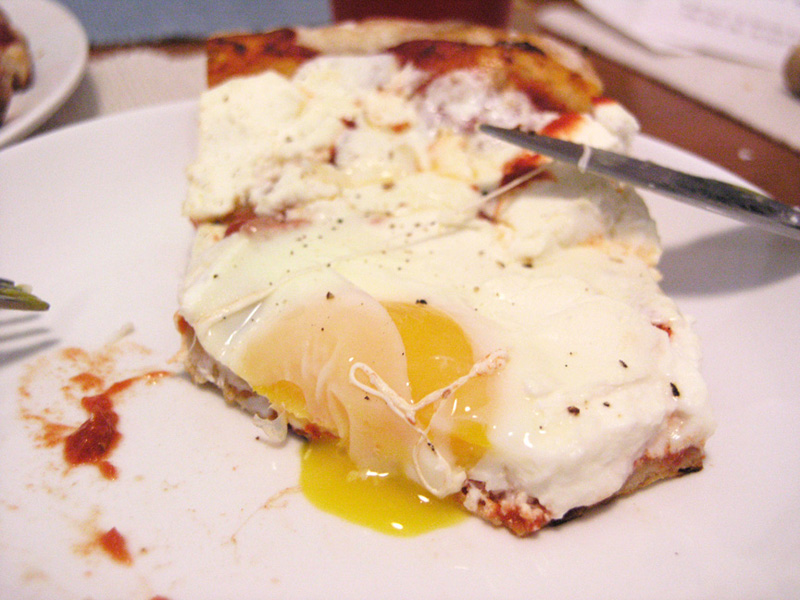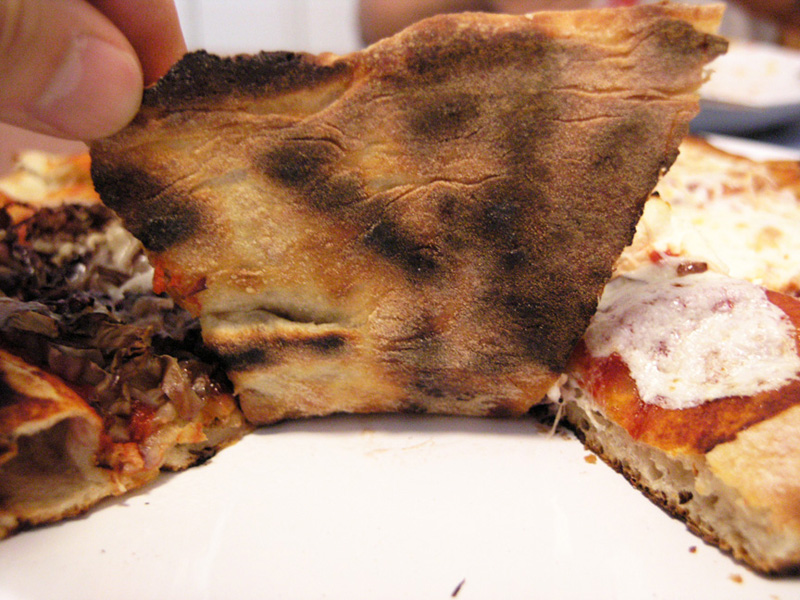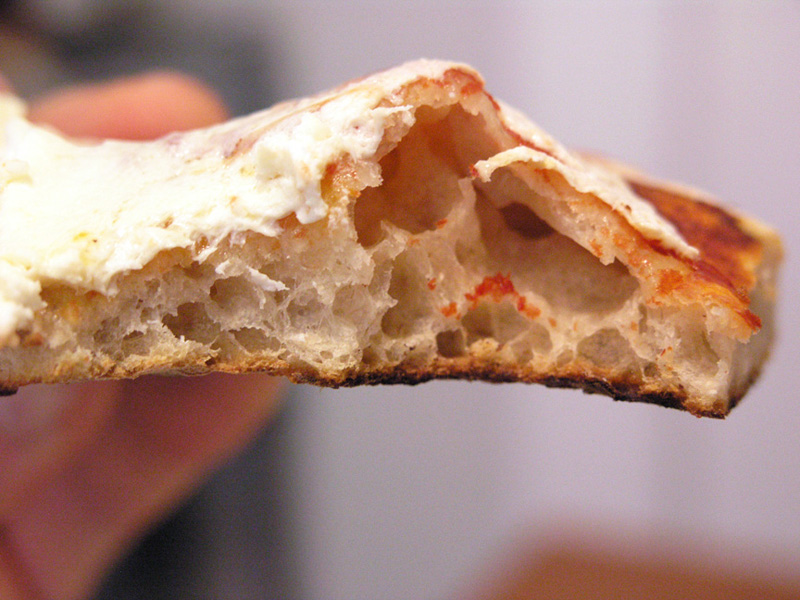 Notes: Placing the pizza close to the edges of the stone allow the crust to receive the maximum amount of heat radiating from the bottom of the oven, so it chars like a wood or coal fired oven.  Moving the pizza from each side allows both sides of the crust to char.

Prebaking the crust avoids the wet soggy crust under the toppings, and also makes the pizza easier to place into the oven without risking the dough sticking to the peel, or the sauce and toppings weighing down the crust.