Pane de Campagne-the first loaf of Summer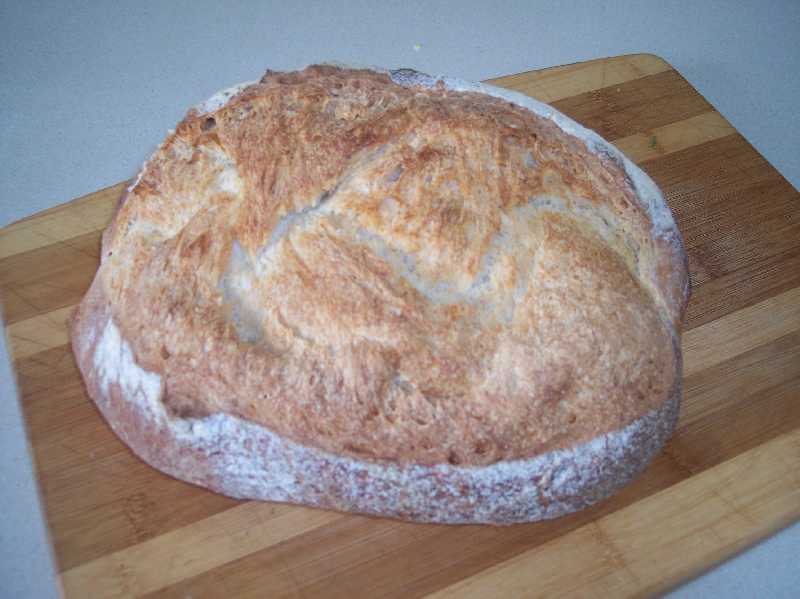 This past Monday my wife and I arrived home from our very first visit to Europe where we spent 3 nights in Prague, then 8 full days cruising the Danube from Germany, through Austria, Slovakia, and finally disembarking in Budapest. It was a marvelous trip which we enjoyed immensely, but as always it's good to get back home, especially after spending 10 + hours flying, transferring, waiting to fly, then transferring twice more before landing back on Vancouver Island.
By the time we got in the door neither of us were hungry, which was good since we'd used up as many of the perishable items stocked in our fridge as possible, including the last of the bread, before we left on our trip. Too exhausted to do anything but crawl into bed, I thought I'd start some sort of a poolish the next day for a bake on the following day. Tuesday evening when I was mixing the poolish I really didn't have a concrete plan of what I'd eventually do with it until I remembered that I had some rye starter left in the fridge. The starter of course was dead as a doornail, but I added some to the poolish thinking if nothing else it should add a little tang to the finished loaf. The poolish went in the fridge overnight to do it's thing, while I decided what sort of bread I wanted to use it in. Pane de Campagne has long been a favourite of mine for it's mild rye flavour that seems to go with just about anything from meat, fish, cheese, to toast and jam. This particular loaf may not be what some would consider a true version of the bread, but it's close enough that I don't have a problem calling it one. The poolish itself wasn't really a poolish in the typical sense as didn't rise up the way a normal one will, probably because the high pH starter killed off most of the scant amount of baker's yeast I used in it, but it had a nice aroma to it and in it went to the final mix. The dough mixed up easily by hand and then a few minutes of work up on the counter to develop the dough a bit. One stretch and fold in the bowl after 30 minutes of bulk ferment, then another 50-60 minutes BF before the intermediate proof of 15 minutes. Shaping, then 30-40 minutes of final proof, followed by the slash, steam, bake routine. No surprises, no ghastly blow-outs, just a decent and very tasty loaf of country style bread to tide me over till I get back to working on a bread project I started before we left on our vacation. More on that at a later date... but not too much later I hope. Formula and procedure used can be found below.
Cheers,
Franko
| | | |
| --- | --- | --- |
| Pane de Campagne |   |   |
| Ingredients | % | Kg/grams |
| Starter/Poolish |   |   |
| Dormant rye starter | 46 | 30 |
| AP Flour | 100 | 65 |
| Water-75F | 100 | 65 |
| Yeast-instant | 4 | 3 |
| Total |   | 163 |
|   |   |   |
| Final Dough |   |   |
| Starter/Poolish | 25 | 150 |
| AP Flour | 83 | 500 |
| Light Rye Flour | 11 | 70 |
| 40% Whole Wheat Flour | 5 | 30 |
| Sea Salt-null Gris | 2 | 14 |
| Yeast-instant | 2 | 14 |
| Water | 73 | 438 |
| Total Weight |   | 1216 |
| Total Flour | 100 | 680 |
| Total Hydration | 76 | 518 |
PROCEDURE:
Starter/Poolish:
Combine the starter/poolish ingredients 12-14 hrs before the final mix and keep in the refrigerator until ready to use.
Final Dough: DDT of 75-78F
Heat 50 grams of the water and add the salt, stirring to dissolve it as much as possible. Set aside.
Combine the remaining ingredients, mixing either by hand or machine to a shaggy stage. Add the salt solution and continue mixing till thoroughly combined and the mixture forms a cohesive mass. Knead the dough conventionally or use the slap and fold method if mixing by hand for 3-4 minutes or until moderate gluten development occurs. Times will vary if mixing by machine so monitor the dough closely that it doesn't overdevelop. The dough should be slightly sticky and not fully developed at this stage. Place the dough in lightly floured bowl, cover and begin the bulk ferment. After 30 minutes do a thorough stretch and fold in the bowl, cover and continue the bulk ferment for an additional 50-60 minutes. Remove the dough and round lightly, cover and allow to rest for 15 minutes before shaping.
Preheat the oven and stone to 480F.
Shape as desired into a moderately tight form, cover and begin the final rise of 35-40 minutes on a parchment lined peel.
When the dough is not quite fully proofed dust it lightly with either AP or light rye flour and slash as desired, keeping the slashes shallow. Spray the oven 4-5 times with water and bake for 3 minutes then spray again. Bake for 15 min and reduce the heat to 450F. Bake for 10 minutes and remove the parchment paper , rotating the loaf on the stone for even coloration. Continue baking for 15-20 minutes or until the loaf is evenly coloured and has a hollow sound when tapped on the bottom. Turn the oven off and leave the door ajar, allowing the loaf to cool gradually in the oven for 15 minutes before placing on a wire rack for 5-6 hours before slicing.