Kugelhopf with Chestnut Flour
I have a friend who owns an orchard of chestnut trees. Each year she harvests them, aided by her donkey, Carlos, who pulls the harvest wagon tree-to-tree. It's hard work, a lot of bending, and the outer husk of a chestnut pod is armored with thorns. In past years, rising at 4:00 AM, she sold her crop, pound by pound, at a nearby Farmers' Market. A recently retired ICU nurse, the proceeds add to her modest pension.  Two years ago, chestnut farmers in the area formed a Co-op.  Now she sells her entire crop to the Co-op. Her life got easier; Carlos didn't benefit.
A couple of months ago she gave me a small bag of chestnut flour; the Co-op is experimenting with selling chestnut derivatives. She asked me if I would create (bake) something using the flour. I agreed, but at the time had no ideas what I might do with it. Chestnuts, in my opinion, have a pleasent, but understated flavor. They taste like...well, chestnuts. That is to say, their flavor, to my palette is unique; In my limited taste experiences I've nothing to compare them to, and little idea how to exploit or enhance their subtle flavor. I've eaten them roasted, and made Creme Brulee, and Chestnut Soup with boiled chestnut puree. That's all. Liked them both--one sweet, one savory--but not much to draw from for baking.
Another long-time friend and I are working down our Bucket Lists. He, I and my wife just returned from a Rhine river boat tour. Beginning in Strasburg, and more southerly towns on the French side of the river (Alsace region) we encountered Kugelhopf.  Not unlike Brioche, Kugelhopf is high in fat and eggs; it's only moderately sweet--until it's glazed. We didn't sample any. Being always too full of Wurst-and-sauerkraut and bier, or onion-and-bacon tarts and bier, or Foie gras and wine we never had room for dessert. Nonetheless, I brought home a Kugelhopf mold, and baked my first ever earlier this week.  http://www.thefreshloaf.com/node/23789/you-know-you039re-foodie-when
Eureka! Eating my first piece of my Kugelhopf I flashed on Chestnut flour.
Yesterday, with eight free hours between levain builds for tomorrow's bake--It's now that tomorrow. I'm writing this between retarded baguette dough's Stretch & Folds--I made a Kugelhopf with 40% Chestnut Flour.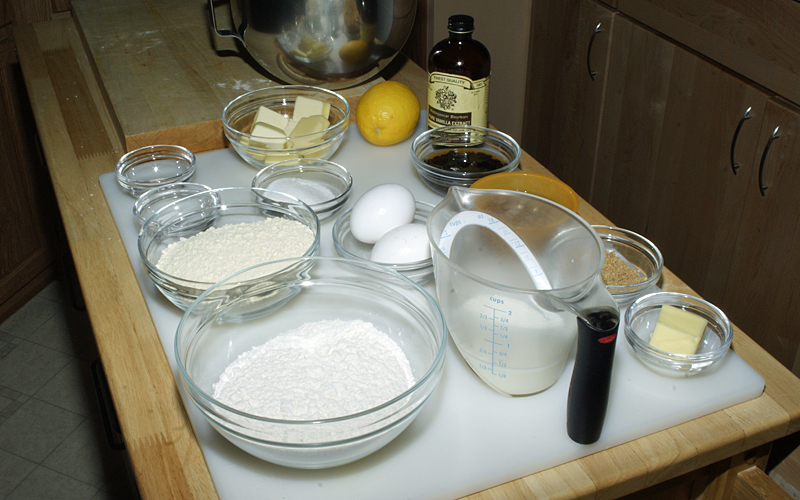 I'm usually not quite this organized but this time I wanted to ensure I got it right.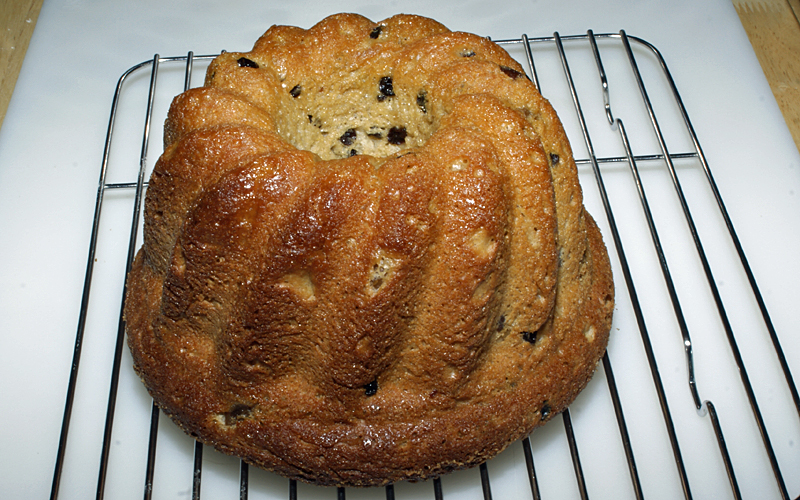 The original recipe I used -- http://www.thefreshloaf.com/node/19577/gugelhupf -- had delightful flavor,  however it had a very wet dough, even after reducing 4 eggs to 3, and made too much dough for my slightly smaller mold. Furthermore, Judy, the chestnut grower and Carlos' driver, had only given me 250 grams of chestnut flour; I wanted to keep half in case the Chestnut Kugelhopf was a bust.
I scaled the original recipe to make 500 grams of dough, adjusted the flour and liquids to an estimated 65% hydration, and added rum-soaked currants and coursely chopped roasted chestnuts. Here is the recipe.
Chestnut Flour Kugelhopf  
Dough weight: 500g (not including fruit & nuts); ~65% hydration
Ingredients:
178g High protein flour (e.g. King Arthur Sir Lancelot)
118g Chestnut Flour
5g Osmotolerent  IDY (1 ½ tsp.)
35g granulated sugar
2 large eggs (estimated 50g/egg; estimated 75g water contributed to dough hydration)
103g Whole milk
1 tsp. vanilla extract (alternately, and/or the zest of 1 lemon)
6g Salt
120g unsalted Butter, well softened
Optional: ¼ cup rehydrated dried fruit, coarsely chopped nuts, or candied fruit
To Prepared the baking pan or bowl (Kugelhopf mold, bundt pan, etc)
Mix together:
2 Tbls. Brown sugar
2 Tbls. Well-softened unsalted butter
With a pastry brush liberally coat the entire inside of the baking vessel with the mixture.
For post-bake sugar glaze:
            100g water
            120g sugar
            2 or 3 lemon peel strips
Directions:
In mixer bowl, combine flour, sugar and yeast; whisk to combine.  Add eggs, milk and vanilla.  On low speed (KAid speed 1) combine until well incorporated; increase speed (KAid speed 2) for 2-3 minutes. Cover and rest for 20 minutes.
Add salt and continue kneading (speed 2) for seven minutes. Scrap bowl occasionally.
Add butter in thirds, combining each third on low speed until butter disappears.
Increase to moderate speed (KAid speed 4) and knead, scraping bowl occasionally, until dough just begins to clean the bowl's sides (about 15 mins.).
Fold in fruit and nuts, if used, by hand. If you use the mixer use lowest speed, and only long enough to distribute evenly.
The dough will be sticky, but satiny. Collect into a coherent mass in the mixer bowl, cover and rest at room temperature for 1 hour. Stretch and fold in bowl, degassing vigorously.
Cover. At room temperature let rise until it doubles in bulk.
Prepare the baking pan or bowl
Preheat oven to 375°F.
Mix the glaze sugar, water and lemon peel in a small saucepan. Bring to a boil and simmer for about five minutes. Set aside to cool
When doubled, degas the dough gently but firmly, and transfer dough to bowl or pan, filling to slightly more than half. Cover, and allow cake to rise until slightly below the pan's top edge.
Bake on lowest shelf until top (the cake's bottom) is deep brown, and internal temperature reaches 195°F to 200°F
Remove from oven, and let cool in the pan for about five minutes; then remove from pan. Let cake cool completely.
Brush the cooled cake liberally with the sugar glaze; sprinkle immediately with granulated sugar, or just before serving sprinkle the cake with powdered sugar.
-----
I think I've got it! The cakes flavor is distinctive. It tastes like...well, baked chestnut flour. At least I think it does. The crumb is only slightly open, and a bit on the dry-side. (I'd tasted the dough; it tasted "dusty". I think the chestnut flour I have is very dry.).  Served with vanilla ice cream, the cake benefited from the pairing.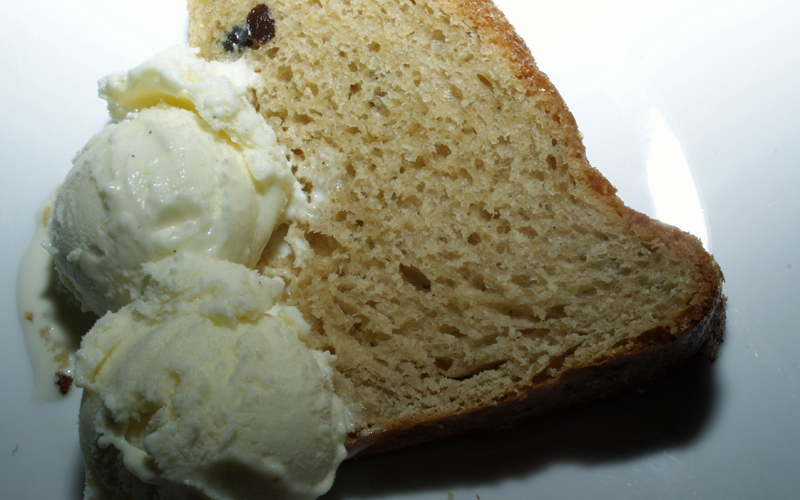 I've enough chestnut flour to bake one more Kugelhopf. When I do, I'll increase the hydration to 67-68%, and omit the chopped roasted chestnut bits. I don't think they add much flavor, or variety to the mouthfeel to warrant including them.
David G