Soys and Linseeds Sourdough - One heathly loaf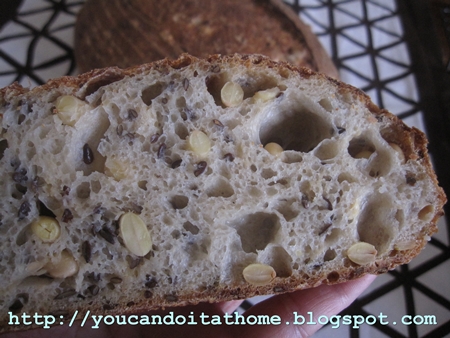 I made this same bread before some months ago combining Jeffrey Hamelman's method and Bourke Street Bakery recipe (not entirely). This time I followed Bourke Street Bakery's recipe closely. Umm, closely, I actually increased the amount of both soy beans and linseeds substantially (double the amount for both soys and linseeds), upped the amount of water a little (hydration percentage) and replaced 10% of bread flour with whole wheat flour.
The recipe called for soy flour, which I didn't use in my previous bakes. I didn't think that I was able to find the flour and I was not a fan of buying a big bag of ingredient specifically for one recipe. However, I also like to experiment with new things/new flours and I came across soy flour at Asian grocery store. The flour has very interesting texture. It was moist, creamy and mushy. It felt almost like the blended soy beans, only drier.
I was glad that I included soy flour into the dough as suggested by the recipe. The flour added moisture, tenderness and creamy colour to the crumbs. The bread was lovely, nutty and full of textures. I was also surprised how sweet the bread was, which I believe the soy flour must have contributed to some of the sweetness.
Soy beans in the bread tasted amazing, I love the texture and its creamy nutty flavour. It was just lovely.  I am also wondering if soy and linseed bread is Australian thing or it is something common. 
Full post and recipe is here.
Sue