Sourdough Pancake with Honey Lemon Poached Pears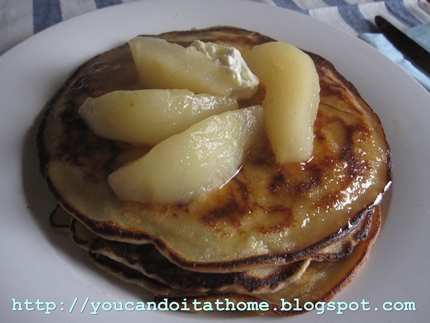 I've been wanted to try making sourdough pancake for quite sometimes. It was regularly suggested by sourdough bakers as a good way to use the starter discard from the feedings. 
I make pancake rather often. And I was curious to find out how well sourdough starter would leaven the pancake batter and the taste it would give.
I used the recipe from King Arthur website. The recipe is for sourdough waffle and also good for pancake. I usually have pancake with berries. Now, it's almost Winter in Australia, berries are hard to come by and/or too expensive. Topping alternative I had in mind was poached pears as pears are now in its peak season. 
I adjusted the pancake recipe a little by adding a little bit of malt powder and grated lemon zest. The pancake recipe produces relatively thin pancake. It was a scrumptious breakfast. Sourdough pancake tasted excellent with mild tang to it. It added depth of flavour. Poached pear was fabulous. I love the honey and lemon combination poaching liquid. It went really well with the pear. I also reduced the poaching liquid to use as pancake syrup. 
Full post and recipe is here. 
Sue
http://youcandoitathome.blogspot.com