Bourke Street Bakery's Apple and Oat Sourdough - fresh fruit toast for a change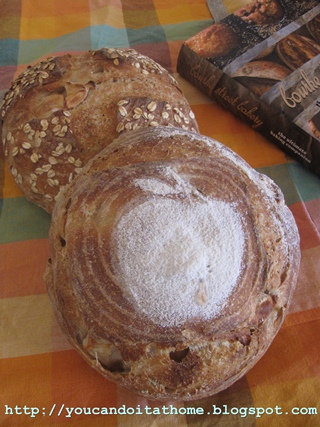 I still had some leftover home-grown apples (not from our home, unfortunately). These apples were delicious, juicy and slightly tart. I wasn't exactly sure what kind of apples they were. My guess would be 'Golden Delicious' because of its golden colour and sweet yet tart flavour.
We quite enjoyed the apple bread I made couple of weeks ago, from Dan Lepard's Exceptional Bread. This time I wanted to try different recipe and my heart was set at apple and oat sourdough from Bourke Street Bakery cookbook. The apples that we had would be just enough for the bread.
I changed the recipe a little by substituting 10% of bread flour with rye flour. I also increased the amount of water a little (hydration ratio) my dough hydration (not including water in oat soaker) was 65% comparing to 62% in original recipe.
BSB sourdough recipe includes high ratio of starter, over 40% against total flour. Now that I was making bread during cold autumn mornings and nights, I found it worked out quite well with the fermentation and flavour. I also followed the book by feeding my starter three times at 8 hours interval before the final mixing, which, I believe, enhanced the flavour and gave better bread texture (the crumb were more open).
This is great tasting bread. I was amazed how flavourful it was. Oats contributed to moister crumbs and earthly flavour. The chunks of apples inside the bread also enhanced the flavour significantly. They gave such a nice aroma, and sweet & tart flavour to the crumbs around them. It felt like we were having a fresh fruit toast for breakfast. What a nice change from dried fruit toast, not to mention the real flavour and no added-sugar from dried fruits.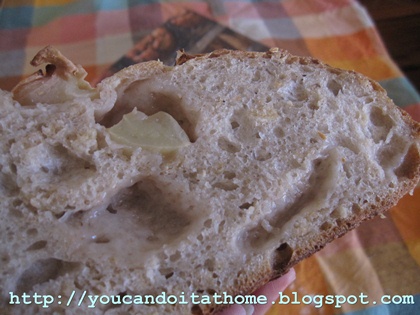 Comparing this bread to Dan Lepard's I made the other week, we loved the BSB's better. It's is simple and clean flavour with fewer ingredients. It tasted simply better, or should I say it matched more with our taste buds or it was more Australian:P.
It also made me wonder what the bread would really taste like at Bourke Street Bakery itself. Sometimes, I just felt like flying to Sydney and find it out once and for all.
Full post and recipe is here.
Sue