Wheat Germ Sourdough - simple and flavourful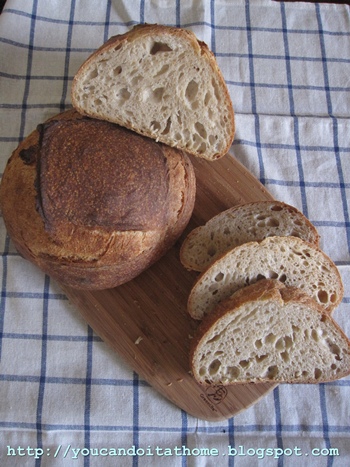 I was amazed how wheat germs enhanced bread flavor when I made David (dmsnyder)'s famous SFBI miche a couple of months ago. I liked it a lot that I wanted to try making more breads with wheat germs.
Well, I can be easily distracted with other baking projects, bread ideas, new books, etc. Now, two months later, I finally got the chance to make a plain sourdough with toasted wheat germs added. 
This time, I toasted the wheat germs longer until it was very aromatic and golden, which I believe it added nuttier flavor to the bread.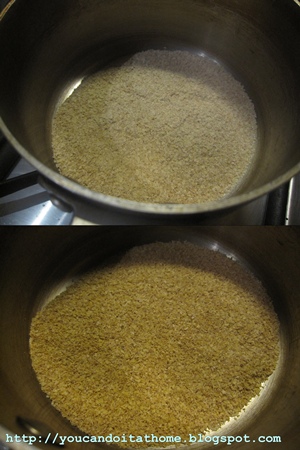 before and after the toast (wheat germ)
I made a simple sourdough with mixed wheat and whole wheat starter that was fed twice before the final built. The formula has 68% hydration, 10% whole wheat flour and 2% toasted wheat germs.
I had been more vigilant with the 'desired dough temperature (DDT)' for the past few weeks as the weather was getting cooler in Melbourne, the temperature is now sitting around 10-14 C in the early morning and evening (when I prepare my starter and/or final mixing). I started to notice that the dough was rather slack without adhering to DDT (as a result of me being slack on the DDT). So, I am now back to the business measuring the temperature of ingredients and adjusting the water temperature to achieve DDT.
I am quite happy with the flavor of this bread. It was a simple sourdough with a small amount of wheat germ that did such a wonder to the flavor. I also love the flavor that mixed flour starter produced, pronounced acidic tone. The bread had a lovely chewy texture.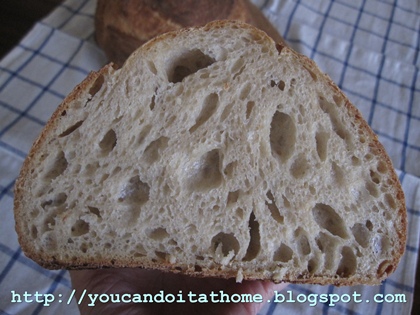 Full post and recipe is here. 
Sue