Today's baking – with thanks to Mr. Clayton, Sue and Andy
Hello everyone, I had the opportunity and pleasure to try making these breads today!

The first is Pain Hawaiien Fauchon (hazelnut and coconut bread), from Mr. Clayton's New Complete Book of Breads.
I had purchased Mr. Clayton's New Complete Book of Breads recently and shortly thereafter was sorry to hear of his passing.
With gratitude to Mr. Clayton for his book, this recipe and for the many wonderful-sounding breads and starters he's written about.
For this bake, the shaping and filling are Russian-braid-style, and inspired by Sue's marvelous-looking! Coconut Babka.
Here's a picture (rich flavor from the toasted hazelnut and coconut, and not too sweet):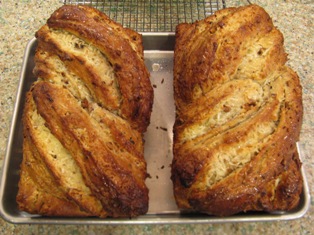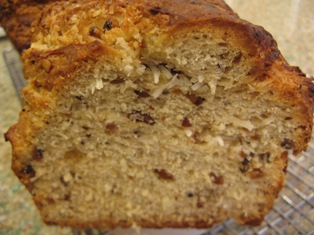 Last weekend I was out scouting for wild edibles, as part of a hike led by the grower at our local herb farm.
I was able to (carefully!) pick some nettles to bring home. After washing, I dried some of the leaves and steeped some leaves in water, to make Faye's Award-Winning Nettle Bread, that Andy posted about (Thanks to Faye for her formula, and to Andy for sharing it!).
Faye's bread was lovely; I really liked Karin's bake of this bread too, and am glad I had the chance to make this.
This bread has an amazing, almost floral aroma from the crushed coriander and cumin, and deep flavor from these spices. The steeped nettle water was a nice deep green color, but the dough did not pick up any green tint; bits of nettle leaf were quite visible in the dough prior to baking, but after baking, less so - the coriander and cumin seeds are easier to spot in the crumb.
The dough mixed up really nicely and was a beautiful texture to knead.
Before baking, I tried stenciling again - trying for a 'nettle leaf'. Fortunately, the side blowout that happened during baking didn't affect the stencilling on top, although the crackled crust did a little bit. I didn't mind a bit and was happy to hear these singing loaves when they came out of the oven :^) :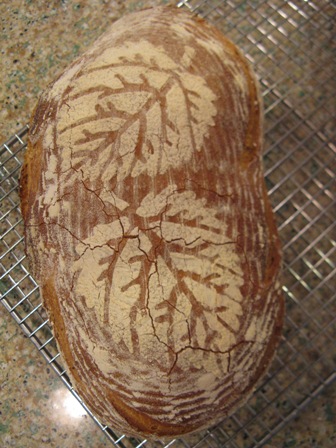 For a long time now! I've wanted to try making Andy's Pain de Seigle, and am very grateful to him his formula, and for kindly writing about leaven building and refreshment when replying to queries in his post.
The rye levain for this bread was built up from a white 100% hydration starter, over two refreshments and 26 (instead of 36) hours. I think I missed the mark on the second refreshment - the levain had peaked before I was up this morning to mix the dough.

I made this bread with 75% sifted rye - the baked bread has a light-colored crumb and the flavor is a bit sour and tangy, completely delicious - I love the flavor this rye sour brought to this bread.
These loaves sang very loudly after baking, and the escaping moisture was knocking little bits of flour off the crust here and there (I haven't seen that before! :^) ). I was hoping for a nice open crumb like Andy's - it was not to be - but I was happy with the crackled crust. Here are the loaves after baking (the scoring was inspired by a beautiful loaf in this post of Franko's):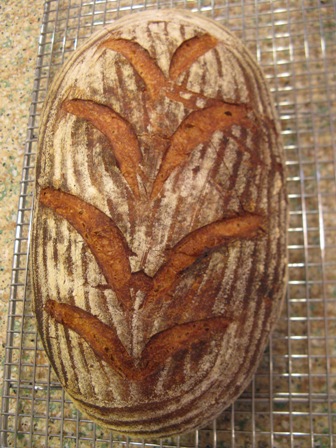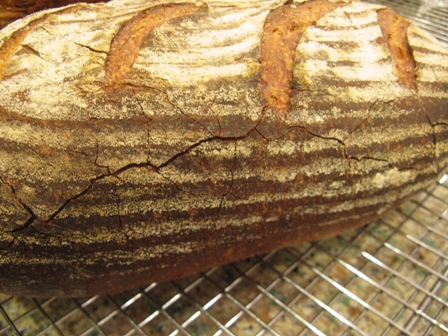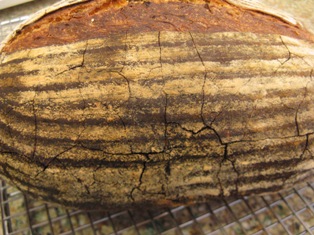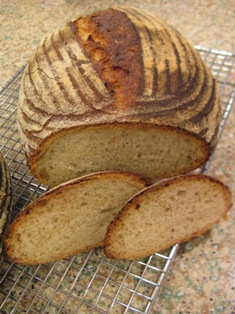 Happy baking everyone!
from breadsong