Traditioanl English Hot Cross Buns with Sourdough Starter - poor buns have been through a lots of trauma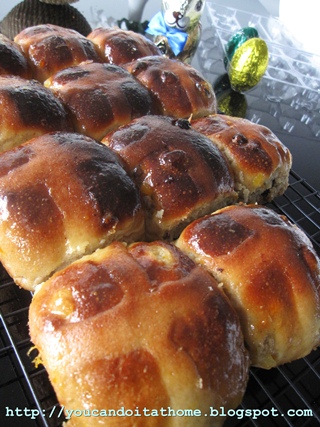 Easter is almost here and it means the long weekend is not far away. Easter is the longest holiday in Australia and it is even longer this year. The Easter Monday falls on our national public holiday, Anzac Day. So, we end up with 5-day long weekend. I'm so looking forwards to the short break and mini getaway.
These poor buns have been through lots of trauma. I didn't know that my convection oven was broken until after I put the buns in the oven (it actually heated to 70c, enough to kill the yeast grrrr). So, I pulled the buns out after few or five minutes and retarded them overnight, hoping that I could sort out the oven issue and bake them the next day.
Well, the oven (convection mode) was still broken...and I had to bake the bread using grill mode (well, grilling bread won't work, breads will be burnt before it's cooked!), then cover them tin with the foil after 5 minutes, then turn the tin upside-down to bake the bottom of the bun. Yes, they've been through a lot. Lest not forget, they were retarded after they had been in the 70C oven for few minutes. So, I am glad that these bun are still edible.
In fact, they tasted lovely regardless. I love Hot Cross Bun and can have them all-year round, Easter or not. I love the spices in the bun, fruits and peels. It's gorgeous.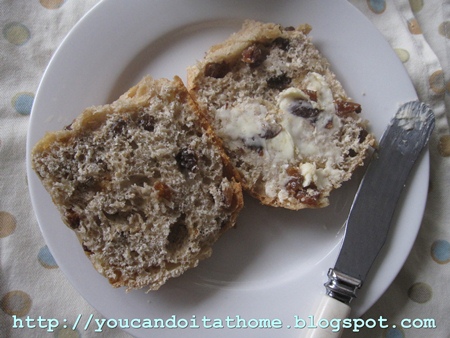 I used Hamelman's recipe from Bread cookbook and changed it somewhat. I included sourdough starter (15% of total weight), replaced 10% of bread flour with whole wheat flour, using raisin instead of currants, using mixed candied peels instead of chopped citrus zest. I also changed the paste recipe somewhat (omit egg and reduce the amount of butter, and reduce the total amount of the paste suggested by Hamelman by 50%). I also used my homemade apricot jam mixed with water as a glaze instead of simple sugar syrup.
This is a very good recipe producing flavoursome Hot Cross Buns. I will have to redeem myself and give these buns what they deserve (proper dough handling and baking mode),  I will have to make these again before Easter.
Full post and recipe is here.
Sue