What I'm Learning Abroad: The Difficulties and Delights of Learning to Bake in France
I've been reading TFL and the countless blogs of its contributors for a while now and finally have decided to jump on board!  I figured this first post would be sort of an introduction, a get-to-know-me page.  
So, during the past 8 months I've spent my first year post-college teaching English at a high school and middle school in the Lorraine region of France.  I live in a shabby apartment inside the high school, ill-equipped for any kind of cooking or baking that's not of the microwave variety.  Hence the "difficulties" part of this post.
My "oven" is a toaster oven with the timer dial missing: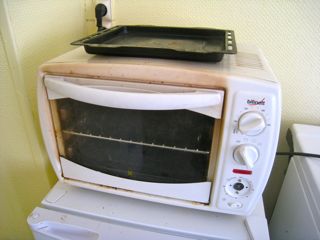 The only measuring utensil - much less scale - is a large plastic 1L cup with markings for water, sugar, flour, and rice:
I have random old pots to double as bowls; no whisks or wooden spoons; and no counter tops, just a small kitchen table (with an unforgivable tablecloth) and a cutting board: have you tried to keep 1kg of wet dough in the confines of a tiny wooden rectangle?  I assure you, it's not easy. 
Now, to the "delights" of learning to bake in France:
Organic T65 flour available for about 80 cents a kilo: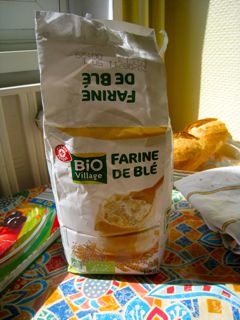 Nice Levure Boulangère, although I doubt this is much different than instant yeast found in the USA: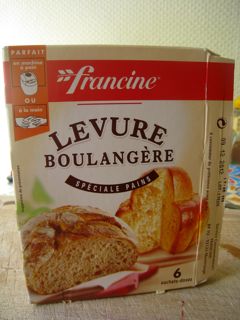 Great examples to follow from just down the street!!: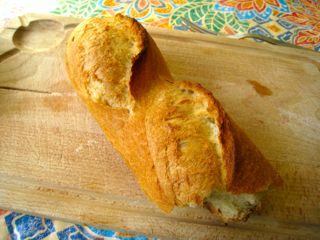 So far, the difficulties would seem to outweight the delights, except for one fact.  For the past three months I've been fortunate enought to be doing an apprenticeship at an award-winning boulangerie in my town.  Usually 2-3 mornings per week before teaching my classes I walk down the street to the boulangerie help with everything there is concerning bread: mixing the different doughs, shaping the breads, scoring, loading and unloading the breads in the oven, and getting them ready for sale in the store or delivery.  We make about 180 different breads and pastries daily, and I'd say about 30 of these are strictly variations on bread.
I'm going to bring my camera in with me one morning since there's only a couple weeks left and take pictures of my boulangerie and the different processes we use, since every one does them differently. 
In the past couple weeks I've tried to adapt what I've learned to baking at home, although as can be seen from above, this is not nearly as easy as I'd thought.  I'll be posting my attempts online from the two weeks I have left in my shoddy apartment, and then hopefully continuing from my home kitchen back in the USA.
Bon appétit et bon pain!
Nate