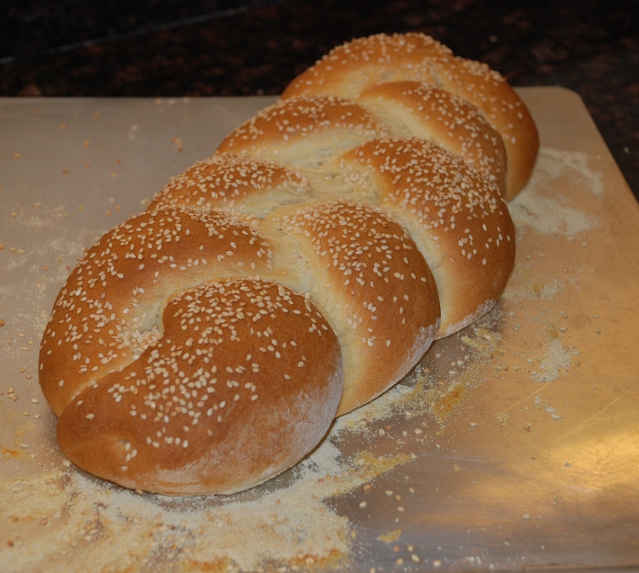 Sometimes it's all about the flour.   I have two bags of flour in my cupboard that I've been dying to use.   One is a 00 flour that I unexpectedly found carried by an store in the center of town.   Lexington, Massachusetts isn't exactly a food town.   The only bread bakery in town carries vast yeasty undercooked loaves that make me gag.   And an Italian grocery / sandwich shop has been there for 2 years without me ever setting food in it.   I simply didn't believe it would be worth my while.   It was.   Ergo 00 flour - surprise, surprise.  The second flour was a bag of semolina that I picked up on my food excursion to Watertown in an Armenian grocery.   I didn't need it - I already had two bags of semolina at home.   Ah well, I buy flour like some people buy shoes.   I know that 00 flour is for pizza.   At this point I really know it since I made pizza dough the other day and handed it off to the resident pizza chef and it was really remarkable - crisp and light.  But I wanted to make bread.    And came upon a recipe on King Arthur - http://www.kingarthurflour.com/recipes/sesame-semolina-braid-recipe - that uses both KA Italian Style flour and semolina.   I had to try it.   I converted to weight and metric and made a few more changes - I am reducing salt by around half nowadays for health reasons in all my breads; added more water than called for just to get the dough to adhere; and used 00 instead of the Italian style.   Here is the formula:
00 flour

239

60%

 

 

Semolina

161

40%

 

 

yeast

7

 

 

 

salt

4

1%

 

 

non-diastatic malt powder

20

 

 

 

Olive oil

25

 

 

 

water

241

67%

 

 

sesame to sprinkle

 

 

 

 

 

 

 

 

 

Mix all ingredients but sesame and knead for 5 minutes

 

(used Kitchen Aid for kneading)

 

 

 

Bulk ferment in bowl until puffy

 

 

 

Cut in three sections, roll out, and braid

 

 

Cover and proof until double

 

 

 

Spritz with water and sprinkle with sesame seeds

 

 

Bake for 27 minutes at 400 with some steam at the beginning

 

 

 

 

 
I forgot the step in the original where the dough rests for 30 minutes between mixing and kneading.  
This results in a soft tender bread which has the subtle flavor of its flours.   Not flashy, but really good.   Also quite a large loaf - fifteen inches long.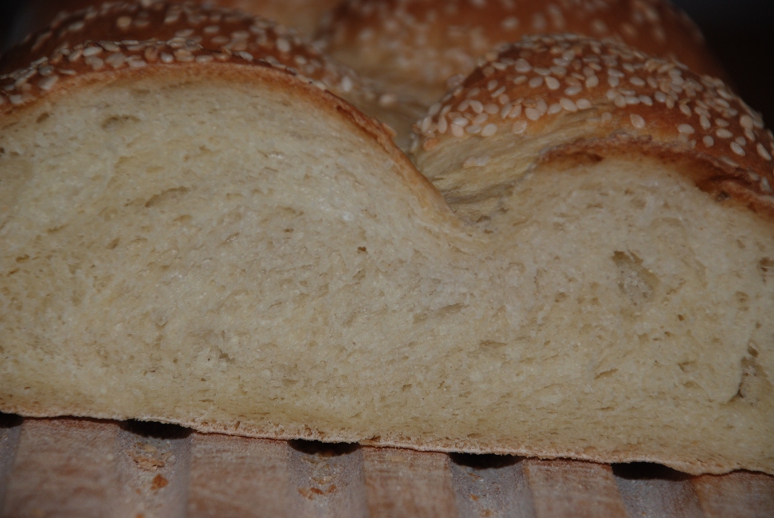 And the flour: