Pugliese - the quest for durum flour was over...I finally found it!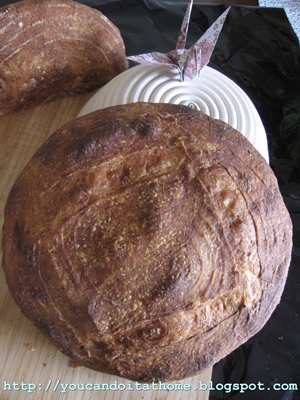 Somehow, durum flour eluded me. I thought that fine semolina was durum flour (given that they're both comes from durum wheat). I thought durum flour was called fine semolina in Australia. 
Thank to Sylvia (SylviaH) for pointing it out in her blog post together with pictures that they're totally different. I then just knew that I had made semolina bread all along with fine semolina thinking that I got the right ingredient (mind you, the breads tasted lovely and the crumb strucdture was fine with fine semolina as well). 
So, I was very excited when I finally found the durum flour at an Italian grocer. First recipe that comes to my mind was pugliese.
I used the recipe from Peter Rienhart's BBA, with 40% durum flour. The dough hydration is 77% without considering mashed potato. I also included about 20% mashed potato in the recipe (recipe only calls for 12% but I got the more from the left-over). So, the effective hydration could very well be close to 90% if taking into account the liquid from mashed potato.
This was the wettest dough I worked with so far. It was far too wet to knead, so I had to do the stretch and fold in the bowl for a number of times to develop the dough strength. It was fascinating to see the dough structure changed from pancake-like structure, to develop membrane and bond together. Ahh, the wonder of wheat!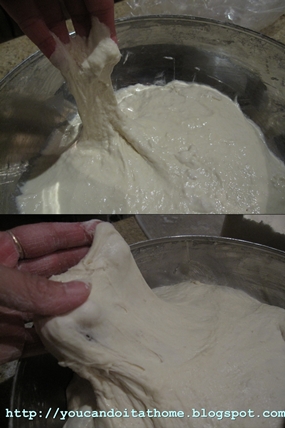 The bread was lovely and chewy. Semolina tasted somewhat different from wheat, it's nuttier and sweeter. I also wonder what the flavour profile would be like if made using sourdough culture instead of yeast?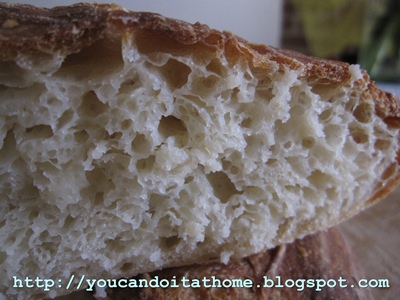 For full blog post and recipe, you can find it here.
Sue