French Date and Almond Tart
I love making tarts! It's my new obsession! I've tried a couple recipes, but this French Date and Almond Tart is my absolute favorite... Well after some recipe testing and revisions. In fact, I love it so much that I'm officially naming it my signature pastry.
The first time I made it was for a get well dinner for a friend. She just had major surgery and was under some pretty hefty prescription drugs when I delivered her a lasagna, a fresh loaf of pain de champagne, and a tart. She opened the box with the tart and replied, "Oh! Isn't this what they serve to the queen?" I quickly nodded my head and walked her to her chair. Too funny.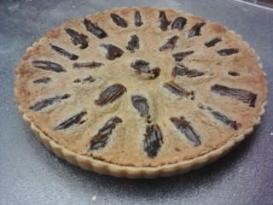 -Colby