Hello, everyone.  I'm Teketeke's son (Akiko), and this is my first time baking bread. I made rosemary bread.  This took me about 2 1/2 hours. Oops, one of my loaves didn't de-gas much. This recipe was from the Food Network.
 It tasted great, I loved it, but I had to add a lot of water though because the dough was tough.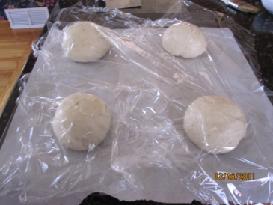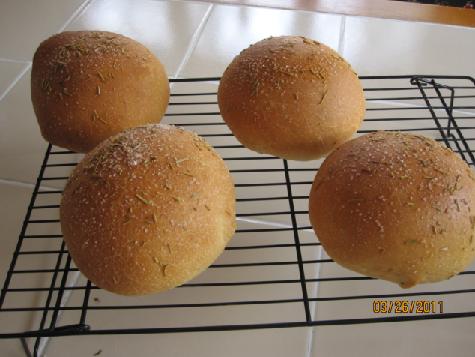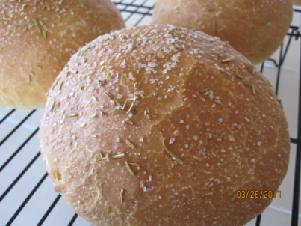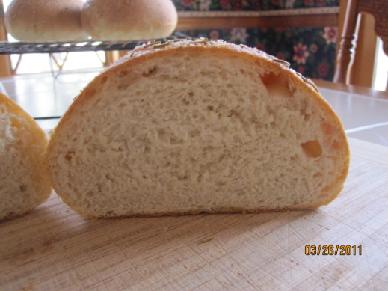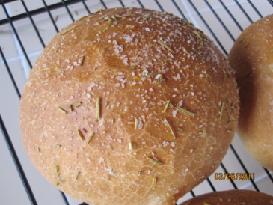 Ingredients
                                                                          1/4 ounces of active dry yeast (I used 6g of active dry yeast)
                                                                         2 teaspoons of sugar
                                                                          2 tablespoons of extra-virgin olive oil+ some more for brushing and serving
                                                                          2 1/2 cups of all-purpose flour
                                                                          2 tablespoons of dried rosemary
                                                                          1 teaspoon of fine salt
                                                                          1/2 teaspoons of kosher
                                                                          one gram of freshly ground pepper 
                                                                                   Method
                                             1.) Stir the yeast, sugar and 1/4 cup of warm water in a large bowl. Let it sit foamy, about 5 minutes.
                                             2.)Add 1 table spoon of olive oil, the flour, 1 ½ tablespoons of rosemary, the fine salt, and ¾ cup warm water, then stir until a dough forms
                                             3.) Put the dough on lightly floured surface and kneed adding water and flour if necessary, until smooth and elastic
                                             4.) Brush a large bowl with olive oil. Add the dough, cover bowl with plastic wrap and let it stand in room temperature until the dough rises 3 times its original height.
                                             5.) Brush 2 baking sheets with olive oil. Add the dough and spilt into 4 equal pieces. Shape each piece like a sphere. Then let the dough rise again until 2 times its size.
                                             6.) Preheat oven to 400 degrees. While waiting brush olive oil on the surface of the dough, then sprinkle with the kosher salt and ½ tablespoons of rosemary. Then bake in the oven for 20 minutes. Transfer the loaves to a rack to cool. Serve olive oil and the pepper.
                                                                    Enjoy!
Best wishes,
Hajime