Third Time Lucky - Croissant and Pain au Jambon
It's the third time lucky for me making croissant. Well, sort of.
I think my third time yielded decent croissants but they are still far from what I want to achieve. I'm now on the mission to practice making croissants every week until I can make it well. My partner is quite pleased to learn this, as well as our neighbors who are more than happy to be guinea pigs.
There are some issues with this bake. The temperature was too warm to work with butter and dough lamination. So, I ended up chilling the laminated dough overnight, then shape the croissants first thing in the morning when room temp was around 27C. The dough was fully fermented and butter was set, which made it a little difficult to roll. This could contribute to my not-so-flaky croissants.
I used the recipe from Bourke Street Bakery cookbook and halved the recipe. The recipe used pre-ferment and has about 58% hydration. I also made pain au jambon (inspired by the same menu item at Tartine Bakery) using half of the croissants. Pain au jambon tasted very good. Because ham and cheese were rolled inside croissants, it infused the flavours into the pastry and created nice internal moisture, the salty buttery goodness.
Recipes and more pictures can be found here.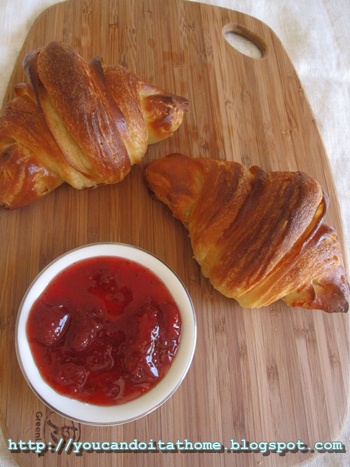 With me-made strawberry jam, perfect for breakfast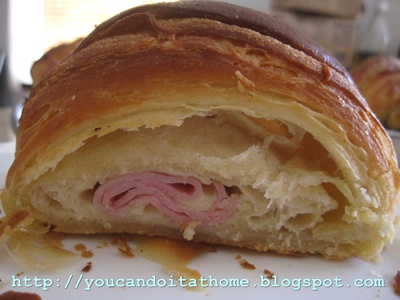 Pain au jambon, inspired by Tartine Bakery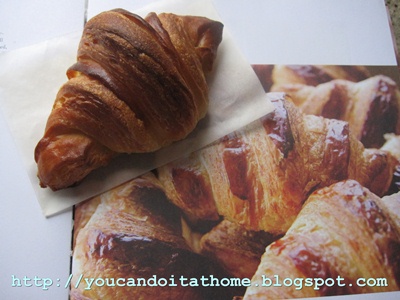 my croissant and Mr Chad Robinson's
Sue