Biscotti di Greve in Chianti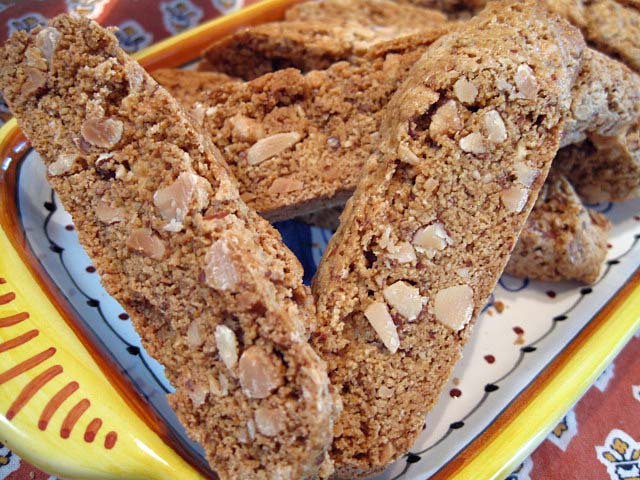 Biscotti di Greve in Chianti
Carol Field is probably best known as the author of The Italian Baker. While it was first published in 1985, twelve years after Beard on Bread, it was certainly at the leading edge of the artisan bread movement in America. It is still frequently cited as the best book on Italian baking ever published in this country. I have never seen The Italian Baker, and my searches for it found it to be out of print with used copies selling for high prices. I'm delighted to have discovered, just yesterday, that it has been revised and is currently scheduled to be released in November, 2011. (The Italian Baker, Revised: The Classic Tastes of the Italian Countryside--Its Breads, Pizza, Focaccia, Cakes, Pastries, and Cookies)
Carol Field has written several other cook books, an Italian travel book and a novel. I checked out her book, Italy in Small Bites, from the library this week. It is a book of Italian between meal snack foods, although many are considerably more substantial in both calories and nutritional value than what we think of as "snacks" in the US. Field's writing about the place of these foods in Italian culture is quite fascinating for anyone interested in food and culture. (DaisyA! If you haven't read this book, you must!) But, no more about that now.
I had the afternoon off and looked for something from Italy in Small Bites I could bake before dinnertime. I chose "Biscotti di Greve in Chianti." I've never met a biscotto I didn't like, but my wife has a dislike of anise flavored cookies, so the type of biscotti with which I was most familiar was out. These biscotti, which Field had from a bakery in Greve are flavored with almonds, vanilla and orange zest, all of which we like. The recipe was also attractive in that it is mixed in a food processor and seemed quick and easy.
Biscotti di Greve in Chianti
Ingredients
2 cups (280 g) unbleached AP flour
1 cup sugar
1 tsp baking soda
Pinch salt
2 eggs, room temperature
1 egg yolk, room temperature
1 tsp vanilla extract
2 tsp grated orange zest
1 ½ cups dry roasted almonds
1 egg, beaten with 1 tsp water for glaze
Procedure
Measure the flour, sugar, baking soda and salt into the bowl of a food processor with the metal blade and pulse to mix thoroughly.

Mix the eggs, egg yolk, vanilla extract and orange zest in a two cup measuring cup.

With the processor running, pour the liquids over the dry ingredients through the feed tube. Mix to a shaggy mass, not until a ball forms.

Pour half the almonds into the ball and pulse a few times. Repeat with the rest of the almonds.

Transfer the dough to a lightly floured board and press it into a coherent mass. (This is the hardest step. I used my hands and a bench knife to fold the dough, which started out as discrete granules of dough mixed with nut fragments, into something that stuck together after folding and pressing repeatedly.)

Preheat the oven to 325ºF.

Divide the dough into 2 or 3 parts and form each into a log, 2 inches across. Brush each log with the glaze. Place the logs, at least 3 inches apart, on a buttered and floured sheet pan or on sheet pan lined with parchment.

Bake 25-30 minutes until light golden brown.

Remove from the oven to cool, but leave the oven on.

Once the logs are cool enough to handle, slice each at an angle into ¾ inch thick cookies, using a serrated knife, and lay them on a lightly buttered cookie sheet.

Bake the cookies for 12-15 minutes on each side until golden.

Cool (and dry) before eating (If you can. I found that snacking on the log ends during the second baking assisted with this step.)






These biscotti are very tasty. They are less sweet than most, with a nice almond flavor. The orange flavor is very subtle. I haven't tasted them yet dipped in cappuccino or in wine, but I think that's how to enjoy them best.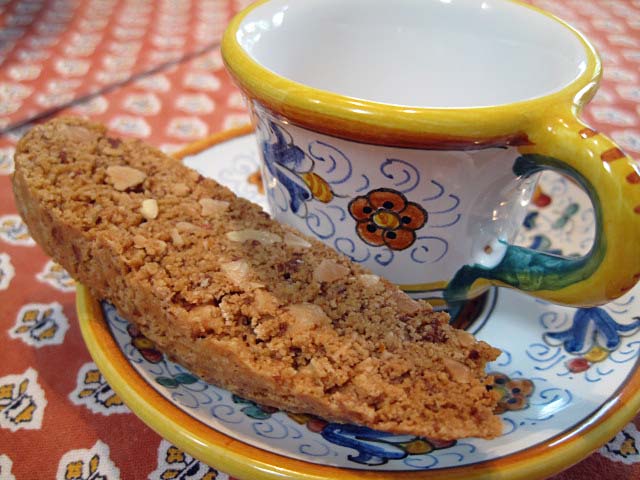 David