Gérard Rubaud Miche (Adapted)
I'm so excited - I just can't hide it - I'm about to lose control and I think I like it.
Until today, I had no idea the Pointer Sisters were bakers.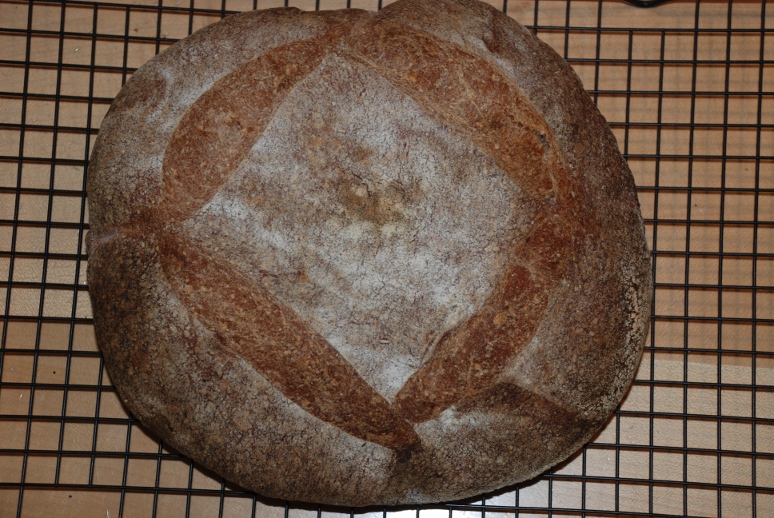 Finally, on my sixth attempt at making the Gérard Rubaud Miche which Shiao Ping so memorably demonstrated, I have something that looks like bread.   I don't know why this bread is so difficult.   I adapted it, and adapted it some more to get to this point.   I was motivated by the fact that it is really just completely delicious even when it looks like something the cat dragged in.   My husband (who claims he only likes white bread) says everytime I make this, "This is really good.   Have you ever made it before?"   This bread even contains its own ether of forgetfulness.    I won't cut it until tomorrow, so who knows, but... Proth5's comment on DavidG618's  recent post on whole wheat sourdoughs, was what led to the latest adaptations.   Shiao Ping mentions fermenting this for around 3 hours in quite warm conditions before cold retarding overnight.   This is what I tried to do for several of my tries.   This time I cut the bulk ferment to less than two hours, with total fermentation including proofing at 4 hours and 15 minutes.   Earlier I had given up on the mixed grain starter with three stages and tiny amounts of rye and spelt added at each stage, and just started using my own regular starter.   That also helped a lot.   Maybe with the shorter ferment times, I could go back to the  Rubaud starter.   I am curious as to whether or not it would make a difference (in a positive way that is.)
Here is the formula:   I also scaled down from the original quantity of around 3.5 pounds to 2.5 pounds.   But I'm not going to call it a mini-miche - just a miche that is slightly smaller than regulation.
| | | | | | |
| --- | --- | --- | --- | --- | --- |
|   | Final | Starter |   |   |   |
| WW | 127 |   |   | 127 | 18% |
| Spelt | 64 |   |   | 64 | 9% |
| Rye | 17 | 5 |   | 22 | 3% |
| White | 405 | 95 |   | 500 | 70% |
| Water | 508 | 62 |   | 570 | 80% |
| Salt | 13 |   |   |   | 1.9% |
| Starter | 162 |   |   |   | 14% |
|   |   |   |   |   |   |
|   | 1296 |   | 2.6 |   |   |
(Even though I used my own starter, I adjusted all the numbers so they came out with the same percentages as Shiao Ping's version.) 
 And the crumb with spelt-induced sheen: