This weekend's baking: Sour Rye, SFBI Miche and Vienna Bread with Dutch Crunch
This weekend, I returned to my roots, tweaked a new favorite and baked a new bread.
When I started baking bread again after a 25 year hiatus, my motive was to make two favorite breads I was unable to obtain locally – Jewish Sour Rye and San Francisco-style Sourdough. My initial achievement of these goals was with the Sour Rye formula from George Greenstein's Secrets of a Jewish Baker and with Peter Reinhart's Sourdough Bread from Crust & Crumb. These remain among my favorite breads.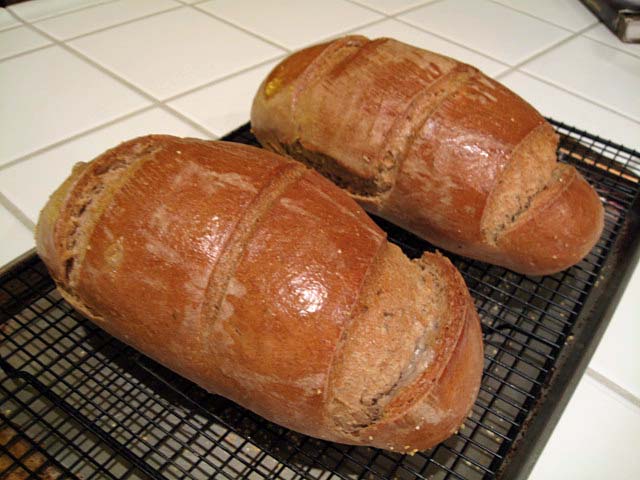 Yesterday, I baked Greenstein's Jewish Sour Rye. The "authentic" NY-style deli bread is made with a white rye sour and first clear flour. As my taste for heartier rye breads developed, I began using whole rye flour rather than white rye and found I preferred it. For this bake, I used KAF Medium Rye though, and found it a very good.
Greenstein's recipes all use volume measurements. Some time back, I converted a couple of my favorites from his book to weights. (See Sour Rye Bread from George Greenstein's "Secrets of a Jewish Baker") Although I'm a firm believer in weighing ingredients and do so even when feeding my stock sourdough starter, I have to confess I feed my rye sour by feel. The sour I built for this bake must have been firmer than usual or the medium rye thirstier than the BRM dark rye flour I've been using, because the dough ended up drier than usual. The effect was the cuts opened up much more than they usually do. The loaves were also under-proofed, and they had major bursting.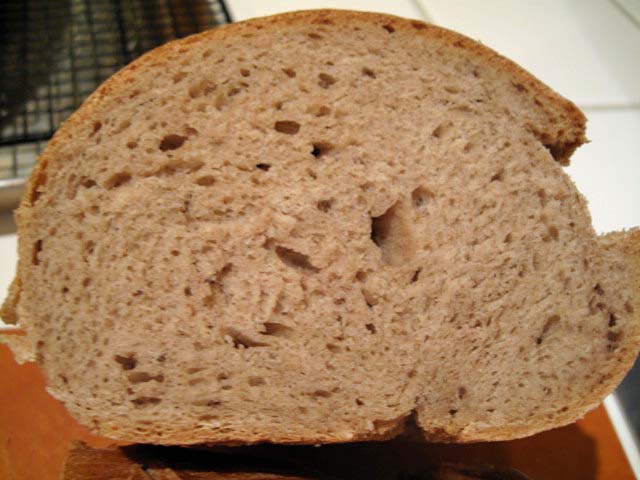 The flavor of this bread is wonderful. When tasted right after cooling, it was intensely sour. It was less sour on the second day. I believe I'll stick with medium rye for this bread for a while.
The miche we baked during the SFBI Artisan II workshop (This miche is a hit!)  is a new favorite. I've made it four times now, I think, each time with a different flour mix. Today, I picked up on brother Glenn's bakes using half Central Milling's "Organic Type 85" flour and half one of CM's baguette flours. I used CM "Organic Tye 85" flour to build the levain and KAF AP flour for the final dough. This results in 13% high-extraction flour and 87% white flour in the total dough. I scaled the miche to 2 kg for this bake.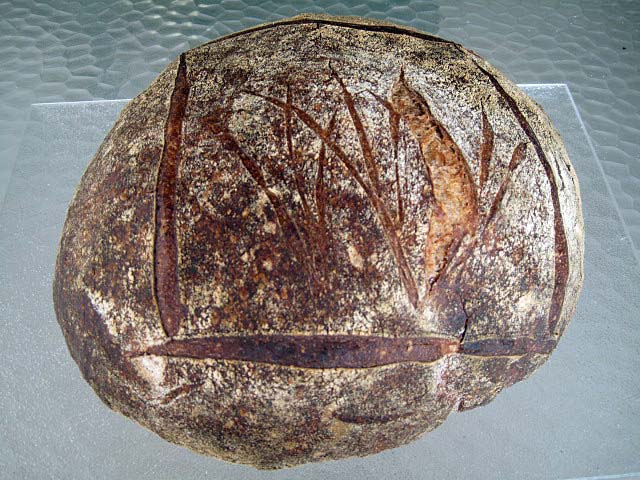 I was inspired by Breadsong's scoring of her Teff miche (SFBI Teff Miche - 1.5kg) and attempted to do something similar. I bow to her superior artistry, but I'm not unhappy with my result.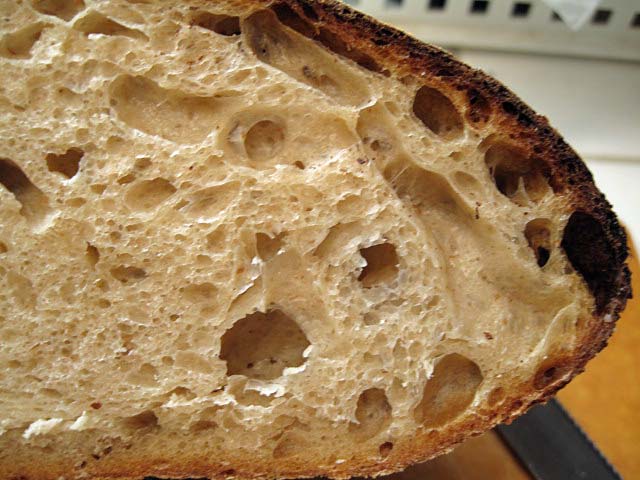 SFBI Miche crumb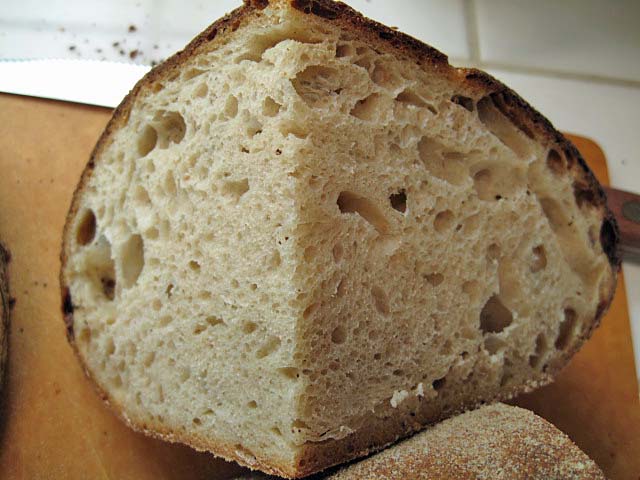 SFBI Miche crumb
I left the miche wrapped in baker's linen overnight before slicing. The crust remained crunchy. The crumb was moist. The aroma was quite wheaty. The flavor of the crust was dark and sweet. The crumb was moderately sour but with a complex wheaty, sweet flavor. 
Recall that all the high-extraction flour in this bread was pre-fermented. I really like the effect. The higher ash content results in more active fermentation and acid production, both of which I appreciate. The impact of the Type 85 flour on the flavor profile was greater than one might expect from its 13% presence in the total flour. In the original SFBI formula, the whole wheat flour is also in the levain, and constitutes only 3.33% of the total flour. This bread was very good made entirely with high-extraction flour, but, at least at the moment, I believe I like it best using the original formula. It's a hard call, because all the flour mixes I've used have made delicious breads.
The new bread I baked was the "Vienna Bread" with Dutch Crunch from BBA. The TFL members' bakes of this bread (Latest Bake: Dutch Crunch) really inspired me, especially the rolls, since we planned on making hamburgers for dinner.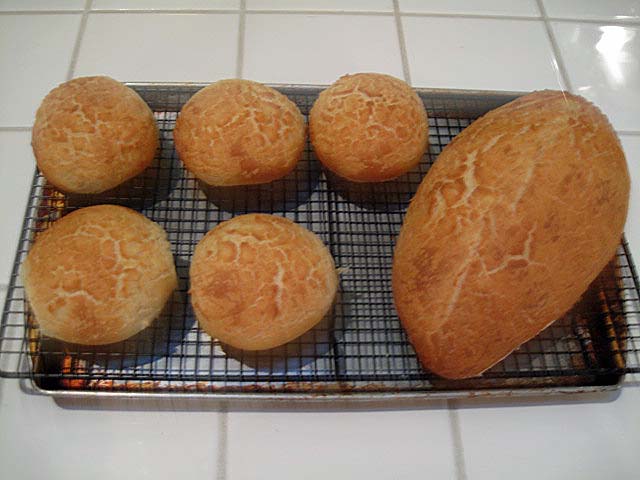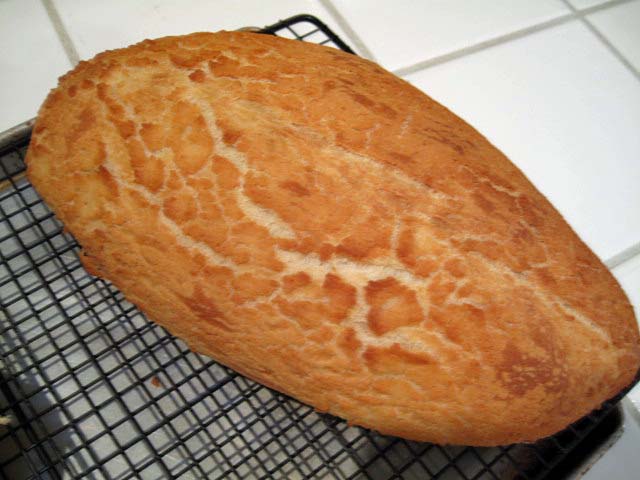 Vienna Bread with Dutch Crunch Bâtard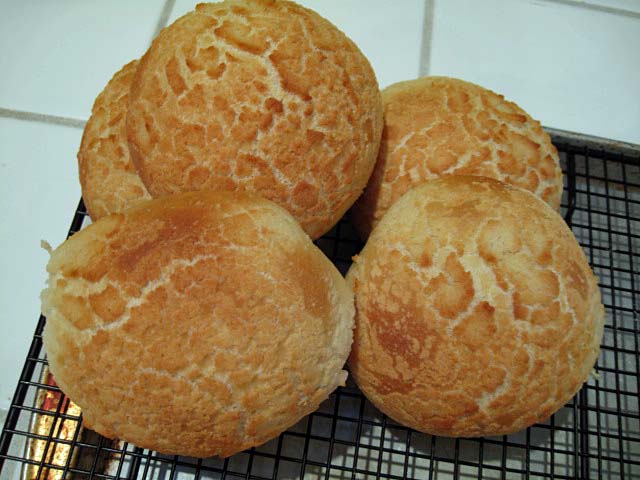 Vienna Bread with Dutch Crunch Rolls
Reinhart's Vienna Bread formula makes a lovely dough, and the Dutch Crunch topping is visually striking on both larger loaves and rolls. I really had no idea how thick to apply the topping, so I "laid it on thick." From the results, I think I got it about right.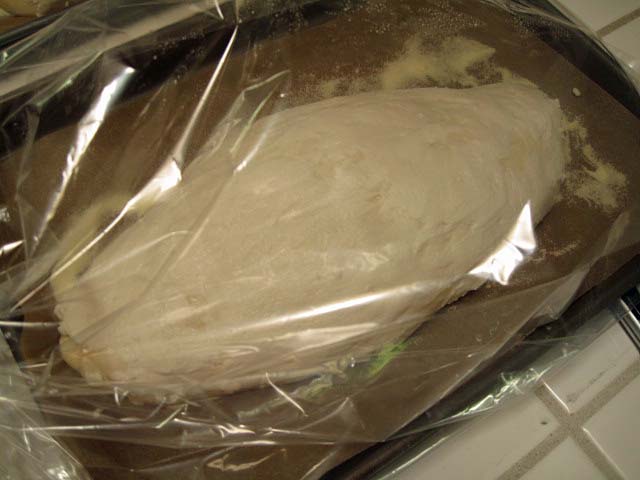 Vienna Bread with Dutch Crunch at start of proofing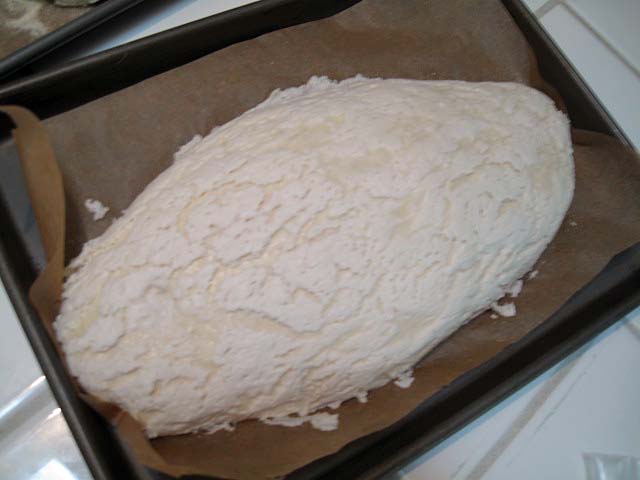 Vienna Bread with Dutch Crunch at finish of proofing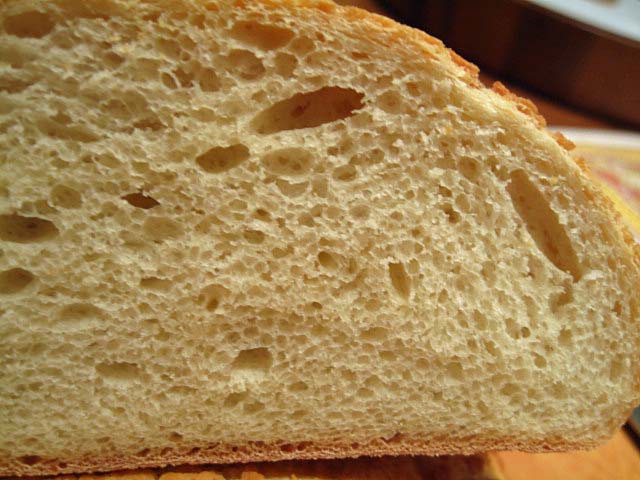 Vienna Bread crumb
As advertised, the crust is crunch and slightly sweet. The crumb is very light, delicate and tender with a lovely balanced flavor. The flavor is like brioche but much more subtle. Words like "delicate," and "finesse" come to mind. I anticipate that this will make outstanding toast and French toast. Actually, I think I could just sit down right now and eat the whole loaf as is.
So, would "delicate" and "subtle" bread be your choice for a hamburger bun? No?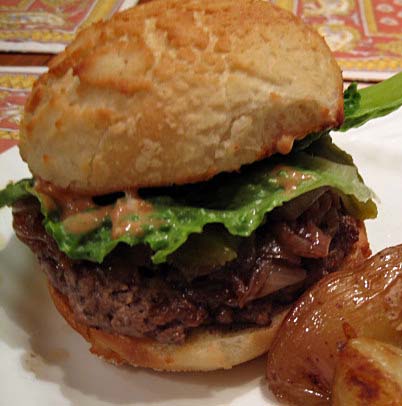 Caramelized red onion with balsamic vinegar and roasted New Mexico Green Chile hamburger on Vienna Dutch Crunch roll
David