Pain à la bière - Beer bread (buns, in this case)
Hello,
I was browsing on the modern-baking.com website and came across a beautiful bread called pain à la bière,
or Alsatian beer bread. There's been a lot of interest in Dutch Crunch recently here on TFL; many people have baked pretty breads and rolls using Dutch Crunch. The rye and beer 'crust' for this Pain à la bière sounded appealing, too.

With many thanks to Chef Jacquy Pfeiffer and Modern Baking for this wonderful article. (I'd link to it, but you need to set up an account to view the article). The Modern Baking site allows you to print/email/share the article, but when it comes to posting/blogging using the article's content there are copyright warnings.
I want to respect Modern Baking's copyright so won't republish the article's formula here, but comparing formulas, the dough is very similar to Mr. Hamelman's Roasted-Potato Bread (except using rye instead of whole wheat flour, & slightly shorter fermentation/proofing times due to the rye).

The topping is similar to Dutch Crunch topping. I used 77g lager beer, 43g whole rye flour, 2g salt and 1g yeast to top these 8 buns (4oz size each). I had approximately half of the topping left over.
As for Dutch Crunch, this topping is brushed on, after shaping and before proofing.
I dusted the topping with rye flour before proofing; I found the rye flour had mostly absorbed into the topping after proofing, so I dusted again with bread flour prior to baking.
Here's the baked result (very tasty).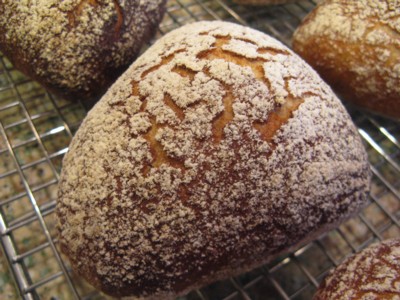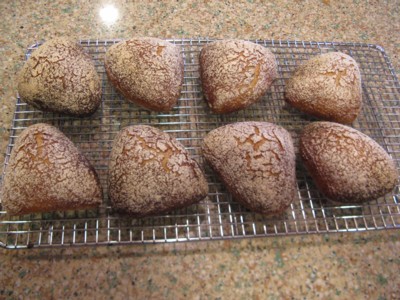 I've cut the corner off of one of these to taste - YUM!
Happy baking everyone,
from breadsong