February 27, 2011 - 5:36am
Green Tea Bread Roll with Red Bean Filling - great looking bread with little effort
I'm back to making my favorite green tea bread bun again. Having a mentality like a Japanese (trying to as I'm making something sort of Japanese) that food appearance is as important as its taste. I am thinking to make a nice looking bread roll instead of simple bread bun.
I also got lots of green tea powder I bought during my trip to Japan late last year that is asking to be used. And again, I'm on to my favorite food pair, green tea and red bean, a food pair that is made for each other. A match made in heaven!
The recipe I used is a typical sweet bread recipe but I use sourdough starter and reduce amount of yeast. I also included 20% wholewheat flour.
This type of decorative bread roll is quite common in Asia and Asian bakery in Australia. It is not difficult to make but provide a great looking bread roll. It was fun to make different bread shape and learn about new pastry techniques.
Recipe and more photos are here.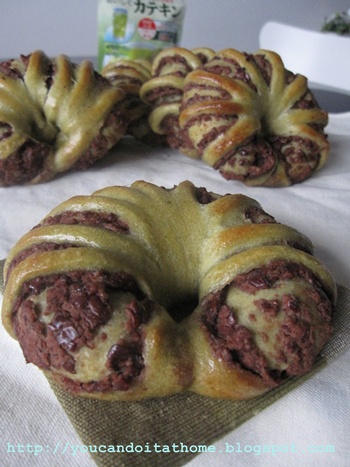 Sue