February 26, 2011 - 4:07pm
Miche, Pointe-à-Callière from Hamelman's "Bread": visiting an old friend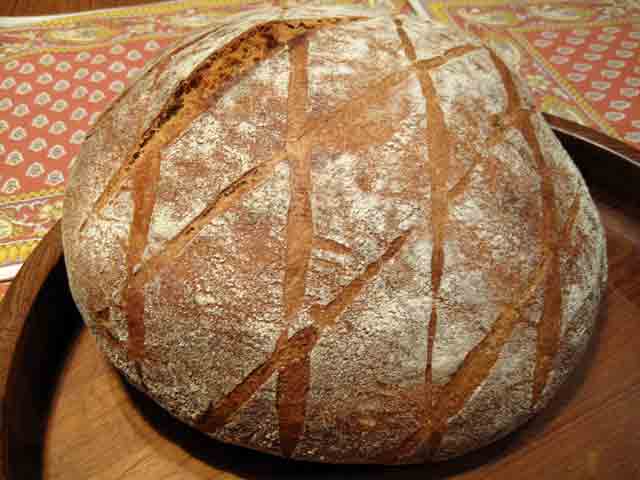 The "Miche, Pointe-à-Callière" from Jeffrey Hamelman's Bread has been one of my favorite breads and was my favorite miche for a long time. It's been quite a while since I last baked it. Since then, I've been doing more hand mixing of doughs I formerly machine mixed. I've found a new and wonderful high-extraction flour, Central Milling's "Organic Type 85." And last, but my no means least, I've baked miches according to the formula we used in the SFBI Artisan II workshop last December. Many TFL members have baked this marvelous miche since I posted the formula, and they know what a wonderful bread this can be.
After these months of enjoying the SFBI miche, as well as Chad Robertson's somewhat similar "Basic Country Bread" from Tartine Bread, it seemed time to revisit the "Miche, Pointe-à-Callière." I made it using Central Milling's "Organic Type 85" flour. I followed Hamelman's formula. I altered his procedures only by mixing the dough entirely by hand.
| | | |
| --- | --- | --- |
| Overall Formula | Wt. | Baker's % |
| High-extraction whole-wheat flour | 2 lbs | 100.00% |
| Water | 1 lb, 10.2 oz | 82.00% |
| Salt | 0.6 oz | 1.80% |
| Total | 3 lb, 10.8 oz | 183.80% |
| | | |
| --- | --- | --- |
| Levain Build | Wt. | Baker's % |
| High-extraction whole-wheat flour | 6.4 oz | 100.00% |
| Water | 3.8 oz | 60.00% |
| Mature culture (stiff) | 1.3 oz (3 T) | 20.00% |
| Total | 11.5 oz |   |
Final Dough

Wt.

 

High-extraction whole-wheat flour

1 lb, 9.6 oz

 

Water

1 lb, 6.4 oz

 

Salt

0.6 oz

 

Levain

10.2 oz (all less 3 T)

Total

3 lb, 10.8 oz
Procedure
Make the levain about 12 hours before you want to mix the dough. Dissolve the mature culture in the water, then mix in the flour.

On the day of the bake, mix the Final Dough flour and water to a shaggy mass and autolyse in a large covered bowl for 20-60 minutes.

Sprinkle the salt over the dough and add the Levain in several chunks. Mix thoroughly.

Transfer the dough to a clean, lightly oiled bowl and cover tightly.

Ferment the dough for 150 minutes, with stretch and folds on a floured board at 50 and 100 minutes.

Form the dough into a tight boule and transfer it, seam side up, to a floured banneton. Place the banneton in a large plastic bag or cover with a towel or plasti-crap. (Note: Hamelman recommends the usual pre-shaping and resting before the final shaping. I did not do this, since the dough was rather slack, and the gluten did not require "relaxing," in my judgement.)

Proof for 2-2 ½ hours.

One hour before baking, pre-heat the oven to 500ºF with a baking stone and steaming apparatus in place.

Transfer the miche to a peel. Score it with a single square, "tic-tac-toe" pattern or diamond pattern. Load the miche onto the baking stone.

Steam the oven and turn it down to 440ºF. After 15 minutes, turn the oven down to 420ºF, and bake for about another 45 minutes.

When the miche is fully baked (internal temperature is 205ºF), turn off the oven. Leave the miche on the baking stone with the oven door ajar for another 10-20 minutes to dry the crust.

Transfer the miche to a cooling rack and cool thoroughly. Then wrap it in baker's linen and let it rest for at least 12 hours before slicing.
Note: All times are approximate. Watch the dough, not the clock.

Miche, Pointe-à-Callière: Profile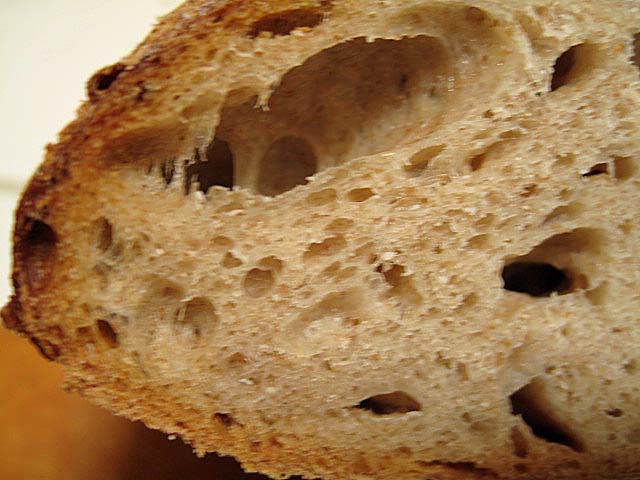 Miche, Pointe-à-Callière: crumb
I rested the loaf for about 18 hours before slicing. The crumb structure was similar to that pictured in "Bread," but I think I slightly under-fermented the dough and over-proofed the loaf.The crust was chewy. The crumb was rather dense and chewy. The flavor was not really sour but was very wheaty – more intense than I recall from other bakes with this flour.
Next time I make this miche, if I hand mix it, I'll add some S&F's in the bowl during the first part of the bulk fermentation and lengthen the fermentation, hoping to increase flavor complexity.
David