February 16, 2011 - 6:07am
Light Whole Wheat Batard

150g starter at 100% hydration
275g water
80g whole wheat
20g rye
350g bread flour (11.4% protein)
10g salt
Autolyse (with starter) for 50mins.  Add salt. Knead by hand until salt is incorporated.  Bulk fement 2 and a half hours with folds at 50 and 100 mins.  Divide in two.  Preshape.  Rest 20 mins.  Shape into batards.  Allow to proof to about three quarters of final size. Retard overnight in fridge.  Remove from fridge and allow to complete final proof.  Bake at 230C with steam for 20 mins and at 200 without steam for 20.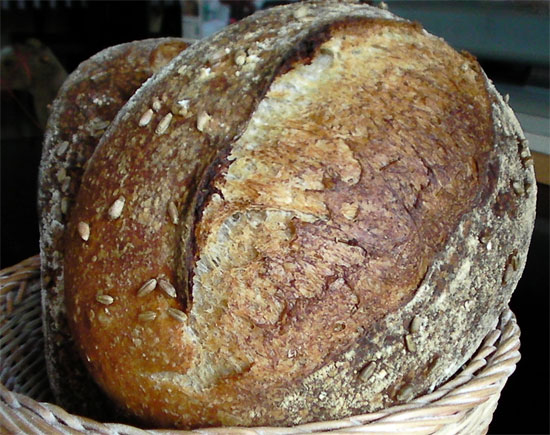 And the cross section.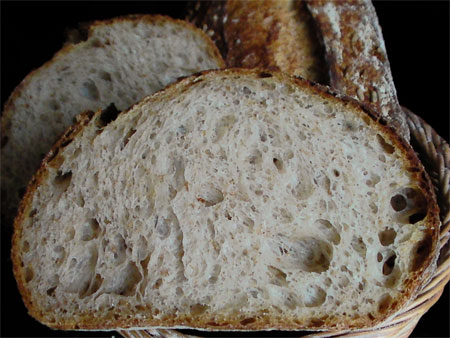 I am becoming convinced of late that sourness has more to do with the acidity of the starter prior to mixing than it has to do with length of bulk ferment, hydration of starter or retardation of dough.  I have retarded loaves overnight that haven't had the slightest hint of sourness and I have made loaves where the entire process took no longer than eight hours that were mouth puckeringly sour.  The above batards were made with a starter that had definite acetic overtones and the tang is evident in the baked loaf.  When I opened the jar to use the starter the acetic tones were actually quite overpowering, but after I gave the starter a good stir the fruity notes took over so I would only classify this as slightly acid.  The baked bread has only a very mild tang.  But I have baked bread with starters that have very strong acetic smells and the final product is really very sour.  Invariably these breads can only handle a short bulk fermentation and final proof before gluten starts to break down. 
Syd