February 13, 2011 - 12:02pm
Question about my brownies
Hi!
For the past few years I've been noticing a problem with my brownies when they bake, I'm just getting around to asking about it now. :D  This is my recipe:
Ingredients:

3/4 cup unsweetened cocoa powder
1/2 tsp baking soda
2/3 cup butter (softened or melted) or canola/ vegetable oil*
1/2 cup milk or water*
2 cups white sugar
2 eggs
1 1/3 cup flour
1 tsp vanilla
1 cup chocolate chips, or nuts, or additions of your choice

Directions:

1. Preheat the oven to 350F. Grease a 9x13" pan.

2. Using a wooden spoon, mix cocoa powder and baking soda. Stir in butter (or oil) until combined. Your mixture might look a little clumpy, but stay with it.

3. Add the sugar and mix.

4. Add milk (water), vanilla and eggs, mixing until smooth. It WILL become smooth, promise, just keep mixing!

5. Add the flour and your chips or nuts or whatever, and stir to combine. By now you should have a nice even chocolate-y and slightly grainy mixture.

6. Pour into the prepared pan and bake for about 35-40 minutes. Test the centre of the brownies to see if they are done to your satisfaction. Remove from the oven and cool when they are right.**

7. Cut into desired number of squares, or get a fork and dig in.

* If using oil/water, your brownies will come out slightly less rich and a little crustier. But then you don't always have to have butter and milk on hand to do this. If I make the oil/water variation, I will add 1 tsp. butter flavouring extract to make it taste buttery. This can be found in cake decorating supply stores, used to flavour white icings.

**The centre of the brownies tend to sink in further than the outsides, but the centre tends to be fudgier.
When I bake them (or any other brownie type recipe), they look like this: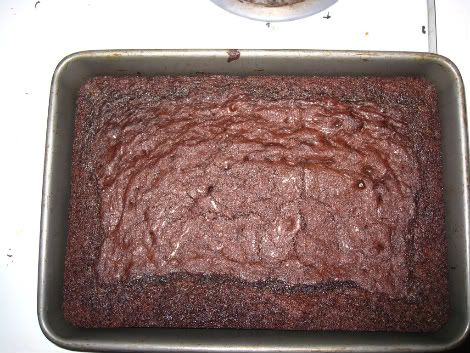 (for a larger image, http://i782.photobucket.com/albums/yy101/JFieldRecipes/IMG_0939.jpg)
It looks like the edges of the brownie rise up and curl over the top of the brownies, for lack of a better description. This can sometimes happen with my cakes, not as often with box cakes as it does with cakes from scratch.

I keep meaning to get an oven thermometer, but when I remember it it seems to be out of stock everywhere. But this *only* happens with brownies, blondies and the occasional cake. I have baked them at a lower temp and the same thing occurs, and while I am in *NO WAY SHAPE OR FORM* knowledgeable about baking, I thought if the same thing occurred at a lower temp then it is unlikely to be that problem.
Any thoughts are welcome, but if I don't respond please don't take it as rudeness, I have been finding the reply messages in my spam filter and don't always catch them.
Thanks!