February 9, 2011 - 2:18pm
A Flawed, But Educational Miche with Toasted Wheat Germ
I finally got time to bake and wanted to revisit the miche. After all of the multiple miches I was really looking forward to popping a spectacular loaf. And...the process had some flaws and the results are not up to my aspirations, but unlike a skydiver whose chute doesn't open, I will live to try again!
I followed David Snyder's guidelines for the full loaf using my new War Eagle Mills AP flour. My doughs using this flour remain a bit wetter than I expect and as a result the dough was a tad sticky but I thought it would be okay. Not quite, for it stuck to my linen basket liner in a ring around the base (sides and top were not stuck!) so getting from the banneton to the peel left me with a loose, wrinkled around the top sharpei-like loaf! It would up a bit overproofed but baked up nicely - though a bit flat. It sang and crackled nicely on removal from the oven. And the aroma was amazing. Taste is quite good and will no doubt get better. Crumb is pretty nice! Here are some photos!
The next image shows the wrinkles from the sticking!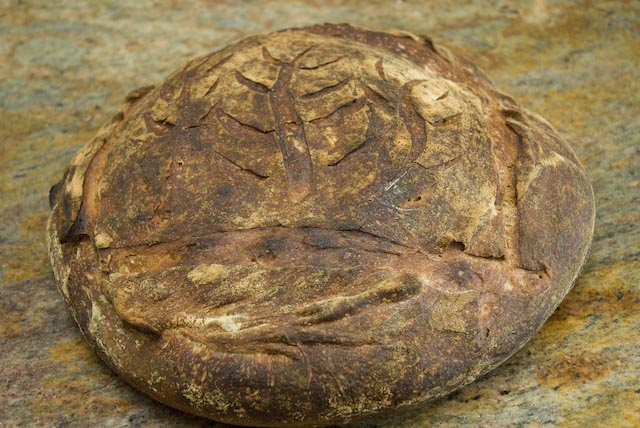 And the crumb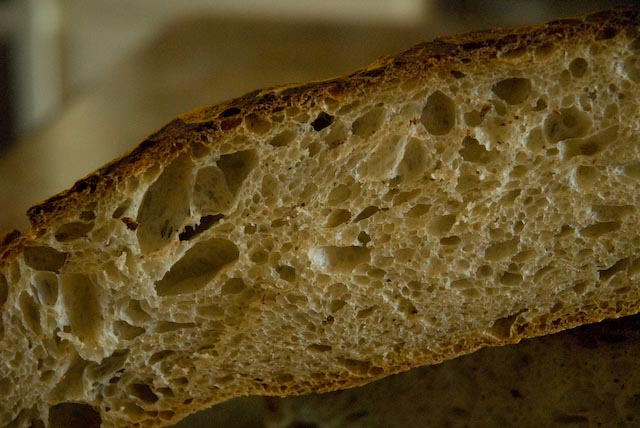 I fully agree with David that this is a loaf you really want to push the bake on! The crust is amazing!