February 7, 2011 - 11:05pm
SFBI's miche in dutch oven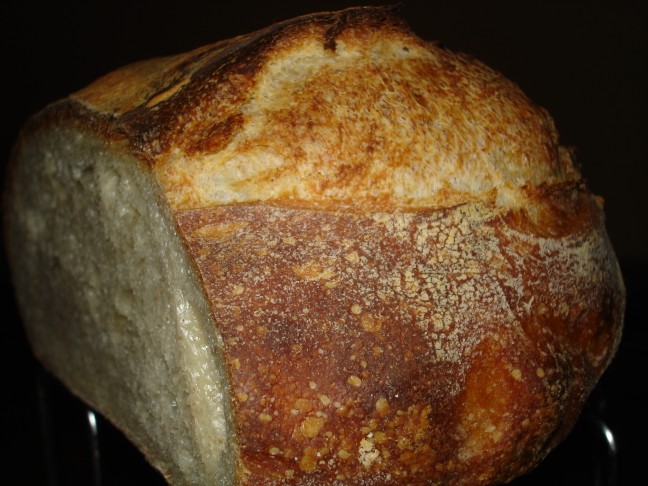 Today, I baked this miche in a dutch oven (I posted a reply in David's blog re: my first attempt on this miche) . To prevent the bottom from getting too burned, I took David's advice and dusted the bottom of the dough with semolina...lightly, and I put pie weights in the dutch oven, and put the dough on parchment paper on top of the weights. I've learned a few things in this bake:
* I should have slashed the dough before putting it in the dutch oven.  Since I have already laid the dough in it, I was unable to do an assertive slash as I was afraid that my hand might touch the HOT pot.
* Though the crust isn't as charred as it was baked on the baking stone, unfortunately, it fails to deliver the crispy texture of the charred crust. After I took it out from the oven, it sang softly only, and I found the lonely two cracks on the loaf.  A big difference from my first bake.  The crust also lacks the bold flavour.
* the pie weight did help preventing the bottom from getting burned...however, the bottom ended up not having a nice brown colour. After 40 minutes, I took the bread out of the pot and put the bread back in the oven for another 4 minutes to give the bottom some colour.
* my dutch oven isn't big enough for this miche...I think the size of the pot has an impact on the ovenspring.
The conclusion? From this experience, baking this miche in a dutch oven did compromise the characteristics of the crust. I can't really detect the difference in taste and crumb texture though. Still, this is an awesome miche.
Left: baking on the baking stone
Right: baking in the dutch oven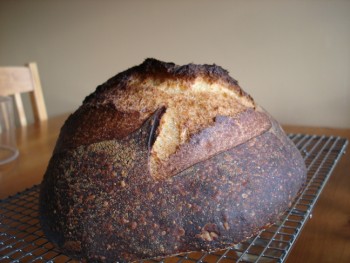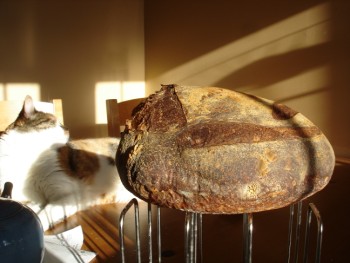 Left: crumb shot from the loaf baked on the baking stone
Right: crumb shot from the loaf baked in the dutch oven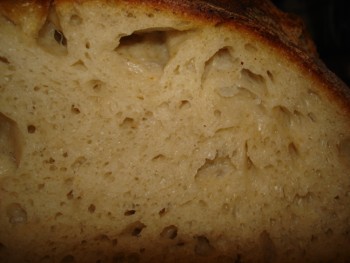 my dutch oven with pie weights