January 31, 2011 - 3:49pm
Sour Rye with Onion and Mustard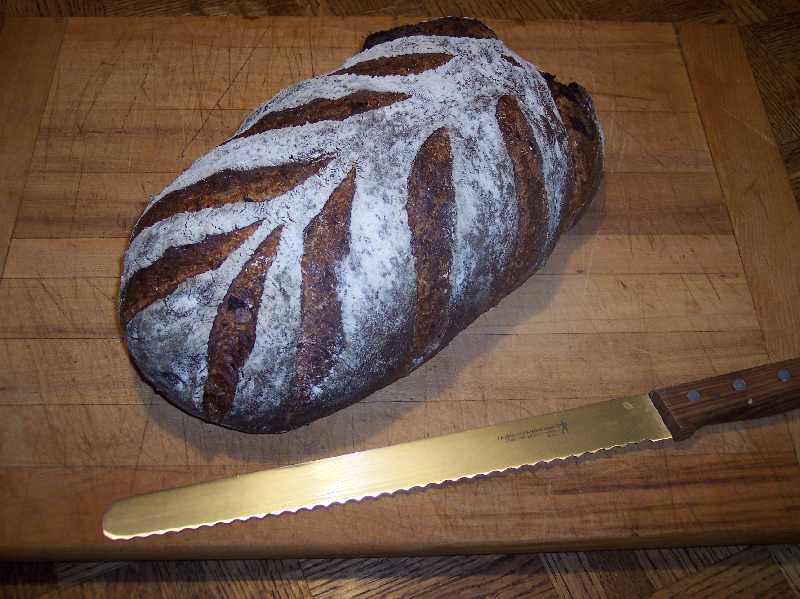 This bread took a few weeks from first concept to final bake but I'm glad I hung in there to get what I think is a good bread with a savory flavour and aroma. I'd been wanting to make a sour onion rye bread for a while but couldn't find any recipes that really appealed to me. As I was leafing through Jan Hed's 'Swedish Breads and Pastries one day I found a recipe for a Pain Dijonnaise that included mustard in the formula, something I hadn't considered using till this point but thought that adding some mustard along with caramelized onions in a sour rye would be an excellent flavour combination. I had a bake planned for the following day of a Pain de Campagne using a wheat levain so I decided to split the mix and use the onion mustard combination in one loaf to see how the flavours worked in a finished loaf. While it turned out OK it didn't have quite the punch I was looking for, lacking the intensity of overall flavour I was after, but promising nonetheless.
If I was going to make this properly I needed to start a new rye sour from scratch since the one I had wasn't a pure rye sour anymore from letting wheat based sours gradually creep into it over the last year. It took a few tries to finally get an active starter going, but that eventually worked out by keeping it wrapped in towels on top of the hot water tank, the one consistently warm spot in our house during the day while we're away at work.
When I got home from work this past Saturday I mixed the levain/sour for the next days mix leaving it to ripen over 17hours, and then getting the caramelized onions prepared as well as roasting some mustard seeds to include in the mix. The formula I'd worked out would use a dark rye sour, combined with medium rye and bread flour in the final mix, not wanting to overpower the final flavour with any more dark rye and hopefully allow the onion mustard combination to have it's say. Once I had everything in the mixer and started mixing I realized right off that I'd have to add more bread flour to get any sort of a workable mix, using an additional 100 grams to achieve a wet but manageable dough. The rest of the mix went fine after that resulting in a soft but developed dough. Formula, mixing notes, and bake profile to follow.
Once I had the bread out of the oven I had some serious doubt as to whether it was fully baked since it just didn't sound right when I tapped the bottom of the loaf. I don't normally check the internal temperature, but because of the size of this one I thought it would be wise. The reading showed 209.5F from the center so I put my trust in that and hoped for the best. When I sliced it this morning I found that it was fully baked except for one very small area in the bottom center that's barely noticeable. The crumb is chewy and moist, with a solid flavour of sweet onion, a bit of sharp from the mustard, and a pronounced sour character overall. The onion itself seems to have almost completely dissolved into the dough, but now and again you hit a pocket of lovely roasted onion flavour ...which I wish there was more of. Next time I bake this I'll increase both the onion and the mustard percentage, but for now I'm fairly satisfied with the result.
Franko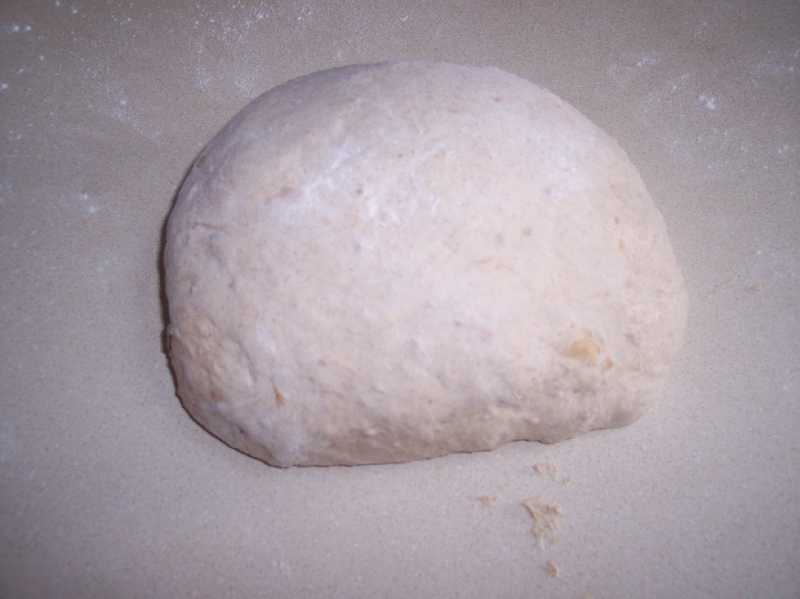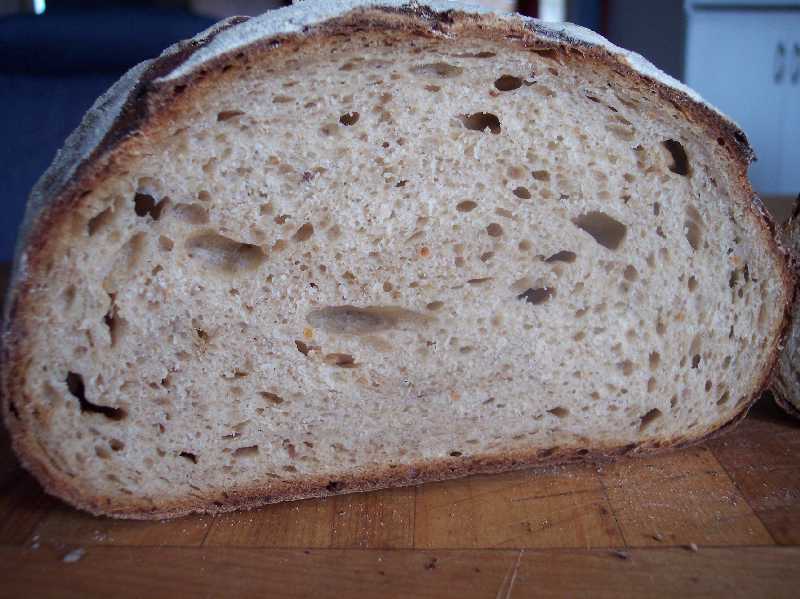 If anyone was wondering what this bread might be used for, the photos below show what I had in mind for it right from the beginning.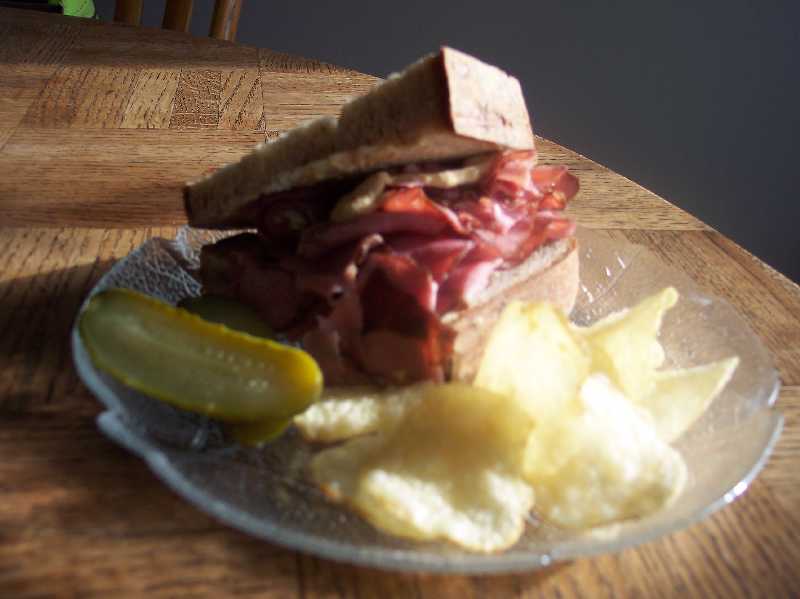 Montreal smoked brisket sandwich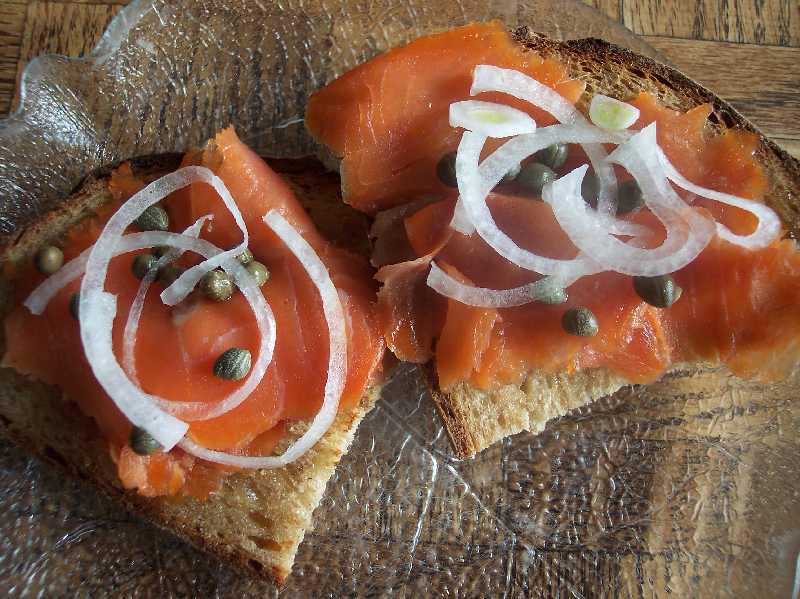 Vancouver Island smoked sockeye salmon on toasted onion rye with onion and capers....and yes, no cream cheese!
PROCEDURE:
Mix the levain/sour and let sit for 16-18 hours at 70F

Add all the ingredients of the final dough *except the levain/sour to a stand mixer bowl and mix on 1st speed for 2-3 minutes until combined, then add the levain/sour and continue mixing for 2-3 minutes longer, scraping the bowl down as needed. The dough will be sticky, and show little development.

Transfer the dough to a large mixing bowl and begin folding the dough over itself, rotating it a 1/4 turn for each fold and continue till the dough is cohesive and moderately developed. The dough should be soft and supple.

Turn the dough out onto the counter, and using a minimum of dusting flour continue working the dough, kneading it for 3-4 minutes until the dough can hold a shape without slumping.

Place the dough in a lightly dusted bowl and cover. Bulk ferment at room temp of 68-70F for 2 ½ hrs. Stretch and fold twice in the first two hours.

Gently preshape in a ball, cover and let rest for 15 minutes.

Shape as desired , cover, and final proof for approx. 1 ½ hrs at room temperature.

Preheat oven and baking stone to 485F and have steaming system prepared in advance of loading the bread.

Slash as desired, *note: if making a batard, a chevron style of slash will help give the loaf a higher, rounder, finished profile.

With steaming system in place, load the bread onto the preheated baking stone and bake for 20minutes at 485F. Remove the steam system and lower the temperature to 440F and continue baking for 20 minutes, then lower the temperature to 400F for an additional 15-20 minutes. Check for an internal temperature of 210F. Turn off the heat and leave the bread in the cooling oven for 15 minutes. Remove and cool on a wire rack for 8-9 hours or overnight before slicing.
Notes:
Caramelized Onion
Two large sweet onions, coarsely sliced and mixed with the olive oil, then baked in a covered pan at 250F for 30 minutes. Remove the lid, stir the onions and continue baking for 30 or more minutes until the onions are a medium brown colour. For a future bake of this bread I would increase the ratio of onion to 35% and the mustard to 10% of the overall flour in the mix for a more pronounced flavour effect.
| | | |
| --- | --- | --- |
| Sour Rye with Caramelized Onion & Mustard |   |   |
| Ingredients | % | Kg |
|   |   |   |
| Levain/Sour |   |   |
| Dark Rye Flour | 100 | 140 |
| Water | 83 | 115 |
| Mature rye starter-100% | 10 | 13.9 |
| Total |   | 268.9 |
|   |   |   |
| Final Dough |   |   |
| Medium Rye flour | 18.75 | 150 |
| Bread flour | 81.25 | 750 |
| Levain | 29.8 | 268.9 |
| Sliced sweet onion-cooked | 25 | 270 |
| Olive oil | 2.1 | 22.8 |
| Sea salt | 1.8 | 19 |
| Honey | 4.9 | 52 |
| Grainy mustard | 6.2 | 65 |
| Mustard seeds-toasted | 1.4 | 15 |
| Water | 65 | 590 |
| DDT- 72-74F |   |   |
| Total kg |   | 2202.7 |
| Total flour weight | 100 | 1046.9 |
| Total Hydration | 67 | 705 |