January 22, 2011 - 5:38pm
100% Whole Wheat Sandwich Bread from WGB, take 2
I am continuing my exploration of fresh-ground flour this week with another bake of Peter Reinhart's "100% Whole Wheat Sandwich Bread" from Whole Grain Baking. I baked this bread three weeks ago and found the flavor marvelous, but the crumb was somewhat dense and cakey. I had ground the flour from hard red Winter wheat at the second from the finest setting. I did like the chewiness from the coarser ground grains. So, looking for a lighter loaf overall but maintaining the chewiness, I modified the formula and procedures somewhat.
Reinhart's formula calls for half the flour in a soaker of flour, milk product and salt. For the liquid, I used ¾ non-fat Greek-style yoghurt and ¼ water. The rest of the flour is in a biga made with flour, water and instant yeast. The biga is mixed, kneaded and refrigerated overnight.
I ground the wheat for the biga at the finest setting of my KitchenAid Grain Mill. This resulted in flour that was still a bit coarser than KAF WW flour, for example. I ground the wheat for the soaker at a medium-coarse setting.
I thought that I could get a lighter crumb and higher rising loaf if I developed the gluten in the biga portion before adding the soaker to the mix. So, I added all the other ingredients (salt, yeast, honey and canola oil) to the biga in the mixer bowl. I mixed for a couple minutes with the paddle at Speed 1, then with the dough hook for 11 minutes at Speed 2. The dough was rather sticky, but it cleaned the sides of the bowl, almost cleaned the bottom and had window paning. I then added in the soaker, which was quite crumbly, and mixed with the dough hook until it was incorporated into the dough.
After a 5 minute rest, I briefly kneaded the dough on the board, incorporating another couple tablespoons of fine ground whole wheat in the process, then transferred the dough to an oiled batter pitcher for bulk fermentation. Fermentation, proofing and baking were according to Reinhart's instructions. Note that, three weeks ago, I baked this bread in a Le Creuset oval Dutch oven. Today, I baked on a baking stone and steamed the oven using the SFBI method I've described in earlier postings.
The crust was crunchy, especially from the coarser pieces of wheat. The crumb reminds me of a 100% rye with rye chops. It's not what I was aiming for, but it is interesting. The crumb has two distinct textures from the different grinds of grain - tender and chewy-crunchy. The flavor is delicious.
I'd count this a worthwhile learning experience, but it's still not my ideal crumb for this bread. 
The other bread that I baked today was my San Joaquin Sourdough. I fed the levain with a 50/50 mix of KAF Sir Galahad and fresh-ground whole wheat. The final dough had 5% fresh-ground rye.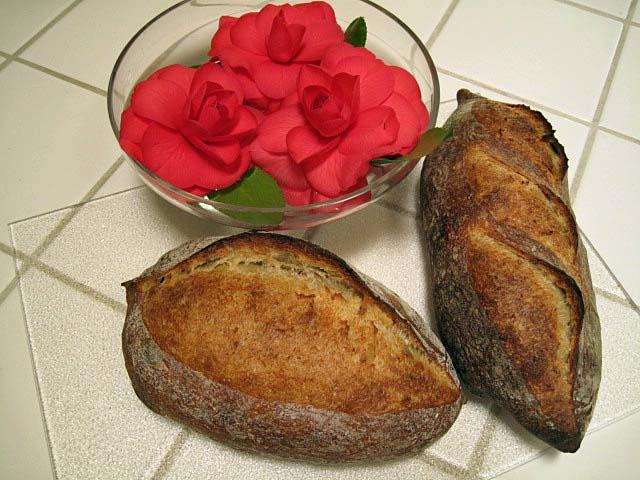 San Joaquin Sourdough breads with Julia Drayton Camelias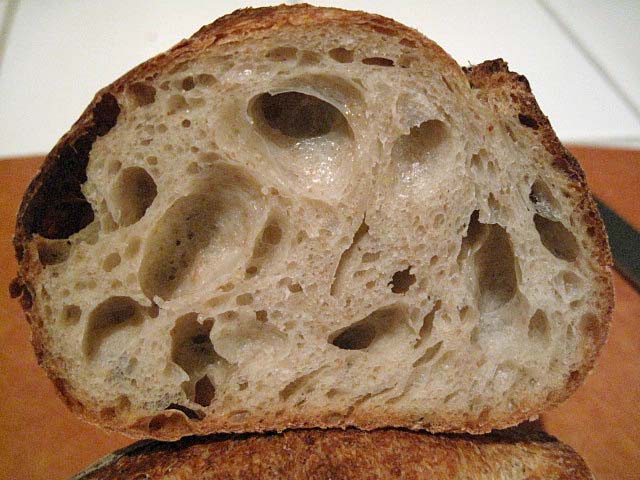 San Joaquin Sourdough Crumb
David