January 19, 2011 - 9:38am
I have been reading posts on here the past few weeks and now I have to ask a few questions. I did read may posts and search for my question but there wasn't any that really seemed to fit my problem so here I go... I have attached a couple pictures in hopes this will help. Theses are from yesterday and today the starter is a little less active. I haven't touched it today so far.....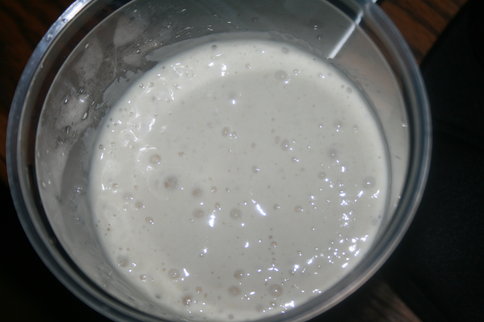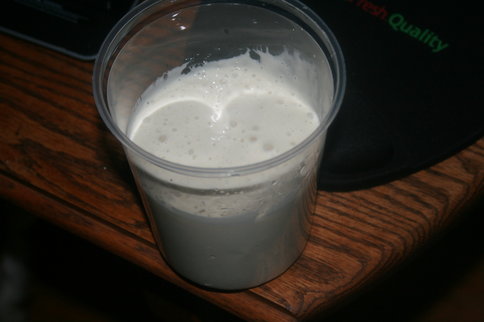 I have been pestering a local bakery to give me some starter and she finally agreed...I will attch. pics...  I have a minimal knowledge about starter but I have a couple books that should be here any day. I have read Ed Woods book and found it helpful but mostly for starter purchased from him. The problem, for me is when I went to pick it up from the bakery I could tell she was thinking giving me some starter wasn't a good idea anymore. I asked her questions about the starter and she seemed really put off by it. I ask...when it was feed last and with what, and what hydration level she kept it at or what the formula she used to fed it and how often. I thought this was normal questions to ask..maybe not... She did tell me that the starter is 8 years old, that they NEVER put it in the fridge and that they feed it a minimum of every 48 with equal parts water to flour. I ask if that was by wight or cups...ect and she said she feeds it say 8 cups flour and 8 cups water. SO, that would be much more water than flour by weight right..?  She gave me a good amount and that is all she told me . When I said I hope I can keep it alive and healthy she pointed out that this would be the ONLY starter I would get and that she probably shouldn't have sold me this one. That she has never sold any of her starter before. SO.... I wasn't feeling the sourdough love!
 Her bread is amazing and I really don't want to mess this starter up so please help me to keep this a healthy happy starter :-) It was bubbling when I picked it up and it is a very thin starter. I bake 1 sometimes 2 times a week for my family so I am thinking I would put mine in the fridge when I am not using it but the way she said "WE NEVER refrigerate our starter" I started to wonder if that was not a good idea. Feeding it everyday seems a bit wasteful to me but I am not a expert by any stretch of the imagination so any advise on this is appreciated.  I divided the starter yesterday and feed each part 3 tbs flour and 1 tbs water yesterday. Now I don't know where to go with it. Should I bake with it today.... divide it up and add more flour to one of them, put it in the fridge.... leave it out??? HELP! I don't want to kill it.
Thanks for any help!!