January 17, 2011 - 2:11pm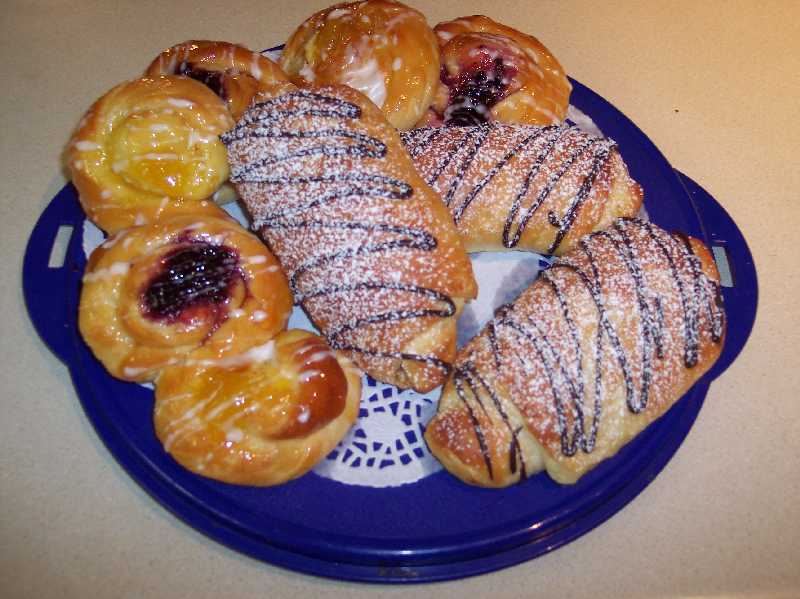 A plate of pastries
January has seen me doing more reading about baking than actual home baking due to three new additions to my book collection. Advanced Bread and Pastry-Suas, Breadbaking-An Artisan's Perspective-DiMuzio and Swedish Breads and Pastries-Hedh are all fine books to own and I've been enjoying them immensely over the last few weeks for their technical information and variety of recipes and methods. AB&P is easily the best text on baking in general that I've ever read, making it my 'go to' reference for some time to come I imagine.
Well eventually the time comes to put the books down and get back in the kitchen for a little practical application, so it was welcome that early last week my wife Marie asked me if I could bake a few pastries or muffins for a breakfast meeting she had scheduled with some of her colleagues at the college where she works. Nothing large or too fancy just something to nibble on during the meeting. I decided I'd make the Danish dough with Sponge from AB&P, along with some apple turnovers and a few carrot muffins for anyone wanting something a little less rich. The carrot muffin formula I've always used is one from my old trade school text and is still one of the best tasting and easiest versions of this muffin I've run across yet. Recipe to follow. The puff pastry for the turnovers was made earlier last year and the last piece of it has been taking up space in the freezer since, so I was glad to have an excuse to finish it off at last.  As for the danish dough, it's been ages since the last time I made one but this mix went well, the only changes being that I used AP flour (the closest to white bread flour I had on hand), added some ground mace to the mix and increased the overall ratio of butter from 31% to 35%, requiring me to give it an extra fold for a total of four single folds. Whenever I've made danish dough in the past it's always been done using the straight method of mixing, so the sponge is an extra step to make, but worth it for the flavour boost in the finished product and one I'll use in any future danish mixes. While I didn't get anything near as flaky looking as what's pictured in the book, it did make a very passable danish with a nice soft crumb and plenty of flavour from the butter and preferment. For me, taste testing danish is an exercise in restraint, and a good reminder of why I rarely make this pastry for myself. I did manage to keep it reasonably (Marie laughing in the background) analytical....this time, however the real test will be this summer when we'll be taking a river cruise on the Danube through Austria, Slovakia and finally to Budapest. Something, or more accurately someone, tells me I'll be eating nothing but rice and vegetables for a long time after that vacation is over.
Franko
75 gram carrot muffin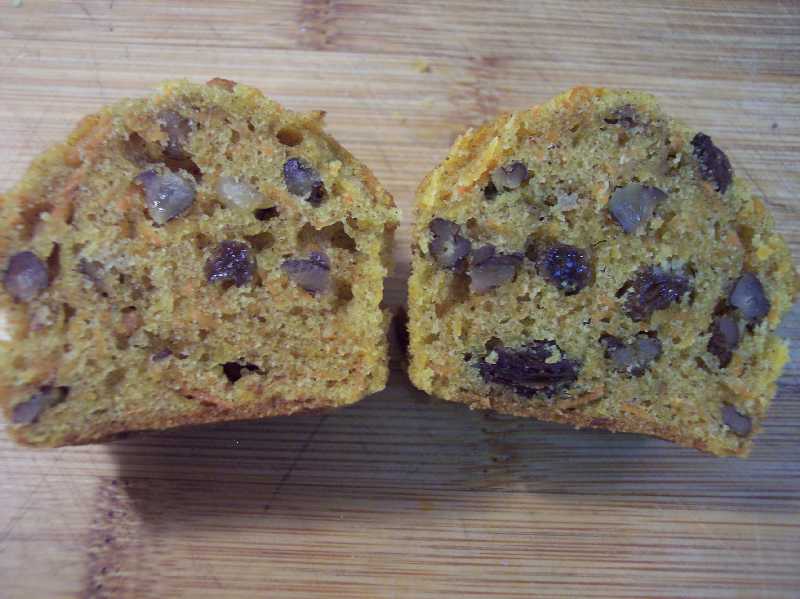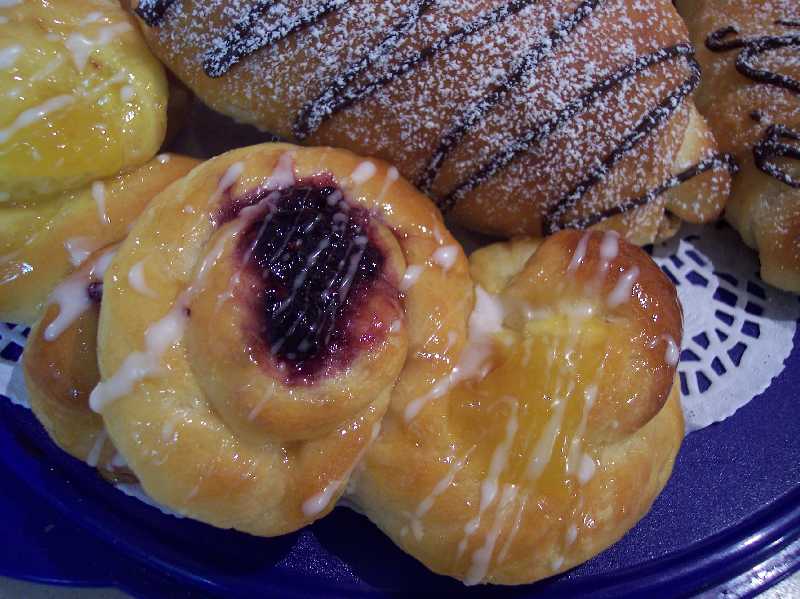 blueberry and lemon twists
chocolate and hazelnut rolls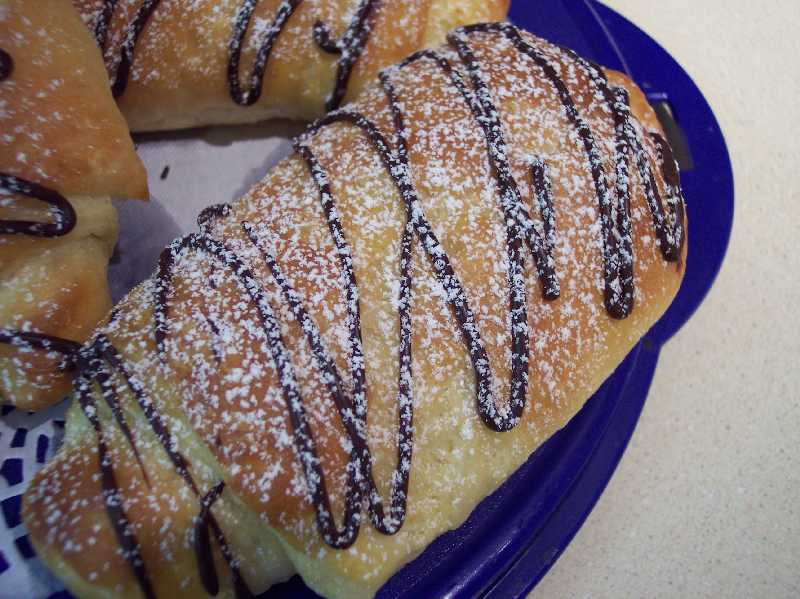 small apple turnovers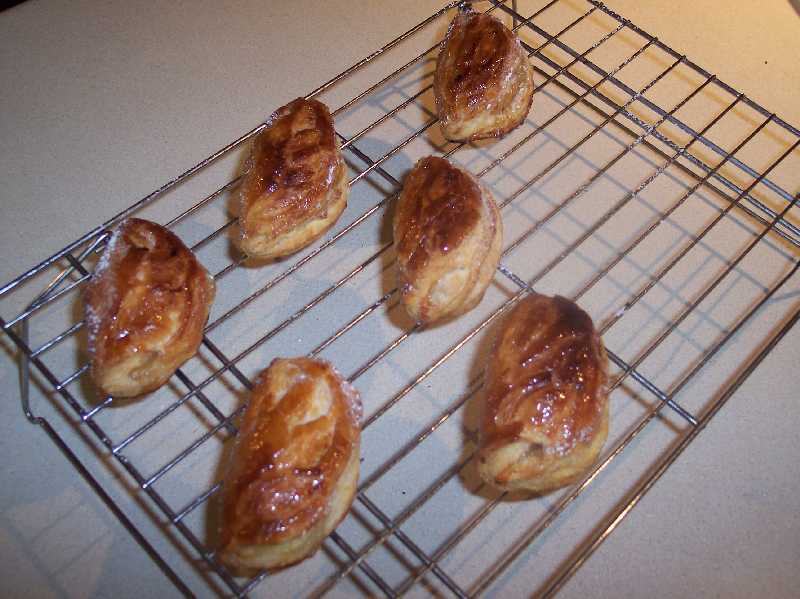 Danish Dough with Sponge-adapted from AB&P

Ingredients

%

Kg

Sponge Formula

 

 

 

 

 

Bread Flour

100

214

Water

62

131

Yeast-instant

0.1

4

Mix all ingredients with a DDT of 70F Ferment 12-16@ 65F-70F

 

 

Total

 

349

Final Dough

 

 

 

 

 

Bread Flour

100

500

Milk

40

200

Eggs

16

114

Sugar

17

121

Mace powder

0.2

1.4

Salt

1.8

13

Yeast-instant

1.8

13

Butter

4

28

Sponge

69.8

349

Butter for roll-in

31

221
PROCEDURE:
Mix all ingredients for final dough on 1st sped for 5 minutes and on 2nd speed for 3 minutes to a DDT of 72F-77F. Bulk ferment for 45-60 min. Laminate 4x single fold resting 30 minutes refrigerated between folds and final make up. Proof final product for 1.5-2 hrs. Bake at 385F 10-12 minutes
Carrot Muffins
| | | | |
| --- | --- | --- | --- |
| Ingredients | % | Kg | Kg |
| Cake Flour | 100 | 300 | 150 |
| Vegetable Oil | 100 | 300 | 150 |
| Baking Soda | 1.1 | 3.2 | 1.6 |
| Baking Powder | 1.3 | 4 | 2 |
| Sugar | 77 | 230 | 115 |
| Eggs | 72 | 216 | 108 |
| Salt | 1.6 | 3.2 | 1.6 |
| Cinnamon | 1.1 | 3.2 | 1.6 |
| Carrots | 128 | 300 | 150 |
| Raisins | 40 | 120 | 60 |
| Walnuts/Pecans | 20 | 60 | 30 |
| Total |   | 1539.6 | 769.8 |
PROCEDURE:
Sift flour and baking soda, add salt and reserve.
Blend all but flour mix, raisins, nuts. Mix well.
Add dry ingredients and mix on 1st speed to incorporation, then an additional 30 -60 seconds.
Fold in raisins and nuts.
Let rest for 10 minutes, then scale 60g per muffin cup.
Bake at 380 for 15-18 minutes