January 2, 2011 - 11:04am
A quick and easy Cream Cheese Pastry
Hello,

A friend gave me her recipe for her Mushroom Turnovers a few years ago. I pulled out the recipe again to make them for a New Year's party yesterday. I was reminded again of how easy the pastry is to make, and how good the filling tastes, so wanted to share this.
I've included the Mushroom Filling recipe below, but you could use this pastry as a base for just about any filling,
sweet or savory.
I used a 2-1/4" round cutter, for the turnovers and to line 2" fluted tart molds.
The pastry recipe yielded enough for 20 tart shells and 16 turnovers from the 'first roll'; there are still pastry scraps left over.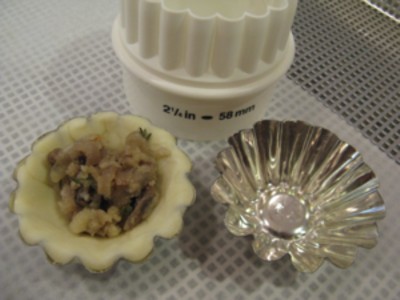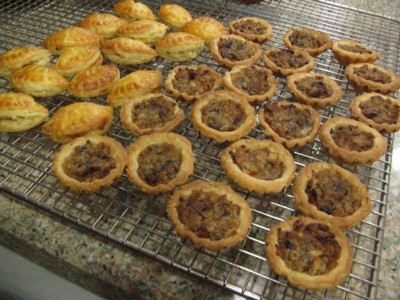 Cream Cheese Pastry

The cream cheese pastry was mixed in a stand mixer, with the paddle attachment:
8 oz Philadelphia cream cheese (227g by weight)
1/2 cup salted butter (1 stick or 113g by weight)
1-1/2 cups all-purpose flour (188g)

Have cream cheese and butter at room temperature.
Place in mixer bowl, and mix together until combined.
On low speed, mix in flour and mix just until combined.
Shape into a disc, wrap in plastic wrap, and chill until firm - I let mine chill overnight.

Mushroom Turnover/Tart Filling

3 Tablespoons butter
1 large onion, finely chopped (I substituted three medium shallots, finely chopped)
1/2 pound fresh mushrooms, cleaned, stemmed and chopped
1 large garlic clove, finely chopped
2 Tablespoons flour
1 teaspoon kosher salt
1/4 teaspoon fresh ground pepper
1 teaspoon fresh thyme leaves
1/4 cup sour cream
Combine butter, onion or shallot and mushrooms in a frying pan.
Saute 8 minutes or until tender. Add garlic and saute another couple of minutes.
It's good if the shallots caramelize a little bit, for added flavor!

Add flour, salt, pepper and thyme leaves & stir in. Add sour cream.
Stir and cook until thickened. Remove from heat and cool.
Refrigerate if you're not filling turnovers right away. Can be made a day ahead - keep refrigerated.




Take pastry out of fridge. Lightly dust counter and top of pastry with flour.
Roll pastry fairly thin. Cut rounds. For 3" rounds, fill with 1 teaspoon of filling.
I was cutting 2-1/4" rounds so filled the little turnovers with less, and filled the 2" tart shells with a bit more.
For turnovers, dampen the outer edge with beaten egg, fold pastry over and press to seal.
Arrange on parchment-lined baking sheet.
You can cover in plastic wrap and refrigerate before baking if you want to.
Cut slits in the tops of the turnovers & brush tops of turnovers with beaten egg.
I baked on 350F convection for 20 minutes and then started checking for doneness - ovens may vary - bake until golden.

To freeze ahead: Don't brush with egg before freezing. Remove from freezer, brush with egg, cut slits in turnovers and bake at 350F until golden, (20-30 minutes? depending on your oven).
To you bake them, freeze them cooked and reheat at 325F for 15-20 minutes.
Happy baking everyone! If you try these I hope you enjoy them as much as we do.
from breadsong