December 23, 2010 - 8:36pm
Christmas Baking Limited Edition
The kids no longer living with us, I get late into Christmas mode. No Adventskranz (traditional wreath with 4 candles lit for each Sunday before Christmas) on the table, no calendar window to open. Holiday baking happens usually in a rush on the 23. and 24th, but this year we are invited for Christmas dinner, and nobody's around to eat all the goodies (not counting a dog that would LOVE to help us with that task!).
Having to limit my output I decided on two of the best: Mohnstollen (poppy seed stollen) and Lebkuchen (German spice cookies). Before I came to Maine I never made either of them, stollen I always got from my mother, and I never cared too much for Lebkuchen. If Cooks Illustrated had not published a recipe for German spice cookies last year, I would never have dreamed of making them. Sheer curiosity prompted me to try it ("Americans and German Lebkuchen, haha!").
Reducing the sugar just a little, I followed the recipe, and the result was - incredibly good! Instead of the chewy, dry-ish store-bought stuff I sometimes had at home, this was a delicate, moist cookie, where you could actually taste the toasted hazelnuts; and the spices were spicy in a good way, harmonious, not crude. Last year we ate them so fast, I had to make two batches, and gave some to the nice people from A & B Naturals (the store that sells my breads), too.
Lebkuchen
To find a perfect recipe for Mohnstollen was not easy - there are so many of them. I settled on one whose ingredients I liked best, from a German cooking magazine's website (essen&trinken.de). But I would add an overnight fermentation, reduce the sugar, and exchange half of the raisins with cranberries for a little bit of tartness. So far so good! But what about the poppy seed filling? Germans always use Dr. Oetker's "Mohnback", a ready-made poppy seed mix you can buy everywhere. Fortunately the "internets" yielded a recipe for home made poppy mix, too, with almond paste, semolina flour, milk and eggs.
Our Cuisinart coffee mill that we were about ready to trash - it did a miserable job with the coffee beans - now got it's second chance. And, lo and behold, it ground the poppy seeds as if it were made for just that. The last ingredient I had to find was candied citrus peel. Our supermarket had only some tutti frutti mix left, full of Maraschino cherries (I hate them). Again, Google, helper of the clueless, linked me to a recipe.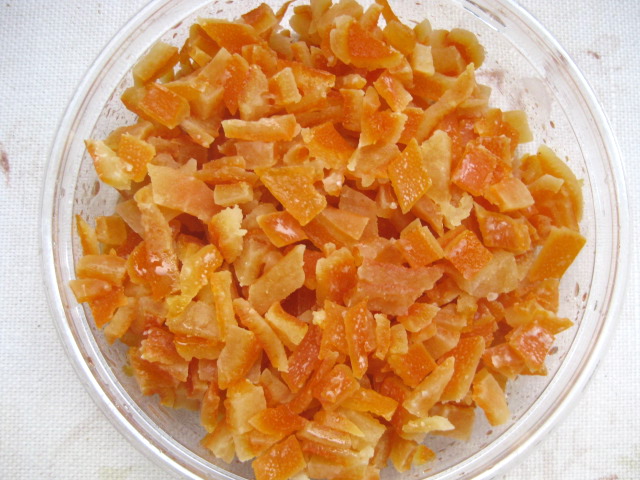 Candied orange peel
The Mohnstollen turned out as good as expected, I sold some, too - and I won't tell my mother that it's better than hers.
"Downeast" Mohnstollen with cranberries