December 19, 2010 - 2:33pm
Tonights Desserts: Yule Log & Red Velvet Cake
For the family dinner tonight at my daughters home.  I was asked to bring cupcakes..red velvet cupcakes.  I've never made a red velvet cake so I decided this morning to add a Yule Log, this is a first also, as you can probably tell a lot of last minute baking on my part.  It has been a very busy week.  My family 'not including myself and husband' are leaving to spend Christmas in Hawaii in a few days.  So we planned some holiday celebration early.  They are very much into red velvet cake lately...I didn't want to make cupcakes so make cakes.  Hopefully they all taste ok...everything is from scratch...lots of heavy cream, eggs, chocolate, cream cheese, not to much sugar, plenty of red food color ;)! 
 They adopted a new shelter rescue, a tiny little pom-chihuahua mix...it is on medication for kennel cough and has been doing very good, and is as all the animals extremely pampered!  So grandma 'me' is in charge of her till they return home.  They also have six other dogs, horses, birds, goats and chickens...but I'm just watching the pup...I have 3 dogs of my own.
So here's dessert!  Ready to go!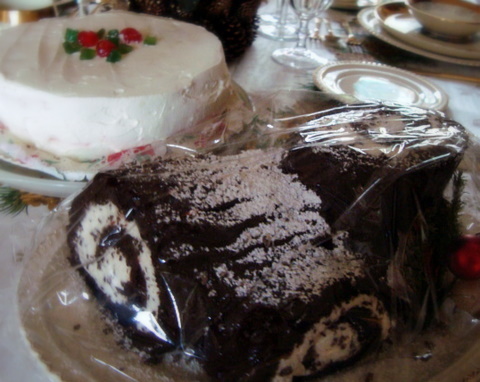 Happy Baking, Happy Eating, Happy Holidays!
                                                              Sylvia