December 16, 2010 - 7:16pm
We have a persimmon tree and this year I thought I would make Persimmon bread from the fruit.  First I had to find a recipe that I liked and do a trial run to see how the bread tastes.  I found a recipe at this website that I used to make my bread.  http://blog.fatfreevegan.com/2007/11/persimmon-bread.html The first one turned out very tasty but I thought that I should double the recipe and bake the bread in my panettone mold.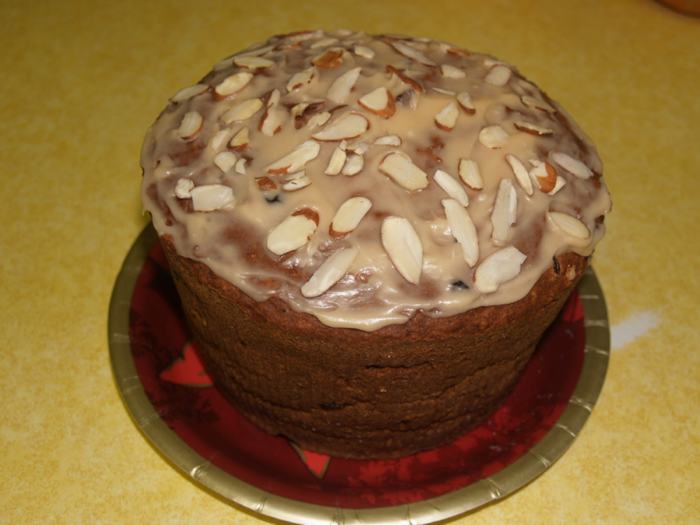 Recipe:
2 1/2 cups persimmon, mashed pulp.  I put mine in a blender and made a smoothie out of them.  There was a little extra that went into the bread also.
2 tablespoon lemon juice
4 tablespoons olive oil
1 cup plus 4 tbsp. sugar and 4 tbsp. water
1/2 teaspoon vanilla extract
4 cups bread wheat flour
2 teaspoon baking powder
1 teaspoon baking soda
1 teaspoon ginger
1 teaspoon nutmeg 
1/2 teaspoon cloves
1 teaspoon salt
1/2 cup golden raisins
1/2 cup roasted almond pieces
Mix the persimmon lemon juice, olive oil, sugar, water, and vanilla extract together.  Then add the flour, baking soda, baking powder, ginger, nutmeg, and cloves.  Then mix until all the flour is moistened.  Add the almonds and raisins and mix them in.
Pour into what ever baking pan you are going to use and smooth the top out so it looks nice.
Preheat oven to 325°F then cook for 1 1/2 hours.  Let the bread cool completely before cutting.  The glaze was made by melting a thick slice of butter.  Then added a half tablespoon of fruit flavored brandy, an eighth of a teaspoon of Vanilla and Almond extract each.  The glaze is then thickened up by adding powdered sugar until I got the thickness that I wanted.  This glaze is just very wonderful all on its own.  I then placed some sliced Almonds on top of the glaze.  I love the wonderful flavor that the persimmons give to this bread.