December 14, 2010 - 11:59pm
I baked this panettone for the first time last year HERE  and loved it so much I'm baking it for family and friends again this year.  No matter what formula you choose...do make a panettone, you will love it and want it everyear...and it's really not as difficult as it seems...really! 
It was done a little different from last years...mixing was done both KA and hand, toppings, fruits, brandy, liqueur and extracts.  I won't have a crumb shot, maybe in about 3 days.  I know the flavor really comes through with a little time...it just gets better and when it does begin to dry a little...Oh what delicious bread pudding..that is if there's any left.  Last year I used the chocolate topping from Susans wildyeastblog and this year a delicous plain Almond Paste topping.  I used all dried fruits.  I made 2 large panettone and 3 smaller ones..my new smaller panettone molds were found at Sir La Table and just arrived this afternoon...in time for the second batch.  I made double formula this year.
                                              Dried fruit blend with a little brandy, Disaronno, Fiori de Silica and extracts of orange, lemon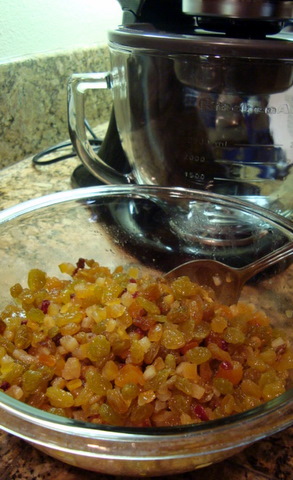 This is a double batch of fruit.
                                The babysat, pampered for hours and for days now ready sponge.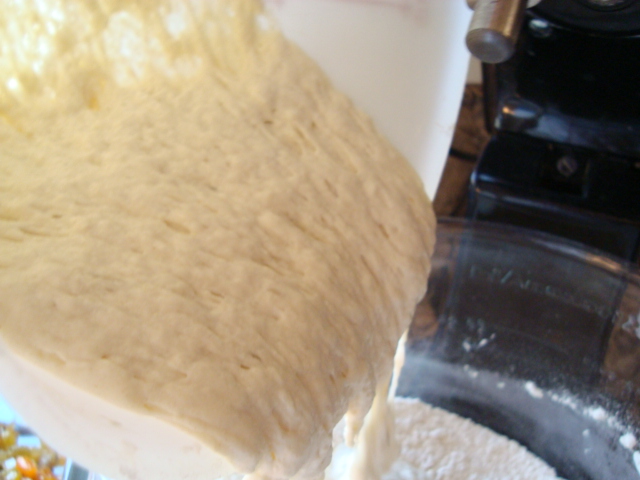 Cooling  -  I inserted the wooden skewers after they were baked - It can be done before the batter goes
                                                   into the paper molds...which is better...I forgot to do it before baking.  The bread is hot and you don't want
                                                   to squish it while inserting the skewers.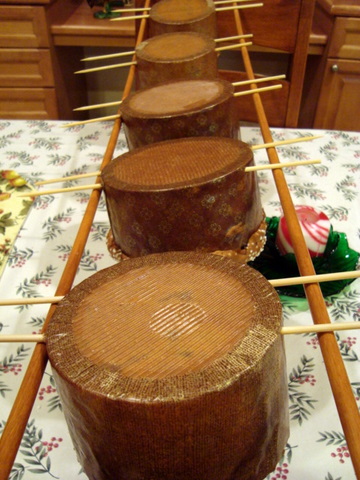 Cooled Panettone with Almond Paste Topping
                                                                        Almond Paste Topping Recipe
                                                                         1/2 Cup of good quality Almond Paste, room temperature
                                                                          3 Tablespoons of Bakers Sugar - I use bakers sugar in most of my pastry baking
                                                                           you can use regular granulated sugar.
                                                                            2 Egg Whites. 
                                                                  Beat until creamy and smooth consistancy from spreading, being careful not to deflate your
                                                                   panettone.  Add sliced almonds and pearl sugar.  Or you can use powdered sugar.  It can be
                                                                   also be refrigerated and rewhipped smooth before using.  I applied it very thick, love the crunch
                                                                   and flavor.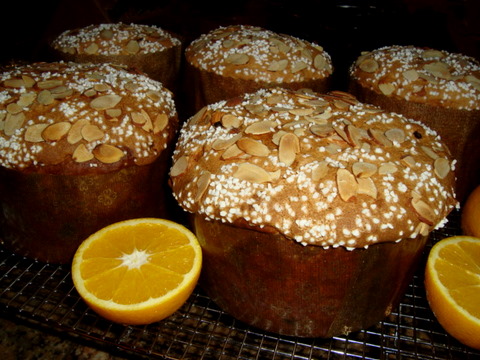 My Italian neighbors lovely oranges, I use for citrus peel and zest.  Oranges in exchange for Panettone!
                                           They are delicious, their Cara Cara Oranges have the lovliest pinkish tinge and make gorgeous colorful peel.
                                                                 ADDED: Crumb shot, Mike couldn't wait another day! Just delicous addicting!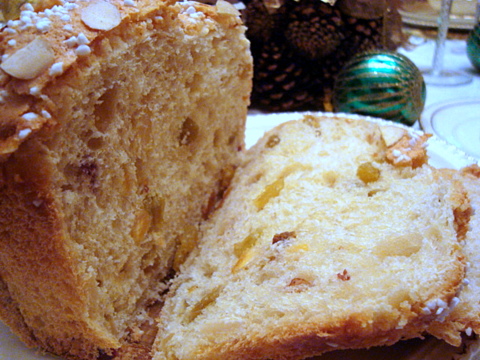 The almond slivers seem to dissappear into the crumb but are a wonderful addition.
                                                          I had forgotten to purchase some and was so relieved when I found a new bag in my
                                                          freezer.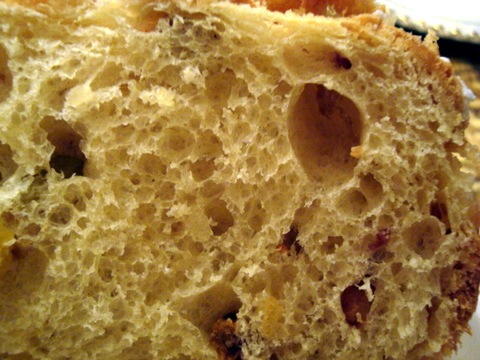 Happy Holiday Baking!
                            Sylvia